So you've taken a photo. In this case a happily anonymized (or should this be 'minion-ized!) small relative. How can you find out the EXIF metadata on the Windows Phone itself, i.e. without exporting to the cloud or a desktop? Heck, never mind the detailed capture details, how can you find out the most basic stat, the photo's resolution?
Photos, built-into Windows Phone, is no help at all, with no stats accessible. However, there's a trick built into the Nokia (soon to be Lumia) Camera application itself - if you open a photo from the offered (bottom-left) 'Open in' suggestion from Photos, then the image will be brought into Nokia Camera for 'reframing'. At which point, you can tap on the '...' menu and use the 'picture info' function: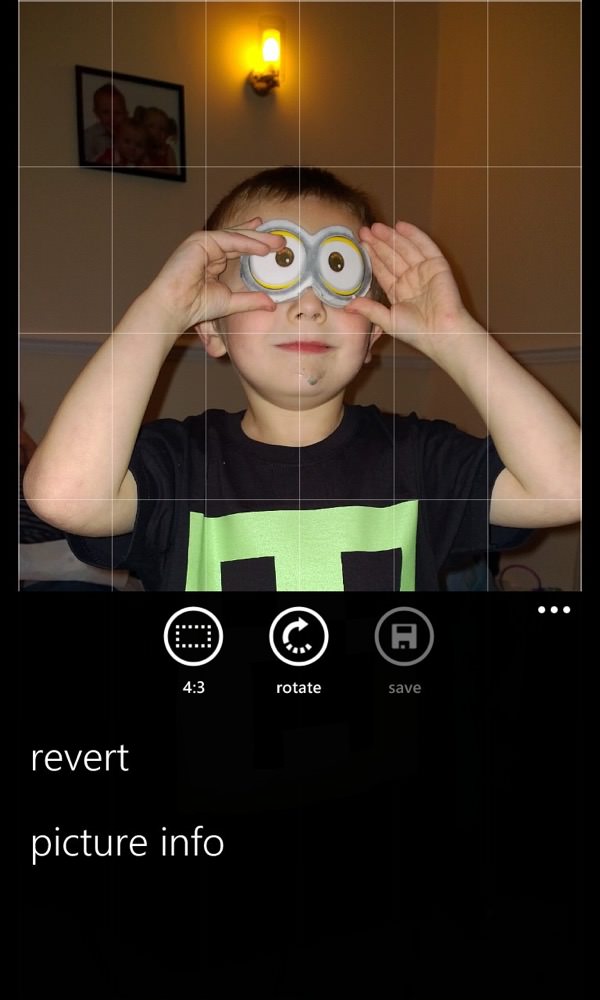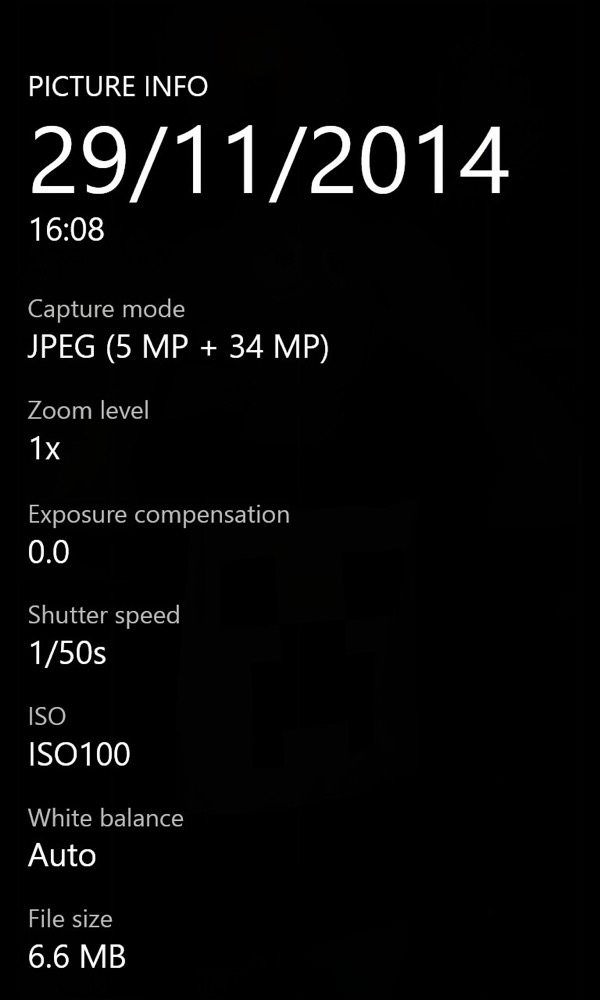 This gives most of the EXIF data you might need, aside from generalising the resolution wildly to a rounded number of Megapixels. For example, if you take a photo and then crop it, opening it up later 'in Nokia Camera' just shows '1MP' rather than 1250 x 840 (or whatever). So not a perfect solution, but worth knowing about in the absence of any installed third party software.
Next up is HD Photo Viewer 8.1, a utility that came into being to counter the limited performance in earlier versions of Windows Phone, where the full detail in photos couldn't be shown for reasons of addressable memory (ok, ok, bad coding). It's true that the USP of the utility is no longer valid, but it has extra tricks up its sleeve, not least being able to email out 'full resolution' JPGs, for example the 16MP Lumia 930 and 34MP Lumia 1020 photos - Windows Phone's email system is far too protective, even downsampling 1MB 5MP images when sending them by email, so it's useful to have HD Photo Viewer 8.1 as a tool in your armoury: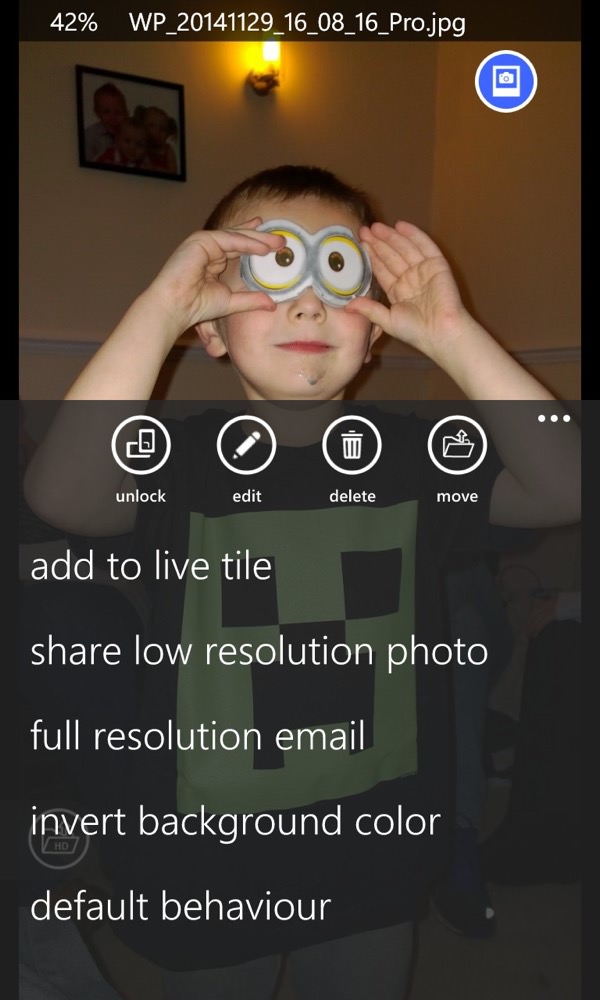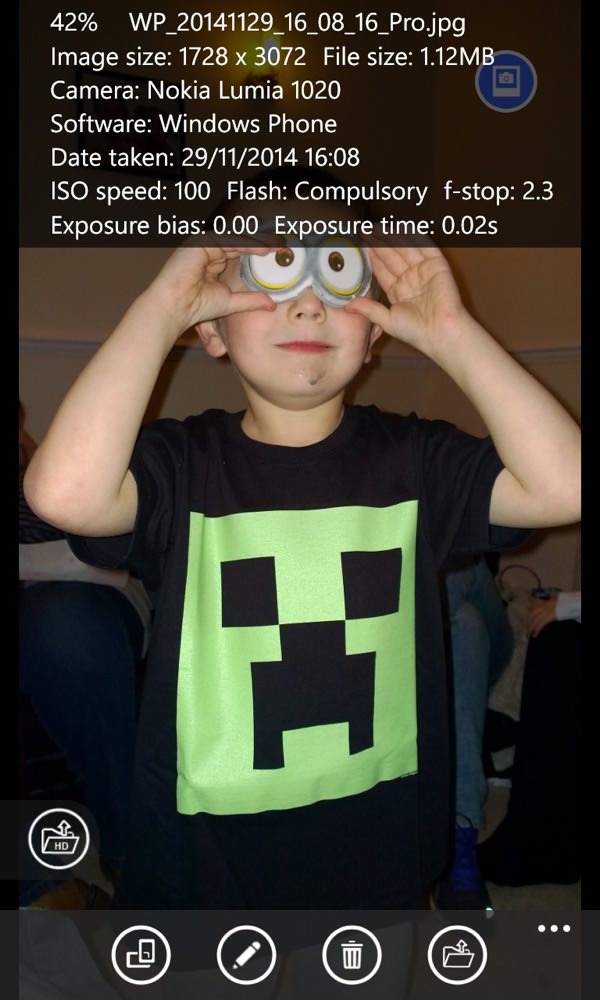 More relevantly to the task in hand, as shown above right, if you tap on the info banner at the top of any photo, this expands into a full breakdown of the EXIF data available.
Then there are dedicated third party utilities specialising in showing EXIF data, now hooking into Windows Phone 8.1's 'Photos/Edit' application list - i.e. you can start with a photo in Photos, choose to 'Edit' it and then pick one of these apps: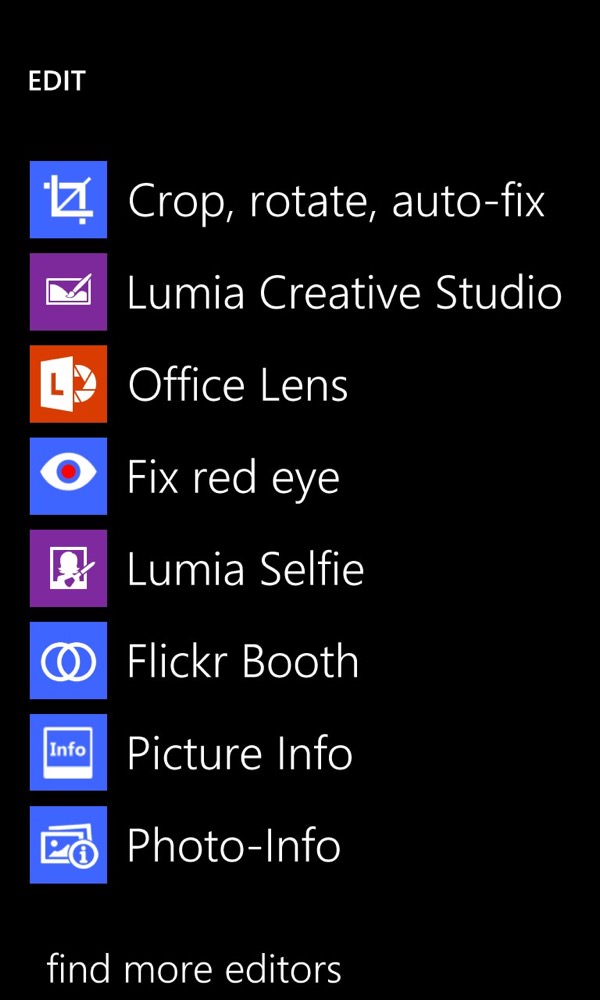 'Picture Info' is perhaps the best - and free - offering a full (though intelligently filtered, i.e. data which isn't present has its field omitted, sensibly) EXIF breakdown, along with a location interpretation of any GPS data present*.
* of note is that I nearly always have geo-tagging disabled in my smartphones, since my photos are often of people and I'd hate to have some miscreant track a person I'd snapped down based on GPS information in EXIF fields. Hopefully sensible advice (especially if you're John Macafee!), though I do turn geotagging on (in Settings/photos+camera/use location info) when on holiday, since I then don't mind people seeing where I and my family have been.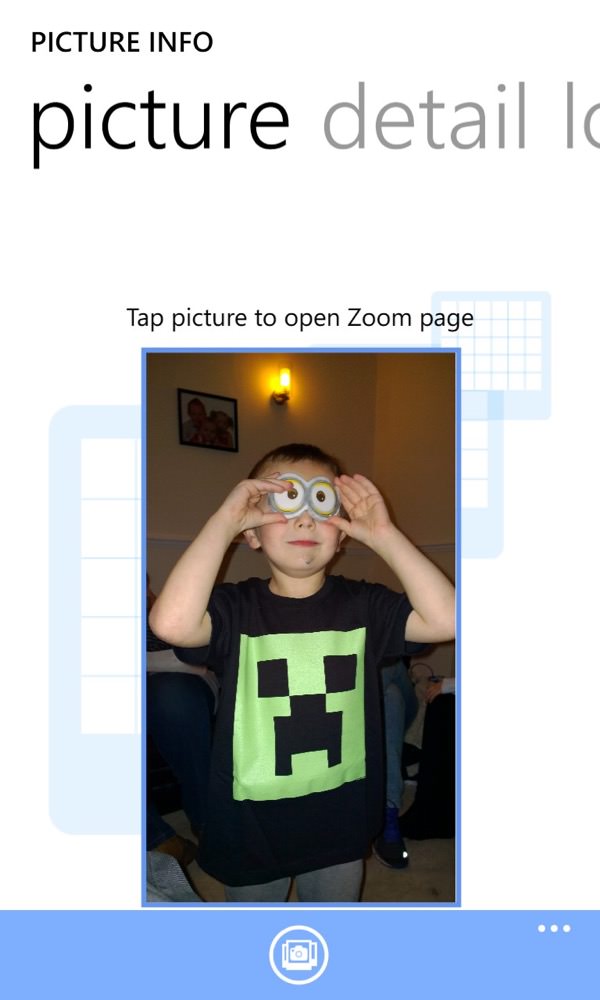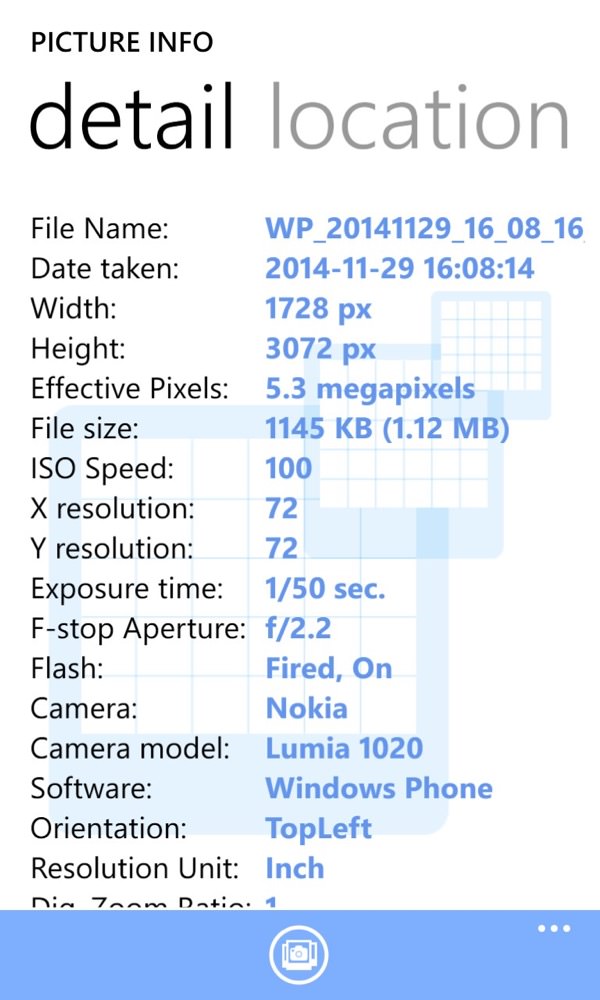 Picture Info offers a dark theme too, by the way, but it doesn't work properly yet, with the field names still shown in black and therefore invisible!! One for an update!
'Photo-Info' is another entry into this niche field, also free but ad-supported. Again there's a full breakdown of EXIF data, in a slightly glossy large fonted presentation.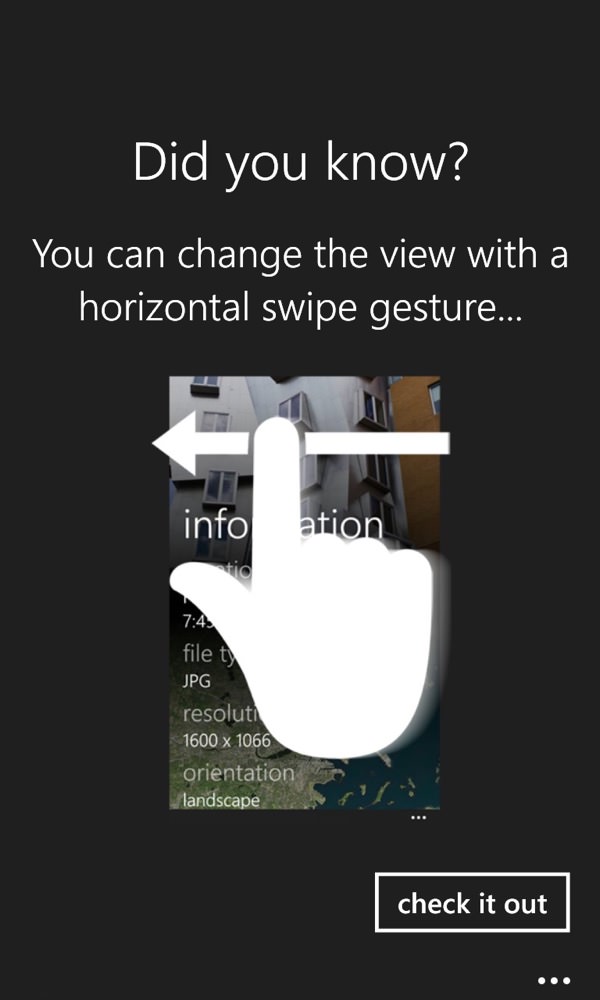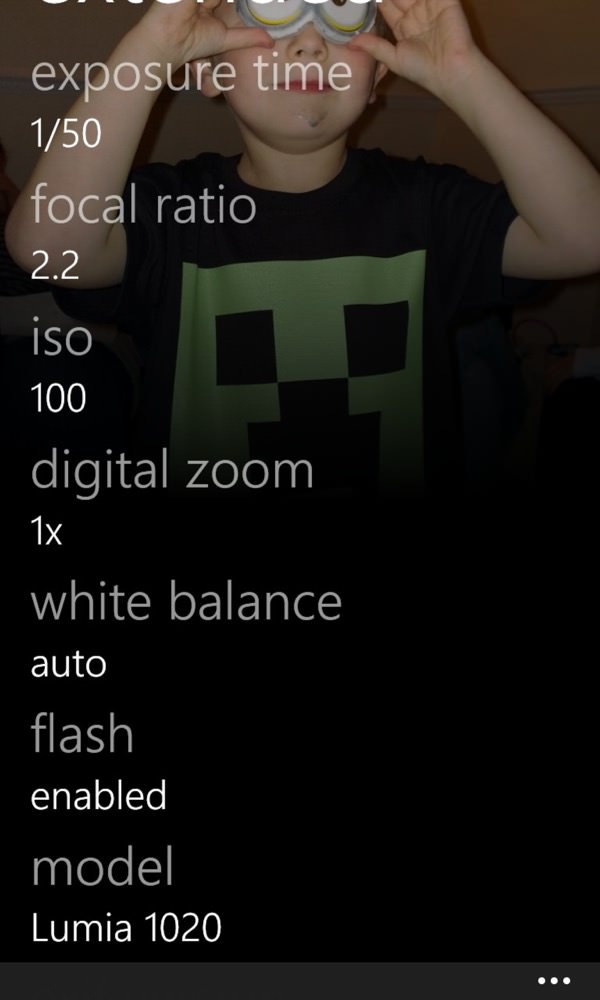 Aside from a nice 'swipe to toggle' photo/EXIF system, there's the small but useful USP that screenshots can be excluded from the main photo picker. That's about it, but for writers like myself, not being presented by hundreds of screenshots is a nice touch. Also shown below is the aerial locator for geotagged photos, plus the slightly intrusive ads (I'd much rather just pay a one-time purchase fee, etc.)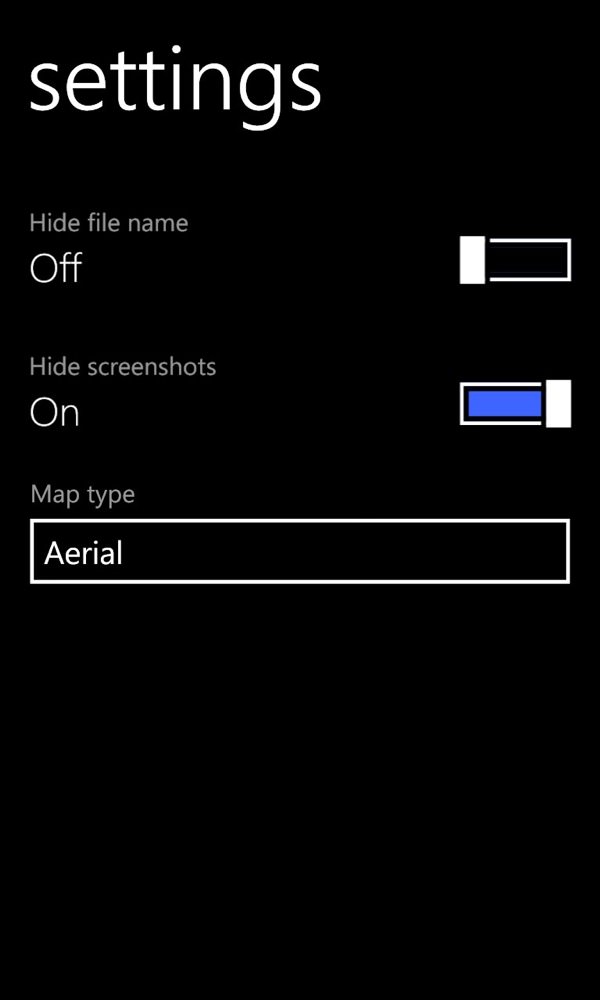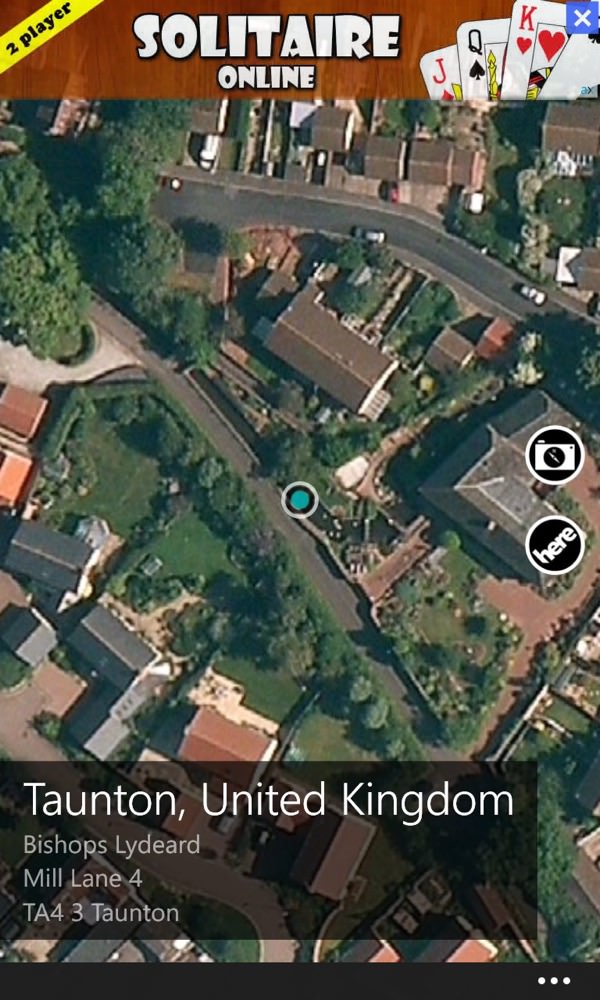 'Picture details' is in the same vein again, with 'Edit' integration, with twin photo and details views: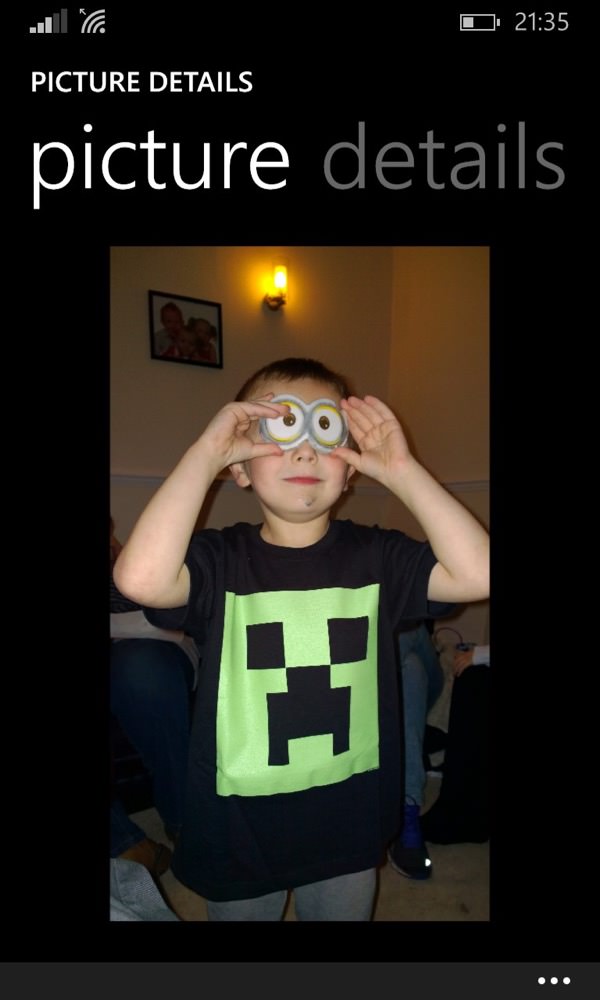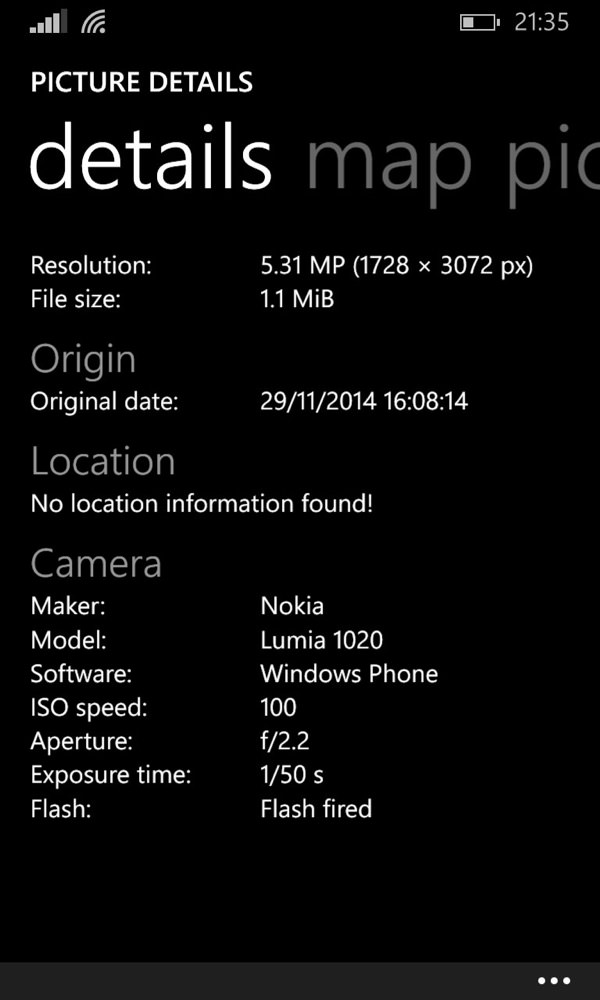 There's a 'full' version with support for more EXIF details, as far as I can tell. Hopefully including the actual filename for the photo, which is something missing at the moment (filenames are included in the other two utilities above).
Summary
Unless you have a burning need to email out full resolution images, then I'd suggest installing the freeware Picture Info and you're done, with a nod to the Nokia Camera integral viewer if you're on an unfamiliar/friend's phone.
I'm sure there are other applications for Windows Phone which surface EXIF data in other ways - feel free to include suggestions and links in the comments below.