January
CES 2015, Microsoft announces the Lumia 1330, a 5.7" screened phone, coming in at well under half the price of a Galaxy Note 4, Nexus 6 or iPhone 6 Plus. Different target markets and lower specifications, to be sure, but the sheer price difference is again worth noting.
Lumia Denim finishes its rollout across all compatible devices.
Feburary
MWC 2015, Lumia 1530 rumoured but nothing released. Looks like the 1330 will have to do for now....
Lumia Emerald is officially announced, based on Windows Phone 8.1 Update 2, with more Start screen enhancements, support for Cortana across two new continents, and better multitasking capabilities under the hood.
March
Lumia 1330 now available in many markets.
Lumia Emerald starts its rollout, appearing first for the 735 and 830.
April/May
At BUILD 2015, Microsoft gives dates (late August) for the final release date of Windows 10, along with more details on how the phone, tablet and desktop form factors can be spanned.
Lumia Emerald is still rolling out.
June
Analysts announce that Windows Phone now has 4% global phone marketshare and over 10% in six European countries.
Microsoft mentions that it has now sold its ten millionth Lumia 630 and both the 735 and 830 have topped a million so far. AdDuplex reckons that Lumias still make up over 90% of all platform devices sold though, despite the number of OEMs now numbering over 20, across the world.
Lumia Emerald finishes its rollout. Other non-Microsoft OEMs have also now pushed the platform update out to most, but not all, devices...
July
At a special event, Microsoft announces the Lumia 940. It has a better 1080p screen, now 5.5", including Glance capability, and with virtual controls that swipe away when not needed. The chipset is now Snapdragon 805 at 2.6GHz, plus there's 3GB of RAM. It features a 16MP camera with ZEISS optics and 1/2.3" sensor. The Lumia 940 will launch with Windows (Phone) 10, but the exact nomenclature around the name is still unclear. Availability is 'Q3'. Heh, we all know what that means(!)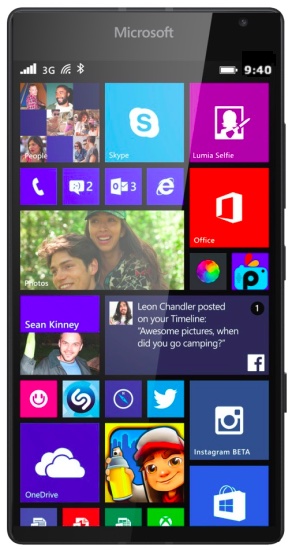 August
Windows 10 is released to all manufacturers - including those making phones.
September
At IFA 2015, Microsoft announces the Lumia 540, with 5" 720p screen, Snapdragon 400, 1GB RAM and a 'ZEISS' camera lens. Price estimated to be around £120 unsubsidised or £80 on pay-as-you-go in the UK.

The Lumia 940 becomes available in limited quantities on Sept 30, meeting the Q3 deadline (kind of), but software seems understandably unfinished - Microsoft promises a big firmware update 'very soon'.
October
A firmware update rolls out to the Lumia 940, fixing many issues. Still no sign of the Windows 10 OTA rollout to existing Windows Phone 8 devices...
November
The Lumia 540 appears for sale, the Lumia 940 is now widely available and with a firmware update available.
December
Windows 10 starts rolling out as an OTA update to limited existing devices, including the 930 and 1520. No sign of the OTA for low end devices yet, raising questions about whether the OS will work properly on those with lower RAM. Watch this space!
Into 2016, then, with much the same questions about the platform's future as I had at the start of 2015. Clearly, the technology has improved, clearly there are more users than ever, but then again the world's even more competitive as well. Still, at least Windows (Phone) isn't going backwards. And as Windows 10 starts to get adopted in large numbers in 2016, the familiarity factor on shop shelves should start to have some serious impact....
________
PS. The feature above is a work of fiction, of course. How much of it will come true? Your comments welcome!