Windows 10
A technical preview of Windows 10 has been available since September of last year, but during the demo Microsoft showed off a number of new consumer features and explained its vision for the platform.
On PCs and tablets Windows 10 goes a long way toward alleviating the dissonance between the "desktop" (old) and "Modern" modes of Windows 8 by returning to "everything in a window" philosophy, evolving the traditional Start menu, and introducing Continuum mode-switching for 2-in-1 devices.
Microsoft also played up the commonality of Windows across all devices, best exemplified by the arrival of numerous "Universal" applications that work across smartphone, tablet, and PC (Office, Outlook, Calendar, People, Photos, Music, and Xbox, among others). Of these Office is the most significant, delivering a touch-first experience across phone, tablet, and PC. Data (media and documents), apps, and settings will also roam across devices with an underlying aim of delivering a single consistent experience, regardless of the device you are using.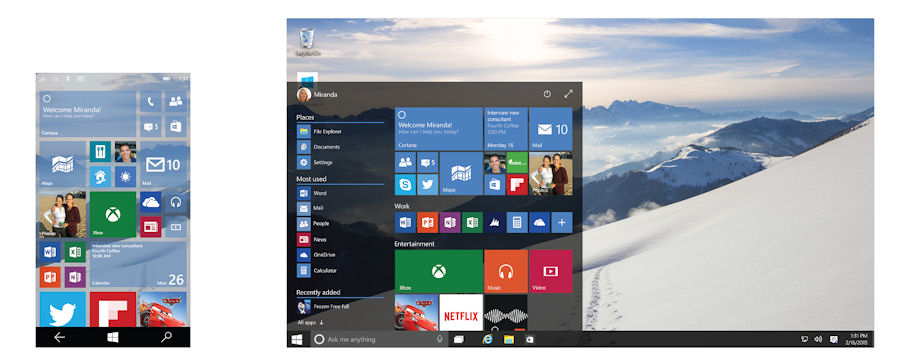 Other highlights include the arrival on PCs and tablets of Cortana, Microsoft's voice-enabled personal assistant (think evolved Siri and Google Now) and a new "Universal" browser, code-named "Spartan", built with greater interoperability, reliability and discoverability (…though IE will continue to be available, so web developers shouldn't get too excited).
Windows 10, which will be available later this year, will be a free upgrade for all customers running Windows 7, 8, or Windows Phone 8.1. Microsoft has also committed to keeping Windows 10 devices "current" for the supported lifetime of the device, at no cost. In practice that means "Windows as a service" – with new features delivered when they are ready, rather than waiting for the next major version.

Microsoft HoloLens
Stealing the show was the Microsoft HoloLens, described as the world's first untethered holographic computer, and marking the company's first major foray into virtual reality. It's a see-through visor that overlays holographic imagery over the real world. This, together with spatial sound technology, can be used to create an immersive experience (e.g. visit and interact with a Mars rover), overlays for existing physical spaces (e.g. instructions on how to do home DIY), and everything in between (e.g. play Minecraft, with your home as the backdrop landscape).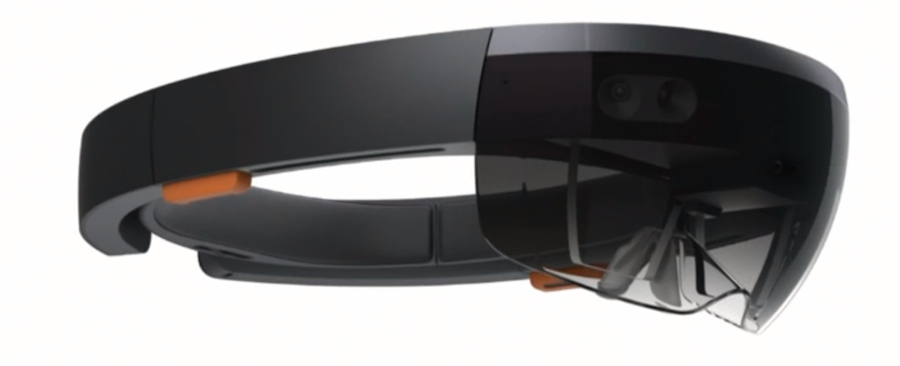 The unit is equipped with a range of sensors that detect nearby objects, the position of the user, and control gestures made by the user. The controlling holographic computer, which is controlled by a gaze, voice, and gesture-based navigation system, is built into the visor, which means there's no need for wires, or a companion device.
Microsoft largely missed the move to mobile, with far reaching consequences for the company, but mobile isn't the end game computing. Quite where the next wave will come from is always hard to assess, but HoloLens is a serious candidate.
If it all sounds a bit sc-fi – that's because it is. Microsoft is breaking new ground. There's no denying you're going to look like a bit of a muppet wearing one, and critics may see it as little more than a combination of Google Glass and Oculus Rift, but this really is next generation technology. Moreover, HoloLens is more grounded in computing and productivity tasks than most VR/AR efforts – and that might be just what's needed to kick-start computing's new shape.

Microsoft Surface Hub
Overshadowed by HoloLens, but just as illustrative of the way Microsoft thinks about the future of computing, was Surface Hub, the next generation of Microsoft's Perceptive Pixel product. It is a large touch screen device (55" to 84") that enables digital white boarding, instant remote conferencing, the ability for multiple people to share and edit content on the screen from any device, and looks to live in collaborative work spaces and conference rooms.