(And, following the imaging comments below, there will be a proper camera head-to-head between the One M9 and the 930 very soon here on AAWP)
The Lumia 930 is a known quantity, of course. A flawed flagship in some ways (lack of Glance screen being the biggest), but still a very capable Windows Phone. The One M9 follows (naturally enough) the M7 and M8, and combines the best of each design into the one cutting edge smartphone. In terms of the comparison here, I'm expecting the Lumia to lose out to the M9 by a nose - if only in terms of OS and ecosystem, but then the Lumia 930 is, if you go back to its Icon roots, now over a year old, an eternity in the smartphone world, while the M9 is brand spanking new in terms of components/chipsets.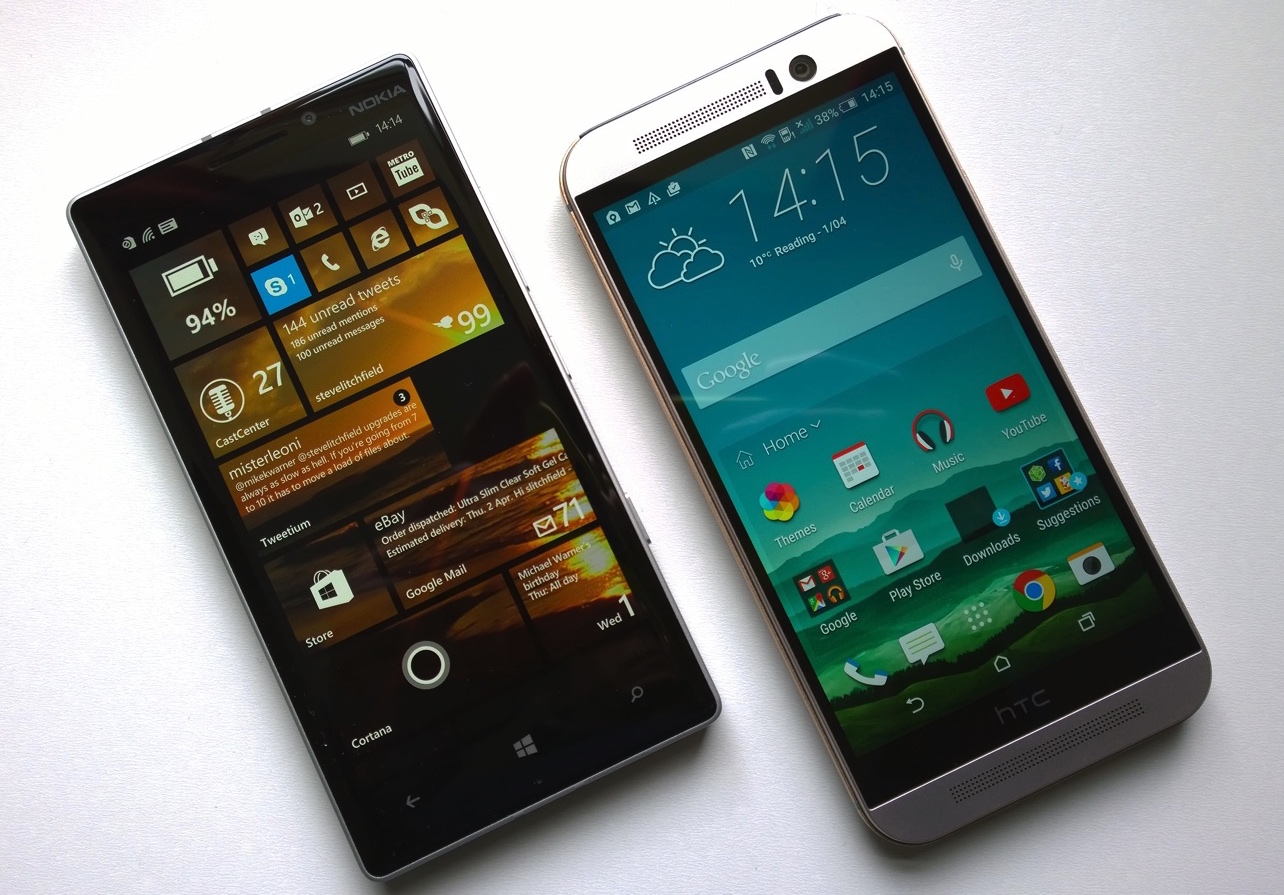 Still, there's plenty to talk about and to pitch in this latest head to head. As usual, I've shaded in green an obvious 'win' for either device...
NB. This HTC One M9 was running the very latest (a few days ago) firmware - other reviews around the web complain about camera and battery issues, you can disregard these on the whole, since the new firmware appears to have fixed any serious problems.
[By the way, if you're viewing this feature ON a Windows Phone then the table may well cause you problems. Try viewing in landscape mode? Failing that, go view this on a laptop or tablet and then go bug Microsoft about the poor state of Internet Explorer - roll on Project Spartan and Windows 10!]
Nokia Lumia 930
HTC One M9
Date first available
July 2014 (the Icon was February 2014, but in the USA)

March 2015

Current price, availability
£300 (SIM-free in the UK, inc VAT), less if you shop around

£580

Dimensions
137 x 71 x 10mm, reassuringly err... solid. Useable as an offensive weapon at a pinch(!)
145 x 70 x 10mm, feels thinner that it is, thanks to the thin metal edging
Form factor, weight
Aluminium frame, convex Gorilla Glass. Polycarbonate rear insert (hosting NFC and Qi antennae). Weight is 167g

Touchscreen (two tone) aluminium monoblock, fully sealed, 157g, power button now on side, as per Lumias and most Android phones (after the usability disaster that was the M7 and M8). There's an odd 'step' all round the phone, between the two halves. It adds grip but feels amateurish.

Operating system, interface
Windows Phone 8.1 Update 1 plus Lumia Denim tweaks, animated/live tile 'Start' screen. Capacitive controls below the screen.
Android 5.0.2 and HTC's Sense 7.0 interface applied. A 'Blink feed' glanceable summary of news and social information, side by side with a traditional set of Android widget and shortcut set of homescreens.
Display
5.0" (1080 x 1920) AMOLED with ClearBlack Display polarisers, pentile matrix, so not full 1080p on all sub-pixels. Visibility excellent in sunlight. Nokia's usual Glance screen not possible due to hardware technical limitations.

5.0" IPS LCD 1080p resolution, full RGB, decent visibility outdoors (not quite as high contrast as the 930), generally good colours, very crisp.

Connectivity
Up to LTE, Bluetooth 4.0, Wi-Fi b/g/n/ac, integral wifi tethering, NFC, nanoSIM

Up to LTE, NFC, Bluetooth 4.1 (this being Android 5, including the HID profile for Bluetooth keyboards, unlike Windows Phone), Wi-Fi b/g/n/ac, integral wifi tethering, nanoSIM, infrared booster for remote controlling stuff



Processor, performance
2.2GHz Snapdragon 800, 2GB RAM, pretty fast, main speed limits are in Windows Phone's insistence on animations/transitions/resuming indicators.

Up to 2GHz Snapdragon 810, 3GB RAM, very fast, some Lollipop transitions do get in the way.

Capacity
32GB internal storage, non-expandable
32GB internal storage (though only 19GB free out of the box!), plus microSD, crucially
Imaging (stills)

20MP PureView oversampling 1/2.5" BSI sensor, flexible software control over settings, dedicated camera shutter button and launch key, genuine 2x lossless digital zoom, OIS. Great results, even zoomed or reframed. The mature oversampling mean that the 930 produces better results in most conditions. 'Rich Capture' produces customisable HDR shots with good results. Indoor shots are limited by the use of only LED flash. Camera opening now very fast with Lumia Camera 5 and shot to shot time only around half a second, or less.

8MP stills also possible (using the Lumia Moments application) from 4K video bursts from a long press on the shutter button.

1.2MP front camera seems under-specced, but actually works very well indeed.

20MP 1/2.3" BSI sensor, generally good results, with just occasional artefacts and exposure issues under some conditions - see my separate imaging comparison. HDR available as an option in the camera interface.

8MP stills possible (using the supplied snapshot control) from 4K video, though you have to manually turn 'on' this higher resolution in the first place.

4MP front camera uses the larger 'ultrapixels' and produces great results.

Imaging (video)
Very good 1080p (default, 4K selectable in settings) video capture, with genuine 3x lossless zoom during recording and OIS helping, especially while zoomed. Four HAAC microphones mean directional audio capture in stereo and at rock gig levels without distortion.
Good

1080p (default, 4K selectable in settings) video capture, with stereo audio.

Music and Multimedia
Decent mono speaker, 3.5mm headphones (not included in the box), A2DP, DLNA

Truly excellent twin front-facing speakers, 3.5mm headphones, A2DP, DLNA

Gaming
A very average selection of games, with the oddity that some of the early WP classics are no longer available! (e.g. Tiger Woods PGA)

Great selection of games, Android's stable is now almost as fully stocked as the iPhone's!

Navigation
The HERE Maps/Drive suite is unrivalled, baked into every phone, with the 100% offline routing and maps that don't expire. Plus live traffic, good public transport advice and innovative 'live sight' functions.

Google Maps and navigation is excellent, though hampered by very limited offline capabilities still. There's HERE Maps now, if the user knows to go look for it. Honours even overall.


Cortana/Voice
Present in many countries now. Also works even with the display off, "Hey Cortana!" etc. with the recent Lumia Denim update. A generation on beyond Siri and half a generation beyond Google Now/Search, though still some rough edges. A win for Windows Phone here, but only if you live in a supported country/language.
Google Now has many voice functions, including dictation of text in some applications. Most commentators agree that its age means that it's slightly less holistic than Cortana though.
Battery, life
Sealed 2420mAh battery, easily gets through the day, microUSB or - critically - Qi wireless charging on any convenient Qi stand.

Sealed 2840mAh battery, easily gets through a day. Charging via microUSB only.



Applications and ecosystem
Windows Phone now has just about every mainstream app covered, with great strides in the last year. Niche/boutique apps are often an issue, though... Also anything to do with Google services!
Fully covered, from A-Z, these days. Any application of any significance in the mobile world is available for Android.

Upgrades and future
The 2GB of RAM and chipset here, plus the Microsoft/Nokia ownership, should see the 930 updated well into 2015 and even 2016 with 'Windows 10'.
Future proof, if HTC is willing - should see updates through 2016.


Verdict
Six 'wins' apiece in the end, though one of these for the 930 was on price - though I'd defend this since the gap between the two smartphones is so huge. Honours even overall in terms of basic funtionality, with the Nokia's imaging specialism still leading the pack, arguably, and with the HTC's use of Android giving it the edge in terms of software and ecosystem.
Your comments welcome, of course. I reckon the M9, with its more traditional camera arrangement (compared to the very disapointing M7 and M8) is now one of the most desirable smartphones in the world, though its current price is very high, having just launched.
PS. Imaging head to head here!
PPS. If an M9 for Windows (10) does become available, a good question is how that device would stack up against the Lumia 930 (it'd lose by a nose, I think) and against its own M9 for Android (it'd lose by a larger amount, at least according to the criteria and categories listed above)...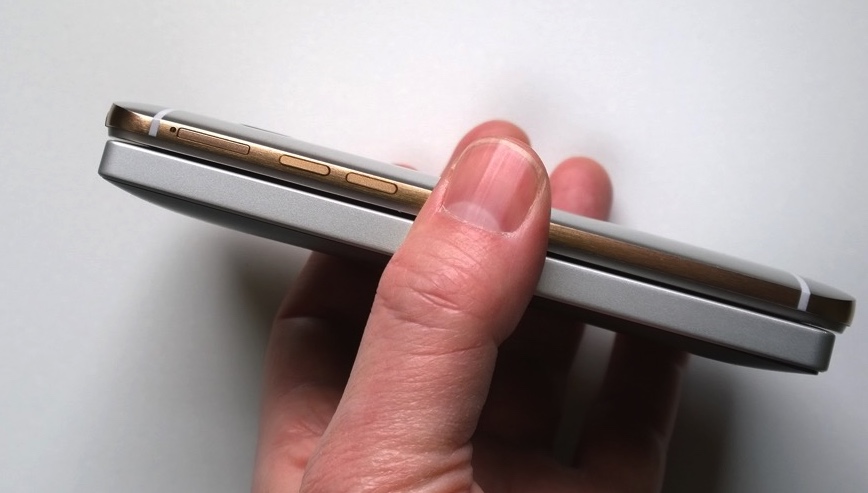 Pictorially, the 930 looks a lot thicker. In practice, there's less than 1mm in it. An optical illusion?