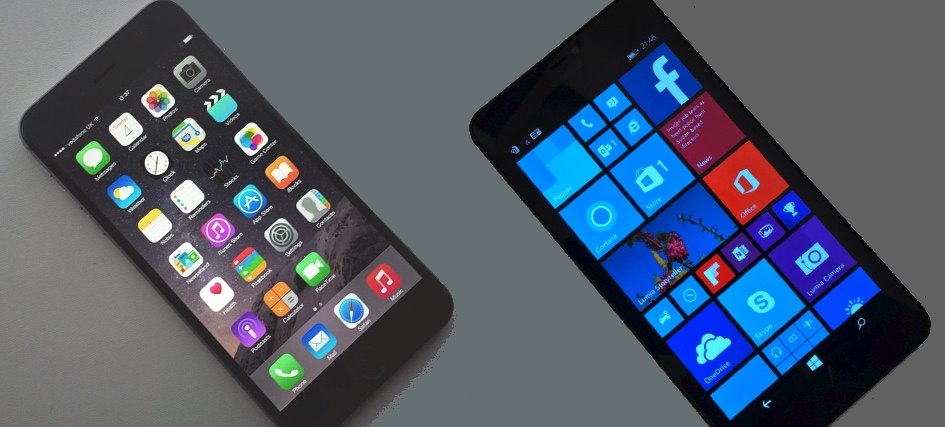 As usual, I pick out winning categories in green (and massive wins in a brighter green), for interest sake - though don't take these too seriously. And note that many categories simply don't have a winner, either because the differences are subjective or because the two are roughly equal overall.
| | | |
| --- | --- | --- |
| | Apple iPhone 6 Plus | Microsoft Lumia 640 XL LTE |
| Date launched | September 2014 | March 2015 |
| Current price (SIM-free in the UK, inc VAT) | £699 (a cheaper £619 model is available, but utterly crippled in terms of storage) | £200 (something of an average, the launch price in the UK, SIM-free is £220, but pay-as-you-go prices will be around the £180 mark) |
| Form factor, weight | Touchscreen aluminium monoblock, fully sealed, 158 x 78 x 7mm, 172g, feels great, fingers wrap around easily, Apple did its homework in terms of average human hand and joint dimensions. Just as well, since the metal is otherwise slippery. | Two part polycarbonate design, whole back shell comes off, 158 x 81 x 9mm, 171g, a tough grip one-handed, slightly too wide. VERY grippy matt finish though, at least on our review unit. |
| Operating system, interface | iOS 8, static icon app screens with dock, works in portrait or landscape (with a few exceptions for the latter, but Apple will doubtless fix these in time) | Windows Phone 8.1 Update 2/Lumia Denim, tile interface Start screen, portrait only some of the time, but quite a few apps do support landscape as well. |
| Display | 5.5" IPS LCD, 1080p resolution, decent visibility outdoors, generally good colours, very crisp, just wins out over the 640 XL screen through sheer resolution | 5.7" IPS LCD with full ClearBlack Display polarisers, outstanding contrast, very good in sunlight, only loses here because of the 720p resolution |
| Connectivity | Quad band GSM, pentaband 3G, decaband (at least) LTE, NFC (limited to Apple Pay), Bluetooth 4 (including the HID profile for Bluetooth keyboards) | Quad band GSM, Quad band 3G, up to pentaband LTE, full NFC, Bluetooth 4 (including the HID profile for Bluetooth keyboards) |
| Processor, performance | 1.4GHz custom Apple 64-bit chip, 1GB RAM, generally pretty fast, though, as with Windows Phone, you get the feel that transitions are sometimes the bottleneck(!) | 1.2GHz Snapdragon 400, 1GB RAM, fast enough (though often hidden by Windows Phone transitions) |
| Capacity | 64GB, sealed | 8GB plus microSD expansion up to 128GB |
| Imaging (stills, good light) | 8MP 1/3" sensor, OIS is superb, excellent and very fast results as long as there's enough light, but the algorithms betray the physics when light levels drop, and LED flash takes an eternity to fire, so is best avoided, shooting bursts instead. It's a mess. (cough. Xenon needed.) HDR is automatic, when needed, plus photo bursts are easy by just long pressing the shutter icon. | 13MP 1/3" sensor with ZEISS optics, flexible software control over settings. Super results, generally, belying the price point. Results in poor light are decent, except where a subject is moving. Lumia Camera 5 is built in, with 'after the fact' Rich Capture (HDR) and Dynamic Flash, plus Lumia Moments capture from 1080p video bursts. |
| Front Facing Camera | 1.2MP, 720p video capture | 5MP, good results, 1080p video capture |
| Imaging (video) | 1080p video capture at 60fps, with good stabilisation, though curiously not using OIS, but digital techniques. 720p/240fps makes for good slow-motion effects. Decent audio too, in mono (in my tests). | 1080p video capture, decent audio, though mono again. |
| Music and Multimedia | Decent mono speaker, 3.5mm headphones | Decent mono speaker, 3.5mm headphones |
| Gaming | Great selection of games, this is the iPhone, though not all titles use the 1080p screen yet, of course. | Game selection is very much more limited, as I've commented on recently. |
| Navigation | Apple Maps relies on an Internet connection (there's only limited caching of maps) but is otherwise pretty good now for day to day navigation, plus Google Maps is available, and even HERE Maps, in beta, albeit not baked into the OS, as with Windows Phone, so users have to know to go and install it. | The HERE Maps/Drive suite is built-in, with the 100% offline routing and maps that don't expire. Plus live traffic, good public transport advice and innovative 'live sight' functions. No official Google Maps as an alternative, but HERE's suite is so slick on Windows Phone that nothing else is arguably needed. |
| Battery, life | Sealed 2915mAh battery, easily gets through a day. Charging via proprietary Lightning connector. | Replaceable 3000mAh battery, easily gets through the day, in fact should make two full days for most users. Charging is via microUSB. |
| Applications and ecosystem | The iPhone App Store is very fully stocked. Everything mainstream is here, plus plenty of boutique/niche apps. Perfect access to both Apple, Google and now even Microsoft platform services! | Windows Phone now has just about every mainstream app covered. Niche/boutique apps are often an issue, though... Also anything to do with Google services, sadly. Or USA-based banks! |
| Upgrades and future | The iPhone 6 Plus will be updated with new iOS versions until at least the end of 2016 and probably the end of 2017. | Windows 10 is due out formally in the summer, with updates likely until the end of 2016. |
Verdict
Again slightly tongue in cheek, since these two phablets are unashamedly aimed at completely different markets/users, but adding up the green 'wins' gives it to the iPhone 6 Plus by 4 to 3. Though if you count the price 'win' as counting at double strength then we have a draw overall, which is quite telling.
The Apple iPhone 6 Plus quite clearly outguns the Lumia 640 XL by every sensible metric, yet the differences in real world use are small, OS and apps apart. Which is astonishing, really, looking at the £500 price difference. Of course, no one who sets out to buy an iPhone will ever consider a Lumia (for fashion/branding/ecosystem reasons) and no one who's thinking about a Lumia will consider an iPhone (for economic reasons, mainly), so the comparison is somewhat moot. But I still thought you'd find it interesting.
The use of iOS and its app ecosystem, along with the Apple logo on the back, are the keys to why the iPhone costs so much, but there's absolutely no reason why the Lumia 640 XL shouldn't be a success story at a much lower price point. It deserves to be, and I'll come back to more musings on exactly who it's aimed at in my full review in a couple of days time.