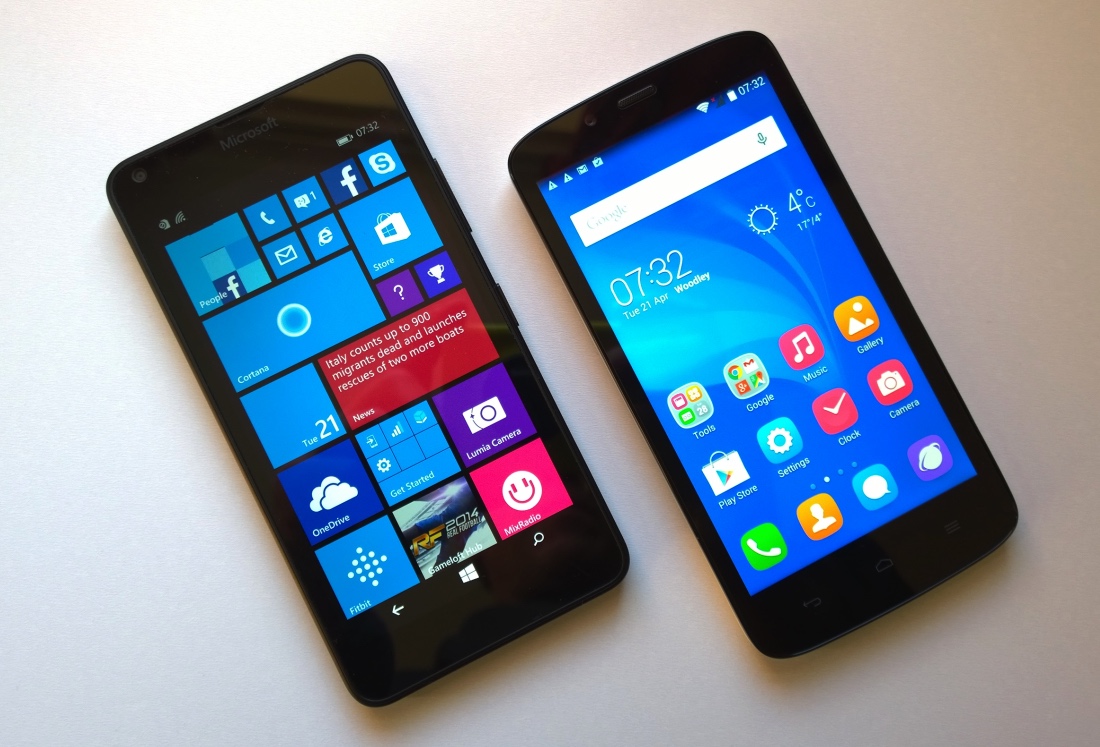 Head to head then. As usual, I pick out winning categories in green, for interest sake - though don't take these too seriously. And note that many categories simply don't HAVE a winner, either because the differences are subjective or because the two are roughly equal overall:
[If this table is too wide for your phone browser, please try viewing it on a tablet or laptop?]
| | | |
| --- | --- | --- |
| | Microsoft Lumia 640 LTE | Honor Holly |
| Date launched | April 2015 | October 2014 |
| Best price | £90 on pay as you go, in the UK | £90-£120, depending on where you look, SIM-free |
| Form factor, weight | Touchscreen candybar, matt plastic, replaceable backs, 145g | Touchscreen candybar, glossy plastic, replaceable backs, 156g |
| Operating system, interface | Windows Phone 8.1 Update 2, virtual controls | Android 4.4.2, Emotion UI front-end (including no 'app drawer'!), capacitive controls that are NOT back-lit, which causes problems indoors and at night. They're also not able to pulse the vibrator, giving a 'dead' feel overall |
| Display | 5" LCD with ClearBlack Display 'lite' linear polariser, 720p resolution, pretty good in sunlight when viewed head-on, contrast fades quickly away at other angles | 5" LCD, 720p resolution, visibility average outdoors, but OK once the brightness has been auto-ramped up to maximum |
| Connectivity | Up to LTE, Bluetooth 4, NFC | Up to 3G, Bluetooth 4 |
| Processor, performance | 1.2GHz Quad core Snapdragon 400, 1GB RAM, nippy most of the time | 1.3GHz quad core Mediatek chipset, 1GB RAM, also nippy unless you opt for the heaviest games or widget loadouts |
| Web browsing (benchmark: Full New York Times desktop web site, home page) | 25 seconds to fully render. Internet Explorer is standards compliant, but not as efficient as Chrome on Android. Still, the new Spartan Browser is just around the corner, eh? | 16 seconds to fully render. Chrome is very modern and has the advantage of syncing with Chrome on your desktop/laptop, etc. |
| Capacity | 8GB plus microSD up to 128GB | 16GB plus microSD up to 32GB |
| Imaging | Good 8MP camera with Lumia Camera 5 Rich Capture options, 1080p video capture | Goodish 8MP camera, spoilt by slightly hit and miss focussing, (slow) HDR and 'Face Beauty' optional, 1080p video capture |
| Music and Multimedia | Very decent mono speaker, 3.5mm headphones | Average speaker, high enough EQ but only half the volume of the 640's, 3.5mm output |
| Gaming | Some decent games for Windows Phone 8.1 but it's a somewhat bare cupboard for the top titles when compared to Android and iOS | A bigger games catalog to choose from, all of which run fine on the 720p screen |
| Navigation | Nokia's HERE Maps/Drive suite is unrivalled in terms of what's supplied out of the box, with the offline routing and maps. Plus good public transport advice and innovative 'live sight' functions. | Google Navigation is very comprehensive, but aside from limited caching of small areas, struggles mightily when out of data coverage. HERE Maps is now available for knowledgable users who seek it out. |
| Battery, life | Replaceable 2500mAh battery, two days average use | Replaceable 2000mAh battery, a day of average use |
| Applications and ecosystem | Windows Phone now has just about every mainstream app and service covered, but niche/boutique apps are an issue if you're being picky. Also anything to do with Google services! | Android's Play Store is very fully stocked, second only to the iPhone Store for depth. Everything mainstream is here, plus some boutique/niche apps. |
| Upgrades and future | Windows 10 is scheduled to arrive as an update in Autumn 2015 | There's a chance Huawei will get round to updating the Holly to Android 5.x, but I wouldn't hold my breath... |
A nominal 6-3 points win, in terms the green cells then, perhaps reflecting that this is AllAboutWindowsPhone and that the use of the OS isn't seen as a big black mark, but tellingly, two of the Honor Holly's three 'wins' above were for the OS and ecosystem. In most other aspects, the Lumia 640 is the superior device in terms of concept, components and implementation. (I didn't award a win for the OS and interface because that's usually very subjective, but I was sorely tempted to give it to the 640 because the Holly's is totally ruined by the dead controls. No backlight - see if you can spot the controls in the photo at the top - and no vibration feedback make it unpleasant to use, especially when light levels are low.)
You could argue that the SIM free price of the Lumia 640 is up in the £140+ range, but everyone who buys one will be getting it on pay-as-you-go (or a very cheap contract) surely, so the exact price is probably irrelevant. Certainly the two phones are in the same price bracket in most markets.
The Honor Holly lacks the attention to detail and vision that Microsoft has invested in the 640 (and 640 XL), with the result that the Holly feels bland and as if too many things have been compromised in its design.
A resounding win for the Lumia 640, but do please have your say in the comments.