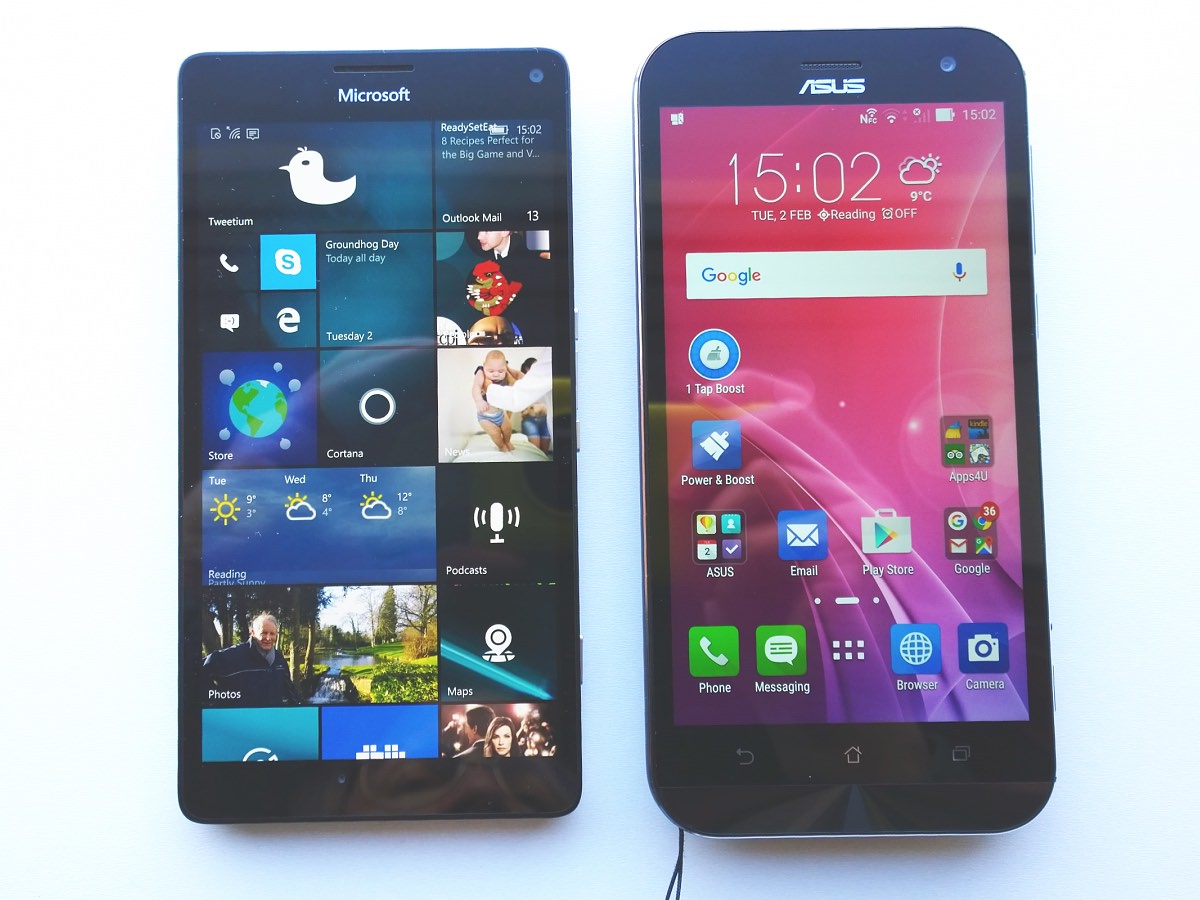 Each device, as usual, has its strengths and weaknesses, but these two aren't that apart in the overall scheme of things. As usual, I've shaded in green an obvious 'win' for either device, I honestly have no idea which way this one's going to go (as I start to compile the feature)... Any row where a winner would be totally subjective is left uncoloured. Or, where both devices are utterly excellent but in different ways, I've given both a 'green'(!)
[By the way, if you're viewing this feature on an older Windows Phone then the table may well cause you problems. Try viewing in landscape mode? Failing that, go view this on a laptop or tablet and then roll on Windows 10 Mobile across the board on all the older phones!]
Microsoft Lumia 950 XL
Asus Zenfone Zoom
Date first available
December 2015

January 2016

Current price, availability
£450 (SIM-free in the UK, inc VAT, via Amazon UK), though will be £400-ish by Spring 2016, you mark my words

£350, SIM-free, imported into the UK by a reseller and then available through eBay and similar outlets, though warranty situation is muddy at best

Dimensions, form factor, weight
152 x 78 x 8mm, feels relatively light, thanks to all the plastic, though I did go and put a slightly heavier leather Mozo case on...(!) Polycarbonate, replaceable back/sides (hosting NFC and Qi coils). Weight is 165g
159 x 79 x 12mm, longer and much thicker, and feels quite a bit heavier... Metal chassis, faux-leather removeable plastic back, 185g
Operating system, interface
Windows 10 Mobile, (dismissable) virtual controls

Android 5.1 and Asus's ZenUI skin over the top. No surprises for an Android user - but a LOT of Asus additions, quite a learning curve if you grew up with the stock apps and interface. Capacitive controls, though they're mirrored and not backlit, sadly, so aren't any use at night.
Display
5.7" AMOLED with ClearBlack Display polarisers, QHD resolution, Glance screen. Gorilla Glass 4

5.5" LCD 1080p resolution, good contrast outdoors thanks to modern IPS technology - but it doesn't quite match Nokia's CBD. Gorilla Glass 4

Connectivity
Up to LTE (all bands), Bluetooth 4.1, NFC, Wi-Fi b/g/n/ac, integral wifi tethering, nanoSIM, Continuum connectivity to use external displays as secondary screen, independent of the phone display (with full universal application resolution handling)

Up to LTE (though no band '20' for Europe and the UK), NFC, Bluetooth 4.1, Wi-Fi b/g/n/ac, integral wifi tethering, microSIM



Processor, performance
Snapdragon 810 chipset, 3GB RAM, pretty fast for many operations, though transitions and general Windows 10 interface cruft/refreshes do get in the way sometimes.

Intel Atom Z3580

, 4GB RAM, very fast, as Android typically is, with minimal transitions. Have to give the win here on speed.
Capacity

32GB plus microSD up to 2TB

Up to 128GB internal storage (review device was 64GB), plus microSD up to 64GB
Imaging (stills)

20MP PureView f/1.9 1/2.4" BSI sensor, dedicated camera shutter button and launch key, genuine 2x lossless digital zoom (in 8MP oversampled mode), OIS. 'Rich Capture' produces customisable HDR shots and 'dynamic flash'. Outstanding shots in most light conditions, with just focussing issues in low light.

5MP front camera

13MP with 3x optical zoom, f/2.7-f/4.8 1/3.0" FSI sensor, OIS and with zoom controls mapped to volume keys. Laser auto-focus helps a lot in low light. The Zenfone Zoom loses out to the 950 XL for most shots in most conditions, but wins out by a country mile when any zoom is needed.

5MP front camera

Imaging (video)

4K, digitally and optically stabilised, with 'Best photo' 8MP grabbing built-in, plus Rich Recording and quad HAAC microphones for high quality stereo capture - and Dolby Digital and surround sound possibly arriving in an update

1080p video capture, with OIS though only mono audio, coped with rock-level live music, though I didn't get to try it with a really loud band!
Music and Multimedia
Decent mono speaker, loud but lacking in bass and depth, 3.5mm headphone jack, A2DP+APT-X, DLNA

Average mono speaker, hard to tell how good the frequency response is because it's just not loud enough in comparison to the 950 XL's. 3.5mm headphone jack, A2DP+APT-X, DLNA

Navigation
Windows 10 Maps includes most of the best of HERE Maps/Drive, uses the same data, adds a degree of live traffic awareness, plus public transport. Includes full offline maps with automatic updates. Some UI issues for anyone with less than perfect eyesight, though!

Google Maps and navigation is excellent, with better offline capabilities in the last few months, and with great live traffic integration and re-routing. There's also HERE Maps now, if the user knows to go look for it.


Cortana/Voice
Cortana is now mature and well integrated, and with a surprising degree of 'assistance'.
Google Now and voice queries are good and on a par with Cortana overall. See my round-up feature. A little too ready to pass things off to Google search queries, if I'm being picky.
Battery, life

Removable 3300mAh battery, gets through a day (just, on latest firmware), plus USB Type C and Qi wireless charging built-in. Gets the win here because of the power and battery options, not because of life per charge!

Sealed 3000mAh battery, easily gets through a day, plenty of power profiles to help spin a charge out to a second day. microUSB charging only.



Cloud aids
Windows Photos syncs across all signed-in devices, subject to your OneDrive tariff, should you have thousands of images in the system
Google Photos syncs across all Android devices, genuinely infinite storage (with an allowance for recompression/optimisation by Google)
Applications and ecosystem
Windows Phone now has just about every mainstream app covered, aside from Snapchat and Tinder. Niche/boutique apps are often an issue, though... Also anything to do with Google services!
Fully covered, from A-Z, these days. Any application of any significance in the mobile world is available for Android. Mind you, Asus do a great job of confusing the new user with a barrage of bloatware, including low level stuff like Clean Master, which is closer to being malware than a useful tool on a high-specced monster like this.

Upgrades and future
Windows 10 Mobile will be updated through daily Store updates, plus occasional base firmware and OS updates through 2016/2017.
Should see updates through 2016. Asus went through a batch of these in early January.
Verdict
Hmm, a 7-5 win to the Lumia 950 XL in terms of green cells above, and this does reflect how I feel after using each device. Take away the Optical zoom in the Zenfone's camera and it's not much more than a fast mid-range Android phablet - add it in and it's possibly the USP that may have shutterbugs very excited, especially if they like shooting landscapes and the like.
Back in the real world, no one's likely to switch from a previous Android or iOS 'phablet' to the Lumia 950 XL and Windows 10 Mobile, so this generation of Lumia is very much playing to the existing userbase of Windows Phone users... and maybe to a few Windows 10-using smartphone first timers. But I thought the comparison worth doing anyway!