My initial reaction was one of horror, I have to admit. After all those trimmings and redundancies across the world to make Microsoft 'leaner and trimmer', to then go and spend a genuinely gigantic sum of money on an ostensibly disliked (professional) social network seems utterly insane. Not to mention insulting to all the people Microsoft has 'let go' over the last year.
But then I'm just a casual observer and no business-to-business analyst. So I went in search of quotes and reactions from others.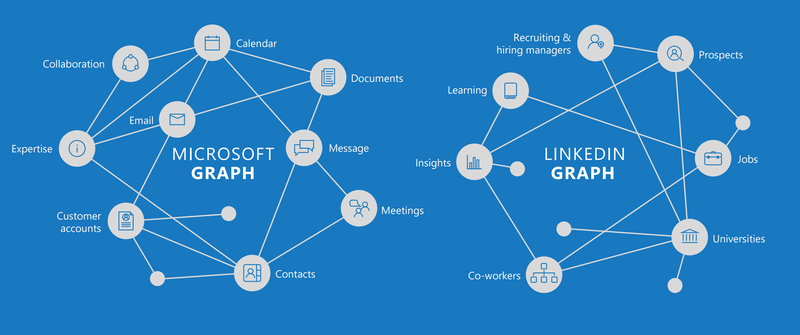 First of all, from the press release:
Microsoft Corp. (Nasdaq: MSFT) and LinkedIn Corporation (NYSE: LNKD) on Monday announced they have entered into a definitive agreement under which Microsoft will acquire LinkedIn for $196 per share in an all-cash transaction valued at $26.2 billion, inclusive of LinkedIn's net cash. LinkedIn will retain its distinct brand, culture and independence. Jeff Weiner will remain CEO of LinkedIn, reporting to Satya Nadella, CEO of Microsoft. Reid Hoffman, chairman of the board, co-founder and controlling shareholder of LinkedIn, and Weiner both fully support this transaction. The transaction is expected to close this calendar year.

LinkedIn is the world's largest and most valuable professional network and continues to build a strong and growing business. Over the past year, the company has launched a new version of its mobile app that has led to increased member engagement; enhanced the LinkedIn newsfeed to deliver better business insights; acquired a leading online learning platform called Lynda.com to enter a new market; and rolled out a new version of its Recruiter product to its enterprise customers...
And then from Satya Nadella himself,
Given this is the biggest acquisition for Microsoft since I became CEO, I wanted to share with you how I think about acquisitions overall. To start, I consider if an asset will expand our opportunity - specifically, does it expand our total addressable market? Is this asset riding secular usage and technology trends? And does this asset align with our core business and overall sense of purpose?

The answer to all of those questions with LinkedIn is squarely yes. We are in pursuit of a common mission centered on empowering people and organizations. Along with the new growth in our Office 365 commercial and Dynamics businesses this deal is key to our bold ambition to reinvent productivity and business processes. Think about it: How people find jobs, build skills, sell, market and get work done and ultimately find success requires a connected professional world. It requires a vibrant network that brings together a professional's information in LinkedIn's public network with the information in Office 365 and Dynamics. This combination will make it possible for new experiences such as a LinkedIn newsfeed that serves up articles based on the project you are working on and Office suggesting an expert to connect with via LinkedIn to help with a task you're trying to complete. As these experiences get more intelligent and delightful, the LinkedIn and Office 365 engagement will grow. And in turn, new opportunities will be created for monetization through individual and organization subscriptions and targeted advertising...

The opportunity for Office 365 and Dynamics is just as profound. Over the past decade we have moved Office from a set of productivity tools to a cloud service across any platform and device. This deal is the next step forward for Office 365 and Dynamics as they connect to the world's largest and most valuable professional network. In essence, we can reinvent ways to make professionals more productive while at the same time reinventing selling, marketing and talent management business processes. I can't wait to see what our teams dream up when we can begin working together once the deal closes, which we expect will happen this calendar year.
I have to confess again that I can't see how 'new opportunities will be created for monetization' can ever make up for the loss of $26.2 billion in the initial purchase. Anyway, on with reactions from other sites and commentators.
From The Register:
In real terms, Microsoft believes it is buying both a Facebook and a Salesforce with the deal. Its vision is to create an all-encompassing user profile that includes their documents, their contacts, email and Skype, all in one package.

It will provide new advertising opportunities, greater business and industry insights, and a new level of integrated CRM (customer relationship management). Plus, Microsoft is pitching that the relatively new LinkedIn news feed will be "the place to go for every professional to stay connected with the happenings in their network, industry and profession."

It's a compelling vision, but then so was Microsoft's acquisition of Nokia. And Skype.
From the Wall Street Journal:
Mr. Nadella said today's work is split between tools workers use to get their jobs done, such as Microsoft's Office programs, and professional networks that connect workers. The deal, he said, aims to weave those two pieces together.

For instance, connecting Office directly to LinkedIn could help attendees of meetings learn more about one another directly from invitations in their calendars. Sales representatives using Microsoft's Dynamics software for managing customer relationships could pick up useful tidbits of background on potential customers from LinkedIn data.

Microsoft also sees opportunities in Lynda.com, a channel for training videos that LinkedIn bought for $1.5 billion last year. Microsoft will be able to offer Lynda's videos inside its own software, such as Excel spreadsheets.

Mr. Nadella also talked about giving its Cortana digital assistant access to data from LinkedIn.
The WSJ does point out that history isn't on the side of this new buy-out being a success:
The tie-up will also test Microsoft's ability to meld a large acquisition with its own operations. The Redmond, Wash.-based company has struggled to integrate previous purchases including Nokia Corp.'s handset business and aQuantive Inc., costing shareholders billions of dollars in the process.

The deal dwarfs other Microsoft acquisitions. Its next largest deal, buying the Nokia handset business, led to Microsoft taking charges that exceeded the $9.4 billion price. That deal was orchestrated in 2014 by Microsoft's previous chief executive, Steve Ballmer.

Microsoft's prior efforts at weaving social networking into its productivity software haven't caught fire. In 2012, Microsoft bought workplace chat service Yammer Inc. for $1.2 billion, but has seen rival products, such as Slack, gain momentum.

...Some business leaders look forward to benefits from the tie-up. Tech companies and their customers "are looking for ways to get even more out of social media," said Steve Phillips,chief information officer of Avnet Inc., an electronics supplier that uses Microsoft products including Office 365.
Here's Tom Warren at The Verge, perhaps summing things up best of all:
[LinkedIn] ...is a key tool in the professional work space, with 433 million members and more than 2 million paid subscribers. Microsoft itself has more than 1.2 billion Office users, but it has no social graph and has to rely on Facebook, LinkedIn, and others to provide that key connection.

LinkedIn provides Microsoft with immediate access to more than 433 million members and a solid social graph that, thanks to its professional nature, is matched closely with the software and services Microsoft provides. In the same way that most kids play Minecraft, it's reasonable to assume most adults in the US use LinkedIn for finding jobs, connecting with colleagues, or just general work-related networking.

Nadella's example in his internal memo is only a small part of how Microsoft envisions its future with LinkedIn. LinkedIn will be the central professional profile that will be surfaced in apps like Outlook, Skype, Office, and even Windows itself. Microsoft wants to turn LinkedIn profiles into a central identity, and the newsfeed into an intelligent stream of data that will connect professionals to each other through shared meeting, notes, and email activity. It's a future of using a strong social graph and linking it directly into machine learning and understanding, an area Microsoft has showed great interest in recently.

Microsoft even provides an example of Cortana connecting to LinkedIn to provide context on people you might be meeting professionally. It's something the company has been working with LinkedIn to integrate recently, but it's clear Microsoft sees LinkedIn as a big part of making Cortana more intelligent in the workplace. LinkedIn still has a reputation for being a spam machine, and recent password dumps have dented its security credentials. Microsoft will need to clear up both of these problems if it wants LinkedIn to be taken even more seriously by businesses.
Indeed. I'm obviously not in the USA, but I'm aware of LinkedIn, if only because of the number of emails coming in each day from people I've dealt with (tangentially) in the past saying 'I'd like to add you to my professional network on LinkedIn'. Would I be a richer, happier, better connected person today if I'd started accepting some of these emails over the last five years? Possibly.
LinkedIn is certainly the premier 'professional' social network, though I do wonder just how many people will take fright at the new ownership and clear out, given Microsoft's (often wrongly placed) history with user privacy. Probably not many - we're in an age where you have to have your details online in order to get anything done. It's part of the deal, etc. Especially when you're trying to find a new job or a person to do a particular job.
Bought-in Skype and Yammer have both been integrated into Microsoft's products over the last five years, but you couldn't claim that either have really dominated or become world changing. I can see that LinkedIn might work well inside Office in the future, plus there's the entire LinkedIn userbase to draw on in getting a healthy headstart in B2B social. There's definitely method in Nadella's madness, but I can't help thinking that someone used an old version of Excel and got the decimal place wrong at some point in the cost negotiations!
Your comments welcome!