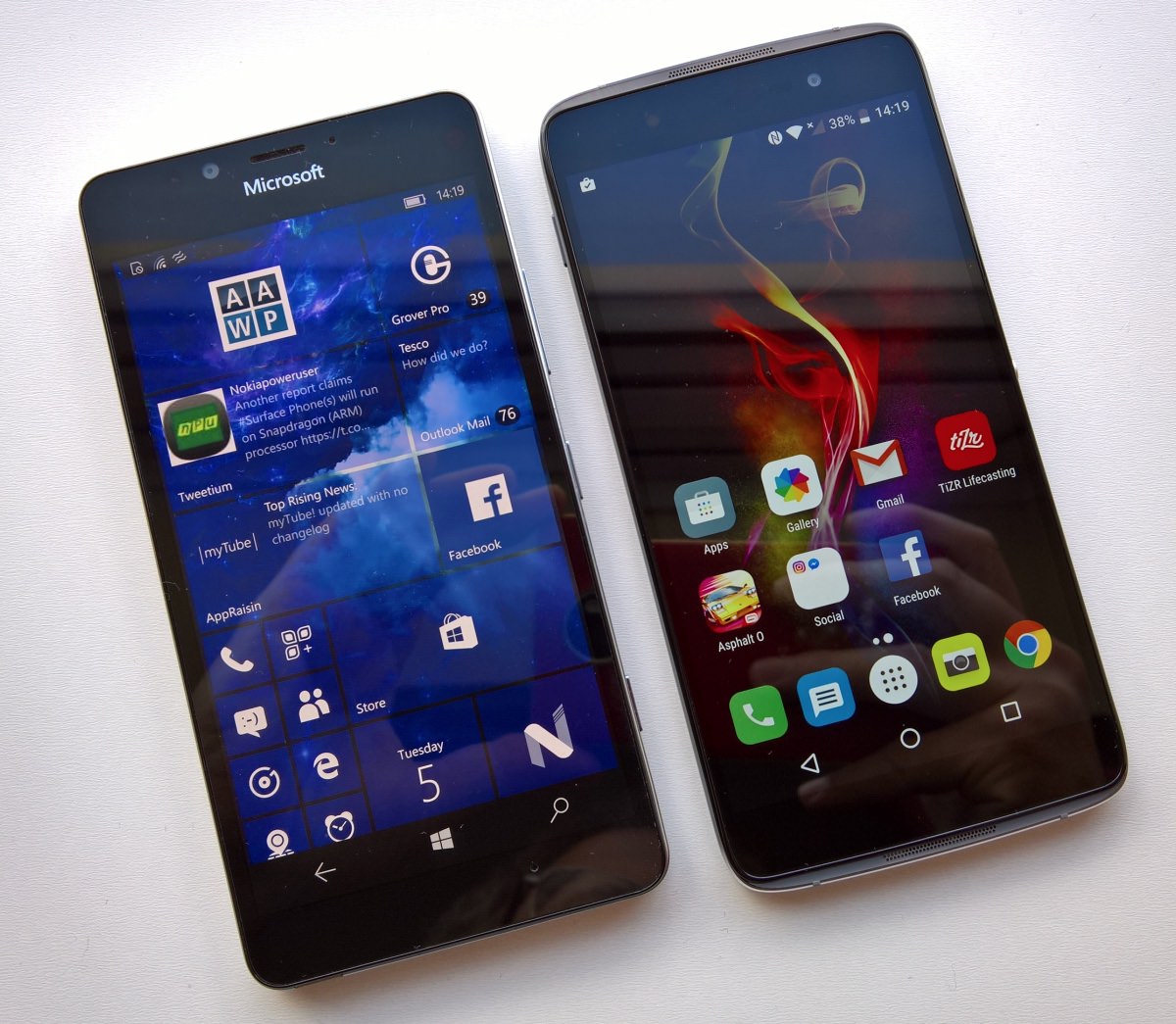 Each device, as usual, has its strengths and weaknesses, but these two aren't that far apart in the overall scheme of things. As usual, I've shaded in green an obvious 'win' for either device, I honestly have no idea which way this one's going to go (as I start to compile the feature)... Any row where a winner would be totally subjective is left uncoloured. Or, where both devices are utterly excellent but in different ways, I've given both a 'green'(!)
[By the way, if you're viewing this feature on an older Windows Phone then the table may well cause you problems. Try viewing in landscape mode? Failing that, go view this on a laptop or tablet? Anyone with Windows 10 Mobile onboard, why not use our excellent new UWP app?]
Microsoft Lumia 950
Alcatel Idol 4
Date first available
December 2015

July 2016

Current price, availability
from £280 (SIM-free in the UK, inc VAT, via Amazon UK, prices change daily, always try clicking on 'nnn New' and picking Amazon again from the list)
£230, SIM-free, supplied here by Clove, who seem the first to get it - and also the cheapest, amazing as they're shipping it with a full VR headset (and no, this isn't a paid ad!)
Dimensions, form factor, weight
145 x 73 x 8mm, feels relatively light, thanks to all the plastic, though I did go and put a slightly heavier leather Mozo case on...(!) Polycarbonate, replaceable back/sides (hosting NFC and Qi coils). Weight is 150g
147 x 72 x 7mm, lighter still, despite an aluminium frame and glass front and back, 144g, all sealed, no user serviceable internals. Gets the win here for a premium feel, very similar to the much cheaper Lumia 650.
Operating system, interface
Windows 10 Mobile, (dismissable) virtual controls

Very light skin on top of Android 6.0.1. Virtual controls, on-screen for most applications, though they minimise to overlaid dots for media apps
Display
5.2" AMOLED with ClearBlack Display polarisers, QHD resolution, Glance screen, Sunlight Readability enhancements, Gorilla Glass 3
5.2" LCD 1080p resolution, very good contrast outdoors, thanks to modern IPS technology - but it doesn't quite match Microsoft's/Nokia's CBD. Protected by 'Dragontrail' toughened glass
Connectivity
Up to LTE (all bands), Bluetooth 4.1, NFC, Wi-Fi b/g/n/ac, integral wifi tethering, nanoSIM, gets the win here for the Continuum connectivity to use external displays as secondary screen, independent of the phone display (with full universal application resolution handling)

Up to LTE (all bands), NFC, Bluetooth 4.2, Wi-Fi b/g/n/ac, integral wifi tethering, dual nanoSIM (if a microSD isn't used, otherwise single SIM)



Processor, performance
Snapdragon 808 chipset, 3GB RAM, pretty fast for many operations, though transitions and general Windows 10 interface cruft/refreshes do get in the way sometimes.

Snapdragon 617

chipset, 3GB RAM, very fast, as Android typically is, with minimal transitions. Have to give the win here on speed
Capacity/
expansion

32GB plus microSD up to 2TB, independent of number of SIMs (e.g. in a dual SIM variant). Comes with a year's Office 365 with 1TB of integrated online storage, too (via built-in Lumia Offers app)

16GB internal storage, plus microSD 'up to 256GB' if the card slot isn't already taken up with a second (nano)SIM
Biometrics
Iris recognition - works well enough, but still takes a couple of seconds - at least - and is not 100% reliable if you wear varifocals. Still, it kind of works(!) Microsoft Wallet payments will roll out in due course, aided by biometrics and NFC here
None. NFC is present, this will be useful for Android Pay systems later in 2016, but will require a PIN or password each time to authenticate
Imaging (stills)

20MP PureView f/1.9 1/2.4" BSI sensor, PDAF, ZEISS-made optics, dedicated camera shutter button and launch key, triple LED flash, genuine 2x lossless digital zoom (in 8MP oversampled mode), OIS. 'Rich Capture' produces customisable HDR shots and 'dynamic flash'. Outstanding shots in most light conditions, with just focussing issues in low light.

5MP front camera

13MP, f/2.0 BSI sensor, dual LED flash, PDAF, 'Boom' button to take photos (though it's not two-stage and it's very stiff). Very decent results, but not in the same league for quality or flexibility as the power-camera on the 950. Annoyingly, the HDR has no 'auto' mode.

8MP front camera

Imaging (video)
4K, digitally and optically stabilised, with 'Best photo' 8MP grabbing built-in, plus Rich Recording and quad HAAC microphones for high quality stereo capture (though all four aren't used yet in software)

1080p video capture, stereo audio, decent quality though I haven't tested at gig level volume yet

Music and Multimedia
Decent mono speaker, loud enough and 'deep' enough, 3.5mm headphone jack, A2DP+APT-X, DLNA
Good and loud JBL-branded stereo speakers, with apertures on front and back (unusually), 3.5mm headphone jack, A2DP, DLNA

Navigation
Windows 10 Maps includes most of the best of HERE Maps/Drive, uses the same data, adds a degree of live traffic awareness, plus public transport (in some, but not all, countries). Includes full offline maps with automatic updates.

Google Maps and navigation is excellent, with better offline capabilities in the last few months, and with great live traffic integration and re-routing. There's also HERE Maps now, if the user knows to go look for it, so the best of all worlds, if we're honest.


Cortana/Voice
Cortana is now mature and well integrated, and with a surprising degree of 'assistance'.
Google Now and voice queries are good and on a par with Cortana overall. See my round-up feature. Some integration with Gmail for life planning etc.
Battery, life

Removable 3000mAh battery, gets through a day (just, on latest firmware), plus USB Type C and Qi wireless charging built-in.

The charger supplied outputs a full 3A at 5V (Type C 'Power Delivery' maximum)

Sealed 2610mAh battery, easily gets through a day, just the standard AOSP Android battery saver included (for once). microUSB charging only.

The charger supplied outputs at 2A at 5V, but the Idol 4 is Quick Charge 2.0 compatible if you have the right charger

Cloud aids and miscellany
Windows Photos syncs across all signed-in devices, subject to your OneDrive tariff, should you have thousands of images in the system. Most people reading this will have various historical 'bonuses' to bump up their tariff, plus there's that introductory 1TB for a year
Google Photos syncs across all Android devices, genuinely infinite storage (with an allowance for recompression/optimisation by Google). Confusingly, there's also Alcatel's own Gallery application
Applications and ecosystem
Windows Phone now has just about every mainstream app covered, aside from Snapchat and Tinder. A vast number of niche/boutique apps are often an issue, though... Also anything to do with Google services!

Fully covered, from A-Z, these days. Any application of any significance in the mobile world is available for Android.

Of note is that the Idol 4 is loaded down with bloatware and demos - and most of it can't be uninstalled - this is a HUGE shame, but probably helps towards the low device price?


Upgrades and future
Windows 10 Mobile will be updated through daily Store updates, plus monthly base (firmware and) OS updates through 2016/2017/2018, all delivered 'as a service' to all users, irrespective of carrier or country (in theory). Our editorial device is on the 'Anniversary update', codename 'Redstone', with weekly Insider updates
Should see updates through 2016 and 2017, should get Android 7.0 at some point. But it's hard to say with Alcatel - the Idol 3 only just got Android 6!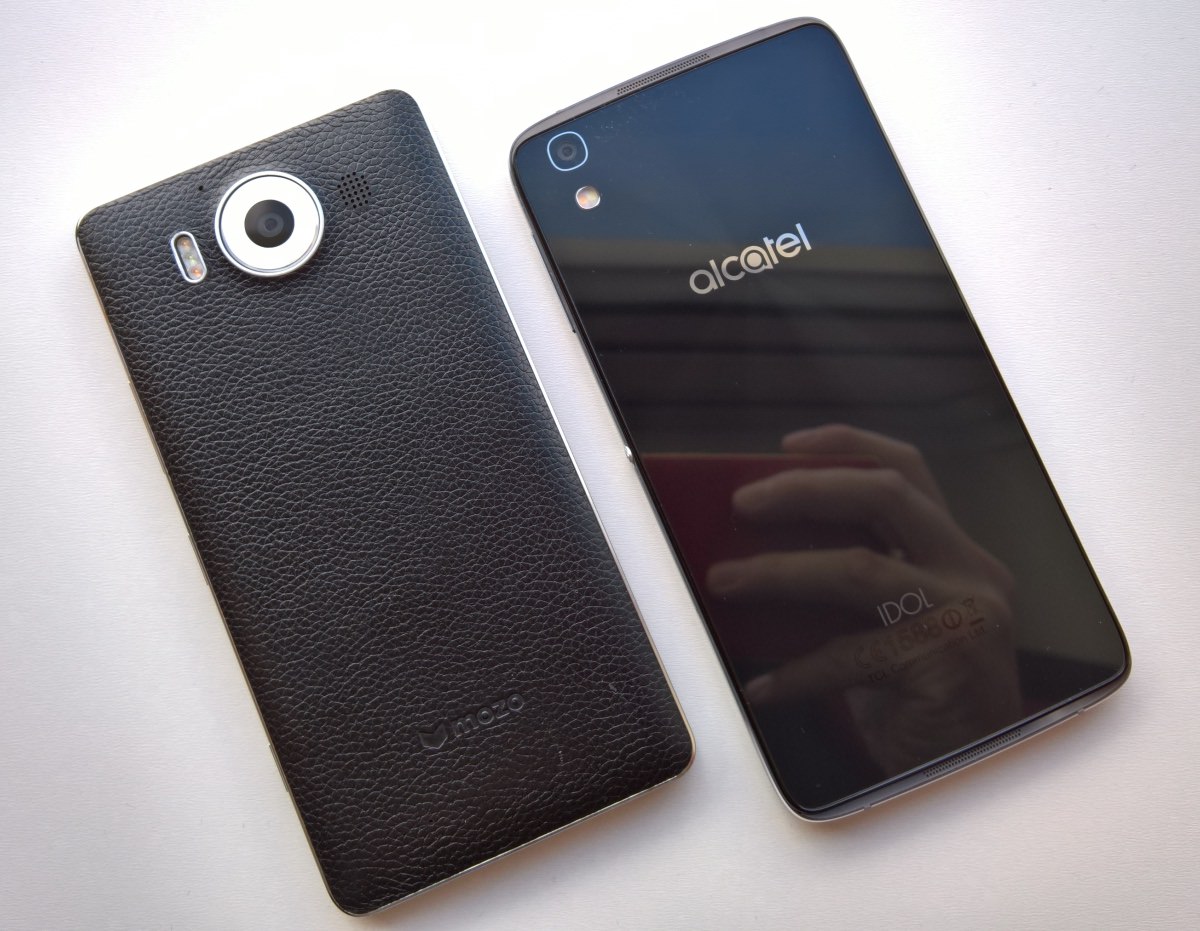 Verdict
So an 8-6 (narrow) win to the Lumia 950 in terms of green cells above, which I suspect Android fans will put down to bias because of my familiarity with Windows. But, if anything, this emphasises just how highly specified the 950 and 950 XL are, especially on the display and imaging fronts. And how flexible they are in terms of battery, expansion, displays and connectivity.
Not that these necessarily counter-balance the relative paucity in the application ecosystem, but I stand behind the opinion that if you don't need more than a dozen high profile applications and games on your smartphone then Windows 10 Mobile and the Lumia 950 range are actually valid choices.
Of course, despite the size (and some specs) similarity, the Idol 4 is very much aimed at consumers while the 950 is aimed at 'enthusiasts' and businesses, I doubt anyone potential purchaser will have both on their shortlist - yet I couldn't resist the comparison.
___________
PS. Anyone for a camera head to head as well, or is it too much of a foregone conclusion? Yeah, I guess so. I have GOT to find something else which can really challenge the Lumia 950 pair....!