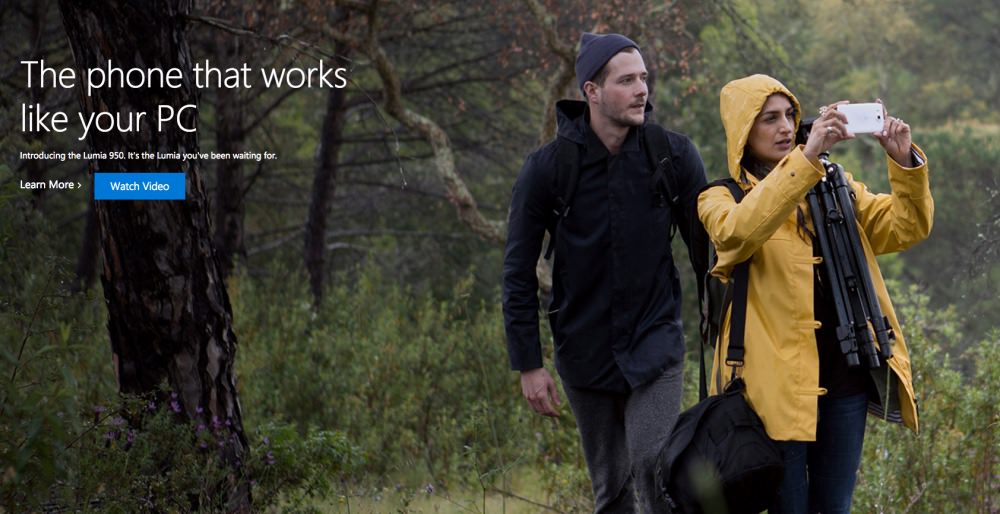 With the gradual dismantling of much of Nokia's manufacturing capacity and distribution/support network, Microsoft clearly isn't in the mass market smartphone business in the same way that Nokia hoped to be. Microsoft's new hope is that third parties will step in and use Windows 10 Mobile for their own smartphone projects - I covered most of these here, though most people won't have heard of the companies concerned and it's looking unlikely right now that many of these projects will be a big success. All of this is a conscious strategic decision by Microsoft, rightly or wrongly.
The HP Elite X3 is blazing something of a flagship trail across the world, it's true, but this is very much at the extreme high end and is aimed unashamedly at businesses. Apart from this and a few budget phones, new models have been few and far between. The Alcatel IDOL 4S with Windows 10 looks good but is only available on one USA carrier, while the Acer Jade Primo that promised so much last year never really materialised (I've never even held one!) There are rumours of another HP device, set in the mid-range, to be announced at CES or MWC next year - I'll cover that as and when it happens.
Anyway, the flagship Lumias have always represented the pinnacle of hardware abilities in this ecosystem and it is enthusiasts for the Lumia 950 and 950 XL in particular who will be most interested in the current situation. So I headed for a breack-neck tour of quite a number of Microsoft country-specific sites across the world:
Availability as at
December 2016
Lumia 950
Lumia 950 XL
UK
None
None
USA

Yes, both colours

Yes, both colours

Canada
Yes, both colours
Yes, both colours
France
None
None
Spain
None
None
Germany
None

None
Italy
Yes, both colours

None

Russia
None
Only the white

Portugal
None
None
Australia
None
None
Finland
None

Only the white



Ireland
None
None
India
None
None
Norway
None
Only the white
Singapore
Yes, both colours
Yes, both colours
South Africa
None
Yes, both colours

Switzerland
None

None

Poland
None

Yes, both colours

Note that by 'None' I'm paraphrasing messages on the relevant pages along the lines of 'Out of stock' or 'Let me know when this comes back into stock' or 'Pre-order here' or (very misleadingly) 'New! - Play video'! It's also possible that in some markets the relevant models and colours were never available via the Microsoft site (i.e. direct) in the first place.
That's a lot of red then, confirming that stock is indeed being run down across the Microsoft Store world. You can still buy the Lumia flagships from resellers in all countries, of course, as they wind down their own stock, but it looks like manufacturing stopped earlier this year and that new Lumia 950/950 XL units will be almost impossible to find in 2017.
Which is a crying shame - there's still much to recommend the Lumia 950 and 950 XL, not least the cameras, which remain world beaters even a year after their launch. And with the ongoing march of Windows 10 Mobile as an OS and its UWP apps shared with the desktop, and with the flexibility of the hardware (replaceable backs and replacement batteries) there's no reason why a Lumia 950 or 950 XL shouldn't remain in happy service for a few years. After all, we still have many people with Lumia 830, 930 and 1520s contributing to the AAWP community and story comments.
Microsoft's declared strategy is elsewhere, of course, though I'm pessimistic that third party licensees of Windows 10 Mobile will dent the smartphone market significantly. And fans of shiny, shiny things will have to wait until at least Spring 2017 to see a 'differentiating' hardware release from Microsoft itself. Mind you, this is AAWP and for many existing users of the platform - perhaps already owning a Lumia 950 or similar - it's all about Microsoft continuing to fix issues and add features to the platform, while third party developers crank out new UWP applications. It's not all about new devices, you know...
By the way, if you'll permit me a small rant... I can't stand the way media gleefully report (sales) marketshare for 'Windows Phone' tumbling towards zero. Given that there's almost zero marketing by Microsoft and you'd do well to even find devices to buy in many countries now, it's not surprising that sales figures are almost non-existent. In other words, it's not as if users are actively choosing between iPhone, Android and Windows 10 Mobile, all presented equally - they're being presented with the first two only in almost all shops, carriers and situations.
I do think Microsoft chose to end production of the 950/XL too soon though. You may remember when Nokia prematurely announced that they were switching to Windows Phone exclusively before they were anywhere near ready with new phones - with the result that a year of sales of Symbian phone sales were lost and the company was then in dire trouble from then on. There's a parallel here in the unavailability of Microsoft's flagship phones for up to a year before a follow-up is ready. Some people have even pegged a 'Surface Phone' coming in late 2017...
New Lumia 950 sales may be dying out then, though the platform, apps and ecosystem are improving monthly - in the AAWP community we're in a curious hiatus at the moment! Comments welcome, of course.