From the WC news article about Ring:
It's time to say bye to the Ring Video Doorbell app on Windows 10 Mobile. In an email being sent out to users, Ring says that its app will no longer work on Windows 10 Mobile devices after April 10. Though the mobile app may be retiring, Ring says that it will continue to support its Windows 10 app for devices on the Fall Creators Update or newer. From Ring:

Hi Neighbor,

We're reaching out to let you know that the Ring App will no longer work on Windows 10 mobile devices after April 10, 2018. However, you can still monitor your home and review Ring videos with any desktop computers, laptops and tablets equipped with Windows 10 Fall Creators Update (Version 1709) or newer.
It sounds from the quoted email that Ring's developers are now targetting Redstone 3, i.e. using the full Fall Creators Update SDK along with its new APIs, which is why the update around April 10th will break the existing Creators Update-targetted Ring UWP app. Which is fair enough, if those APIs really were needed.
It's also worth noting that feedback on the 'Ring - Always Home' application (to give it its full name) was extremely mixed over the last year, with a 3.2 (out of 5) average rating on the Microsoft Store and 22% 1-star ratings, many of which quoted crashes and bugs. So the rewrite for FCU was definitely justified and the collateral damage of breaking the phone compatibility has to be borne, it seems.
You may remember that I put up a (guesstimated) chart last week, showing the application 'fill' for Windows 10 Mobile across a number of application categories? Now, admittedly, this chart didn't include PWAs (Progressive Web Apps, which I'm gradually starting to cover on AAWP now), but even so the amount of white space/shortfall is notable: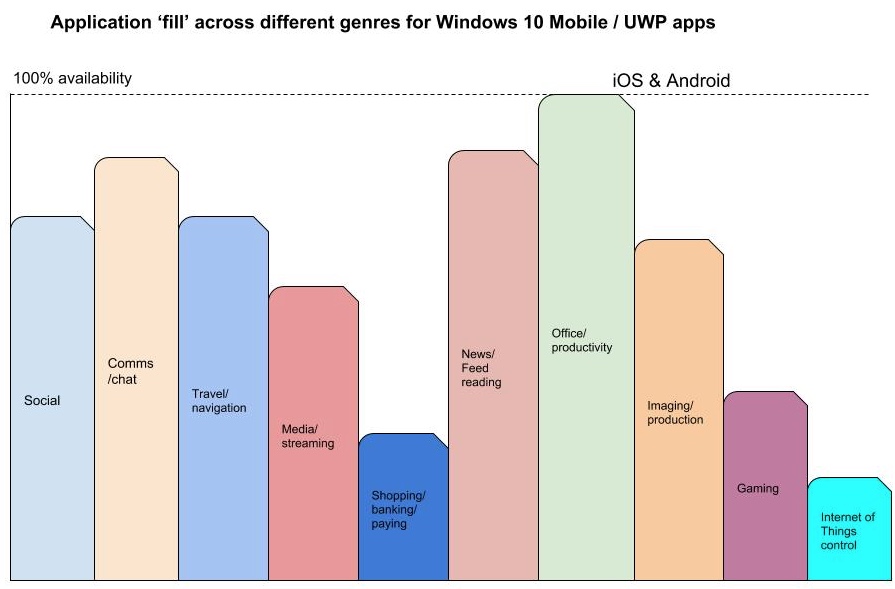 In particular, I called out IoT (Internet of Things) integration:
Weakest of all is Internet of Things integration. IoT is very new on the world stage and Windows on phones largely predates it. This isn't an issue for (possibly) the majority of people who have no IoT devices, but I do recognise that this is taking off in terms of popularity and that lack of IoT support will be more of an issue in the coming years if people choose to hang onto older (Windows) phones.
Which is something of a precursor to this feature. In fact, as you may have noted in the oldest comments on the above article, when I created the chart, I'd initially forgotten all about IoT, it simply wasn't an application genre that was on my radar, so the light blue column on the end was actually tacked on in a quick revision to the chart!
Now, IoT integration didn't occur to me partly because there simply weren't many applications in this category, enough to raise awareness, but also because I'm somewhat old school in terms of what I expect a smartphone to do for me.... and those expectations, the 'goalposts' if you like, are still changing.
I commented on moving goalposts before on AAWP, late last year, and even included a reference to IoT, or lack thereof:
...the Internet of Things (IoT) and smart devices across the world. In the home, at work, in hotels and garages. My eye was drawn by a recent commenter on an editorial here: "...it has no apps. I cannot use my lights, my heating, my speakers, my watch, Chromecast, my door lock...". Now, since when was it the function of a phone to control all these things? Moving goalposts again...

Over the last 12 months, I gather, the phone is the control panel for many digital gadgets now - at least if you believe the smart home geeks. And I'll admit that it's true that when you open the box of any serious gadget these days (a good example being my recent drone), the first thing you notice is a QR code or similar to hook you up to the manufacturer's 'companion app' on the iOS App Store or Android Play Store. Such companion apps are rarely compulsory, but they are seen as useful - and they're nowhere to be seen, across the board, on Windows Phone or Windows 10 Mobile.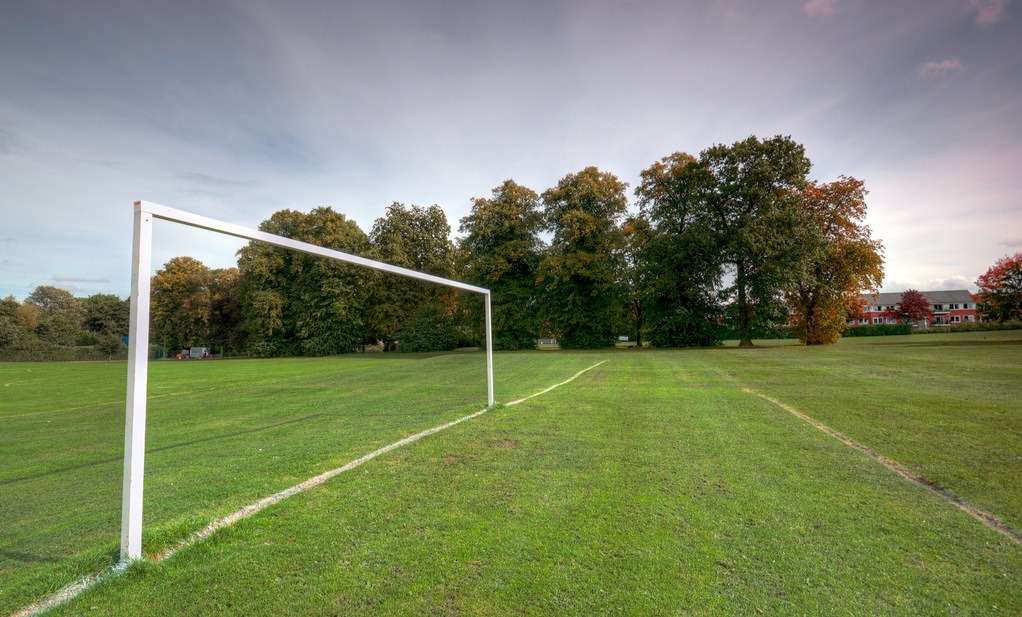 With the recent Ring decision (possibly taken by its new owners, Amazon), the world of Windows 10 Mobile and IoT just got a bit smaller again. The list of smart devices above still stands as 'things you can't control with a Windows phone', and in fact the list is getting larger and longer each day.
Which should depress me/us/you - and it probably does. Though there's also a case to be made that including IoT into the portfolio of functions that your smartphone is expected to perform isn't always a good thing, since there's possibly then one point of failure in your home's 'ecosystem' - if you lose your phone for some reason, or if it breaks or crashes, then you've not only lost your main smartphone, you've also lost your way into all the IoT hardware in your life. I guess you could have a backup phone, hooked up and ready to go, or a tablet, but that might also break the one-to-one IoT pairings.
Then there are questions over IoT itself - security is notoriously lax on IoT hardware and I don't think we're out of the woods yet in terms of this first generation of IoT and home automation being un-hackable. IoT door locks are an obvious high profile example, but I don't even want my lights or heating to be online and thus vulnerable to attack.

But don't listen to me, I'm a Luddite in such matters. To me, a smartphone is a computer, a phone, a camera, a media player, a games machine - all functions that Windows 10 Moblle performs rather well, incidentally - my phone isn't a control panel for yet more electronics in my life.
Comments welcome - do you have a Ring doorbell and will you miss Windows 10 integration next month? Where do you stand on wanting to control IoT gadgets around your home? Or perhaps you 'have an iPhone for that'?