Here's the intro from the original guide:
If you've ever seen Microsoft's rather wonderful themed Windows 10 wallpaper packs announced in news and wished they were available for Windows 10 Mobile then don't worry, they're easy to transplant onto a Lumia too. True, the Store description says 'These images are to be used as desktop wallpaper only', but this is to prevent commercial re-use. For 'desktop wallpaper' here, read 'Windows 10 device wallpaper', and that includes 'Mobile'. At least if you're happy navigating through disk folders to find the relevant JPG files!

Microsoft puts a lot of effort into finding - and purchasing, usually from Getty Images - suitable images for background (as in lockscreen or desktop) use, so it's understandable that some restrictions should be put in place. But there's no intention to prevent Windows phone users from also using the same wallpaper files. And it's really not too tricky.
The sharing and cropping procedure to a (e.g.) Lumia isn't trivial, but it's also not too tricky. Also, there's a high chance in 2021 that you may, like me, simply want all this graphical quality for your Windows 10 ultra-mobile hybrid PC - I use them on my Surface Go. Note that on Windows 10 Desktop, the packs are managed within Settings/Personalisation/Themes and that many screen colour elements take their cue from the current wallpaper, enhancing the effect of your choices.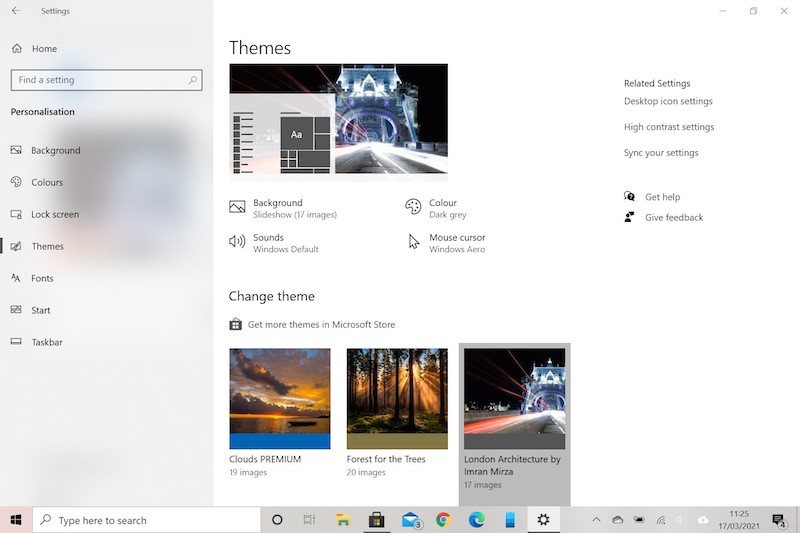 So, without further ago, here's my top 20 wallpaper/theme packs from Microsoft, the links are to the UK Store, but these should remap happily to the Microsoft Store wherever you are in the world. Of note is that a number of them have the word 'PREMIUM' (yes, capaitalised) in their title - I have a vague recollection that these were originally commercially priced, so perhaps it's notable that they're all free now. I've no idea when this change happened, so just enjoy them for now. Grab them, perhaps, in case Microsoft ever changes the PREMIUM packs' price?
[Note that all pack names are in the original American English spellings]
Rain in the city - the one that attracted me to the whole idea and still my favourite. Which is odd, since I don't generally like rain or cities - but the watery, often neon-drenched atmosphere is just fabulous. Here on my Lumia:



Forest for the trees - lush greens and emeralds, often with sunlight streaming through, I could hang around in these forests all day... Here on my Surface Go:



Clouds PREMIUM - who can resist dramatic cloudscapes against the setting sun? Not me...


Water Retreat PREMIUM - if you or I had the money, we'd be holidaying here, with perfect water, perfect sun, and no other people to ruin it and no skin cancer to be afraid of!


World National Parks - travel the world without having to lift a finger in this pack of stunning natural wonder images.

Bing Fan Favorites - a chocolate box of striking images, culled from the wonderful Bing/Spotlight images of the day on Microsoft's site.

Beach Sunsets by Josh Sommers - more sunsets, this time down by the water's edge. Just wonderful. Again, travel there with a glance, etc.

Lakeside Vistas - more water's edge relaxation, this time travelling the world's lakes.

Bending Light PREMIUM - you are Storm Thorgerson and experimenting with new Pink Floyd album art. Or something like that...

Waterfall Tour - what can I say? I like water, especially when there's lots of it. In this case - again - all around the world.

London Architecture by Imran Mirza - in the spirit of travelling, this time to my own capital (which even I haven't been able to do for a year because of wretched Covid-19), here's a stunning set of London at night, modelled on my Surface Go:



Wooden Walkways PREMIUM - stunningly lush wooden paths through extraordinarily lush greenery.

Beach Time PREMIUM - it's tropical idyll again. Add an ice cold beer and put your phone on 'silent' for best effect(!)

Panoramic Train Views PREMIUM - perhaps wallpapers that you couldn't really crop to a 'vertical' phone screen, but stunning on a PC like my Surface Go:



Light Trails PREMIUM - more night, more light, more artistic effort, creating some truly remarkable trail effects...

Panoramic Cityscapes PREMIUM - stunning city shots, again more for desktop and not suitable for cropping, but lovely on my PCs.

Night Skies PREMIUM - more low light shots, perfect for AMOLED screens on phones, though obviously some cropping will be needed. Here's this theme/wallpaper on my Lumia 950:



Chilly Morning - now that the Northern Hemisphere is edging out of winter, we can enjoy these cold, cold images without feeling too desperate!

Autumn Colors - yes, a long time to go to Autumn for real, but I love the golds and reds, here shown on my Surface Go:



World Oceans Day PREMIUM - imaginative shots of the world's water ecosystems and how they important they are...

________________
So there we go. If none of the above enthuses you about adding to and tinkering with the look of your PC/hybrid/phone then you haven't got a soul, I contend!
Comments welcome - any favourites of yours that I haven't mentioned?