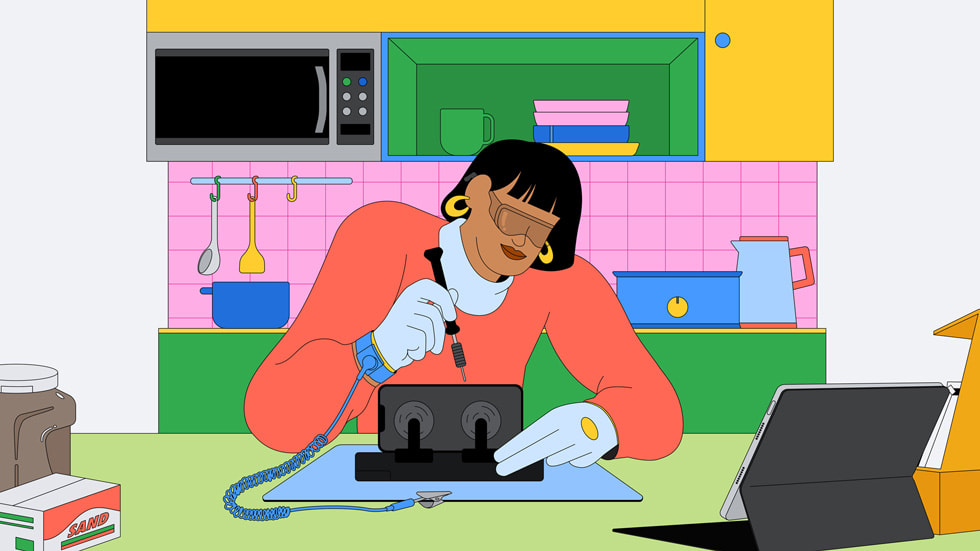 First things first, though. From Apple, last week, with my emphasis:
Available first for the iPhone 12 and iPhone 13 lineups, and soon to be followed by Mac computers featuring M1 chips, Self Service Repair will be available early next year in the US and expand to additional countries throughout 2022. Customers join more than 5,000 Apple Authorized Service Providers (AASPs) and 2,800 Independent Repair Providers who have access to these parts, tools, and manuals.




The initial phase of the program will focus on the most commonly serviced modules, such as the iPhone display, battery, and camera. The ability for additional repairs will be available later next year.




Apple builds durable products designed to endure the rigors of everyday use. When an Apple product requires repair, it can be serviced by trained technicians using Apple genuine parts at thousands of locations, including Apple (in-store or by mail), AASPs, Independent Repair Providers, and now product owners who are capable of performing repairs themselves.




To ensure a customer can safely perform a repair, it's important they first review the Repair Manual. Then a customer will place an order for the Apple genuine parts and tools using the Apple Self Service Repair Online Store. Following the repair, customers who return their used part for recycling will receive credit toward their purchase. The new store will offer more than 200 individual parts and tools, enabling customers to complete the most common repairs on iPhone 12 and iPhone 13.




Self Service Repair is intended for individual technicians with the knowledge and experience to repair electronic devices. For the vast majority of customers, visiting a professional repair provider with certified technicians who use genuine Apple parts is the safest and most reliable way to get a repair.
It's not hard to see why this last paragraph is important.
Accepted, Apple charge for everything, and a screen replacement (in an Apple Store or via mail order) on any current iPhone is currently in the £250 region (in the UK, including VAT). Which sounds a lot, but high quality AMOLED screens, complete with cabling and touchscreen, are expensive. Typically £200 or so for any given flagship phone. At least this is the cost of the OEM (original) part, supplied by a wholesaler to you or I - obviously Apple itself buys in bulk and gets them cheaper.
Now think that (in this case) Apple is getting in the right display at 100% authenticity, carefully dismantling your sealed smartphone, replacing the display, pairing the serial number with your phone's chipset, checking that Face ID still works, then re-doing all the waterproofing, and guaranteeing the repair (and durability) for an appropriate period, all for only a few pounds more than the component would cost you to buy in.
In contrast, you or I might think that we'll have a go, spending half an hour with a hair-dryer trying to loosen the glue and get the old screen off, somehow managing to slip a pry tool in all round without slicing through a ribbon cable. Then it's on with the new screen but what about the waterproofing? Do we live with no water protection or do we try and get the right sealant or tape in and hope for the best?
I think I'd rather pay an extra £50 and have an Apple technician do it for me, armed with the right tools and components, ...and tons of experience, since they must do this sort of thing all day long.
Secondly, there's the absolute financial aspect. Apple is going to open up an online store that sells the correct parts, sells the right tools (and an iPhone currently involves over four types of specialist screw), sells the right dismantling 'jigs', but for a single repair the cost of all this is going to likely be more than Apple's quote to do it all for you. So you'd only actually save money if you do multiple iPhone repairs - just how clumsy is your family?
Thirdly, there's the immediacy aspect. For most of us, getting Apple to fix (say) a broken iPhone screen is a same day process, taking it to an Apple Store nearby. If you go DIY, you'd have at least a couple of days while the parts get shipped to you by signed post, then a learning curve, no doubt, while you scour the Repair Manual from cover to cover. No thanks.
I'm not trying to discourage you from 'having a go', but having taken apart many smartphones myself in the past, I have to admit that some of them didn't go back together as perfectly as I'd hoped and in hindsight I usually wished I'd paid someone else for their time and expertise, gaining a warranty and the full restoration of water resistance in the process.

Hence that last paragraph again: "Self Service Repair is intended for individual technicians with the knowledge and experience to repair electronic devices. For the vast majority of customers, visiting a professional repair provider with certified technicians who use genuine Apple parts is the safest and most reliable way to get a repair." Agreed.
However, there are a couple of net benefits from Self Service Repair, even if you don't personally partake of the service:
Third party repair shops (the aforementioned 'technicians') will be able to get proper/official parts (rather than cheaper 'clone' parts), tools and instruction, so more places will be able to carry out repairs. More convenient for you, possibly, and maybe even a little cheaper than going to the likes of Apple.

The entire industry will take a cue from this, as they usually do with Apple, with more manufacturers offering parts and tools for more and more models in the coming years. Thus, the Right to Repair campaigns really have had a global impact.
In short, I welcome Self Service Repair as a positive initiative overall. Add this to smartphone manufacturers like Samsung and Google now promising up to five years of updates for their phones. Add this to companies like Fairphone (the 'Fairphone 4' below) providing immediate dismantling and spare parts, plus six years of updates. Add this to standardisation on USB Type C and the removal of chargers and unnecessary accessories from phone boxes. Add in smaller boxes across the board, along with more efficient shipping, and it's clear that messages on sustainability and e-waste are getting through across the board.
Scale all of these factors up to billions across the world over the next decade and the beneficiary of all this is Planet Earth. This is one of those situations when you have to take a step back and see the big picture.