So... here's my considered Top 5 Phones, factoring in value as well as absolute functionality and future proofing. I try to provide as much variety as possible, though the last twelve months have made me lose confidence in a number of smartphone makers, which cuts down the choices, as it were.
Out of contention
We have obviously lost LG completely. And Huawei, at least outside China. I've lost confidence in Motorola, the dependable mid-range and budget king from a few years ago, amidst a flurry of uninspiring phone releases and erratic support.
I've lost confidence in Nokia, as in its HMD Global form, after broken promises (them giving up on Android 11 completely on their premium-priced Nokia 9 PureView) and again a string of uninspiring and over-priced mid-rangers.
There are the wealth of BBK group phone makers, OPPO, Vivo, Realme, but actual release and support in the West is all over the place and you're at the mercy of whatever the companies decide to do with your data or with updates. Often decent handsets, but rightly or wrongly I rarely have confidence in the future, which is why these brands devalue hugely after purchase, should you want to sell them on.
Also part of BBK, effectively, is OnePlus, and they do sell and offer support in the West. But despite their oft-quoted motto of 'Never settle', all I've seen them do in the last five years is… settle. So we lost card expansion, the audio jack, fast capacitive fingerprint sensors, and now we're losing Oxygen OS, always a helpful Android skin, since Oxygen OS 12, about to be released, is effectively a tweaked version of BBK's Color OS - and is apparently a disaster. I think they should change their motto to 'We always settle'. And this lack of control in their own destiny has meant that OnePlus can really be bundled in with the other BBK Group manufacturers, with the same possible downsides.
Bubbling under
We almost made it to a Top 5 without anything from Samsung, and last Spring's Galaxy S21 Ultra - see Phones Show 415 - is still a top recommendation, especially if someone's looking for loads of zoom from their phone camera. This started at £1200-ish, depending on spec, but you can now find them around £900 - and the Ultra is still worth it, I reckon.
And no, I didn't forget Google and its new Pixels. But as covered in my recent Pixel 6 Pro review in Phones Show 433, Google still doesn't really know what it's doing in terms of making phones and, despite the glorious support - which you'll need, the new Pixels are filled with compromises, only some of which can be fixed in software.
I also didn't forget folding phones, the Samsung Galaxy Z Fold 3 and Z Flip 3- which are getting better, more reliable, and more mainstream. But we're a year away from these making an official Top 5, I reckon. There are still just too many caveats - long term reliability and price, mainly.
Talking of folding, Microsoft at last gets a mention in the 'bubbling under' section here, with the Surface Duo 2 - although it had a mountain of obvious caveats, notably lack of waterproofing and no Qi, I so loved my time with the Duo 2 that I'd love to recommend it. But I just can't, at getting on for £1500 (for the 256GB version).
Top 5 suggestions and recommendations
In reverse order:
5. Samsung Galaxy A52s 5G, £340
Ah yes, Samsung. Gorgeous displays, distinctive One UI front end and software suite, camera images that have been edge enhanced to oblivion - but let's not go there again. Even though I do think Samsung has made some dodgy decisions in terms of its flagships (ultrasonic fingerprint sensors, telephoto cameras which actually aren't, ditching microSD, after also ditching audio jack… I can feel an angry rant coming on), last year's Galaxy S20 FE is still a good shout and often seen well below £500 now.
Perhaps an even better shout though, and my no. 5 here is the new Galaxy A52s 5G, which you can think of as an S20 FE without the 3x telephoto and without Qi charging, but adding the 3.5mm audio jack back in (woohoo!), having an extra year of software upgrades and support, and - pertinently - coming in £150 or so cheaper.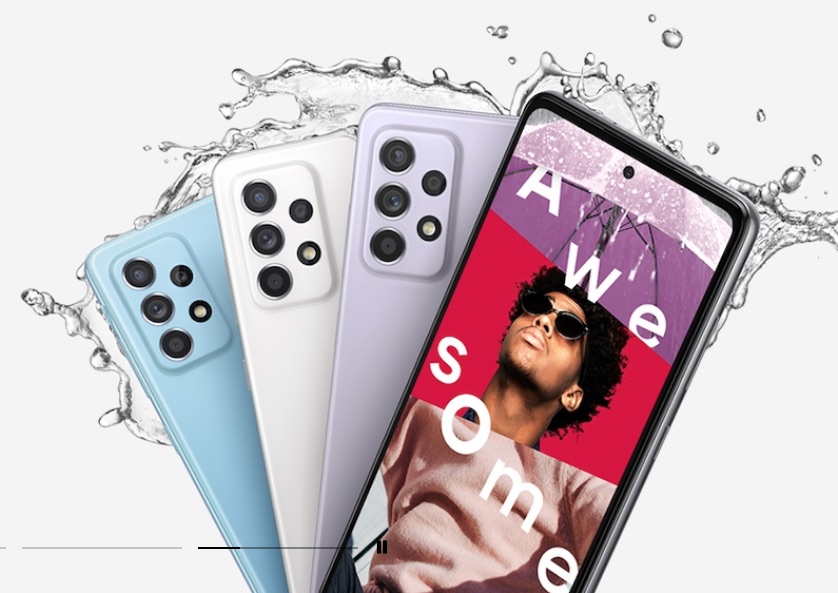 4. Xiaomi Poco F3 - £290
I did review the Mi 11 Ultra in Phones Show 429, it's terrific but it feels wrong to pay £1000 for a Xiaomi phone. Sorry. It just does.
Where Xiaomi scores big, though, is in the budget end of the spectrum. Exactly where other manufacturers stumble, Xiaomi excels. Admittedly the (deep breath) 'Redmi Mi Note 10 F3 Pro 5G Lite'(!) or whatever is usually somewhat confused between any one of up to 10 other phones with similar names, but the good news is that it doesn't much matter which sub-£300 Xiaomi you pick, it'll be very decent.
I've picked out the POCO F3 because of its fast Snapdragon 870 chipset and lovely AMOLED screen, but it was something of a toss up between the aforementioned 10 other models. The main decisions are around screen tech and presence of card expansion, so just visit mi.com and see what flash sales they have on - during the Black Friday weekend the POCO F3 was £249, for example, terrific value. But the prices on all the Xiaomis are up and down like a yo-yo, so seize the opportunity as and when.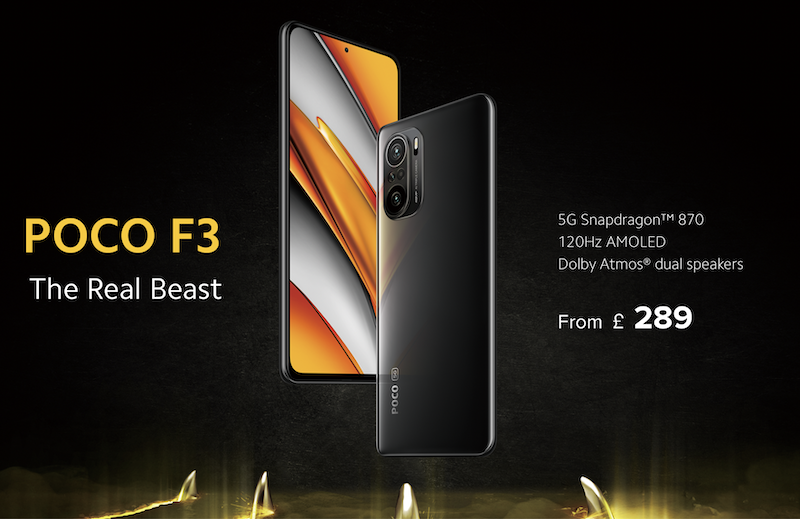 3. Apple iPhone 13 mini, £679
So many smartphones are now physically huge as we go into 2022, and while I too enjoy a larger screen for media, classic portability has been lost. And if you do try and go 'small', to fit into any pocket, then you're usually down a feature phone level in terms of speed and functionality.
Not so this, the iPhone 13 mini, which is only fractionally larger than, and with similar flat sided metal design to, the classic iPhone SE (I've still got one of those as a 'last ditch' backup device, signed in and ready to go) from 2016, yet with the amazing sensor shift main stills and video camera from the iPhone 12 Pro Max that I've been relying on for the last year, the same super-fast A15 chipset as all the larger iPhone 13 units, the MagSafe Qi charging, which works so well, and the same screen quality and iPhone experience. Just smaller. A lot smaller.
Perhaps the 5.4" screen is not the best for an immersive Netflix experience, but the iPhone 13 Mini is simply incredible for what it offers, shouldn't break the bank, and can fit in absolutely any pocket, whatever you wear.
2. Sony Xperia 5 mark iii, £900
Along similar lines but this time in the Android world, the Xperia 5 range is also diminutive yet offers complete flagship internals, blindingly fast, the super front-facing speakers and game changing Dynamic Vibration system, plus that interesting dual-zoom factor telephoto system, so covering all ranges you're likely to need. Plus some really high end 'Pro' imaging software, in which you can tweak almost everything.
This being Sony, you get all the tech stuff that other manufacturers have forgotten. 3.5mm audio jack, present and lovely. Card expansion. Shutter button. Notification LED. Enough to bring a warm glow to this geek's heart!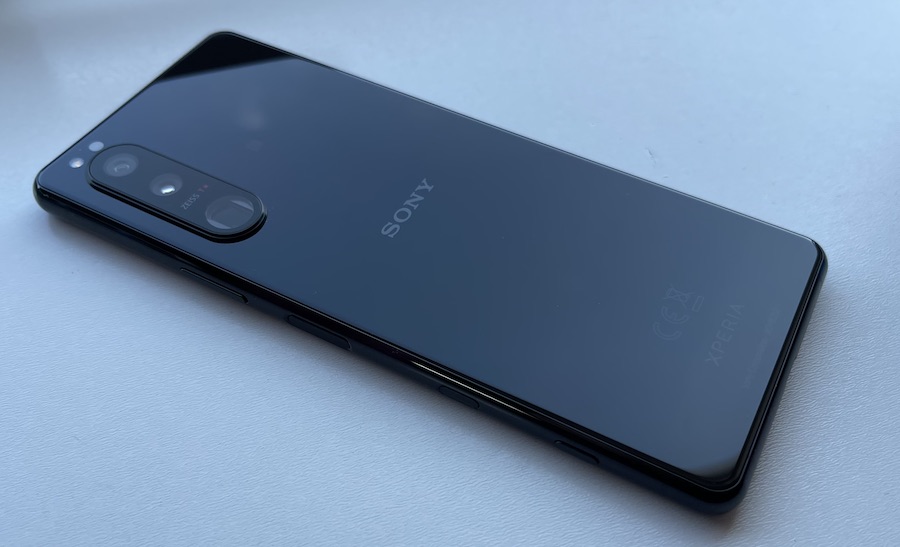 The only two catches are the price, which is a little high at £900 - you're paying for Sony's name, Apple-style! And the lack of Qi charging, though as you see here, it's a trivial ten pound addition from Amazon.
1. Apple iPhone 13 Pro Max, £1050
Perhaps the number one request from all phone users is to have longer battery life and Apple delivered in spades with the iPhone 13 Pro Max. Yes, it's large, but I've been living with the 12 Pro Max for a year now and appreciate the extra screen real estate and possibilities, yet this takes that phone and - quite literally - adds a real world extra 20% screen on time - over 10 hours is common! - for just a fraction of a millimetre extra thickness. Impressive.
Add in just about the best tuned phone camera system on the market (though admittedly also in the smaller iPhone 13 Pro if you don't need all that battery), a glorious display in all light conditions, and the usual stainless steel frame and ceramic shield glass.
Then there are excellent speakers, and - hey, it's another iPhone - updates and support for 5, 6, or even 7 years, potentially until 2028.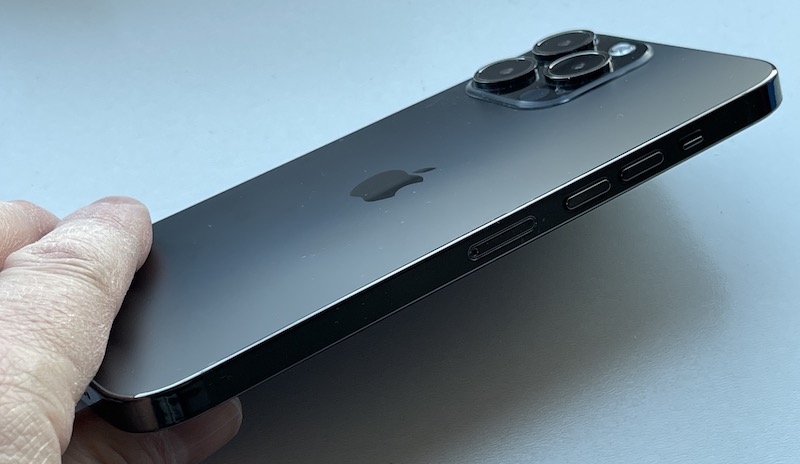 ---

Your comments welcome, of course, these Top 5s are always subjective, plus I was aiming to cover all bases, whereas you'll have your own favourite software and hardware bullet points.