Microsoft's adjusted (non-GAAP) revenue, operating income and earnings per share were therefore $18.6 billion, $6.93 billion and $0.73 EPS respectively. That represents an increase of 7%, 12% and 6% year on year.
Steve Ballmer, chief executive officer of Microsoft, said:

"We delivered record fourth quarter and annual revenue, and we're fast approaching the most exciting launch season in Microsoft history. Over the coming year, we'll release the next versions of Windows, Office, Windows Server, Windows Phone, and many other products and services that will drive our business forward and provide unprecedented opportunity to our customers and partners."

Here's the break down for each of Microsoft's major divisions.
Windows and Windows Live Division's revenue decreased by $598 million (-13%), primarily due to deferral of revenue related to the Windows Upgrade Offer. Operating incomes was $2.397 billion on sales of $4.145 billion.

Server and Tools Division's revenue increased by $568 million (13%). Operating incomes was $2.095 billion on sales of $5.092 billion.

Online Service Division's revenue increased by $55 million (8%). Operating income was -$6.671 billion on sales of $735 million.

Business Division's revenue increased $418 million (7%), thanks to continued sales of Microsoft Office 2010 and related software. Operating incomes was $4.1 billion on sales of $6.291 billion.

Entertainment and Devices Division's (Xbox, Windows Phone and Skype) revenue increased by $292 million (20%), thanks primarily to the addition of Skype revenue to earnings. Operating income was -$263 million on sales of $1.779 billion.

Windows Phone numbers
The quartely report also highlighted the announcement of Windows Phone 8 and the 100,00 app milestone for Windows Phone.

While Microsoft did not report on Windows Phone device sales directly it did note that "Windows Phone units increased more than 50% q/q". Gartner estimated that 2.7 million Windows Phone devices were sold in Q1 2012, while IDC gave an estimate of 3.3 million for the combined figures of Windows Phone and Windows Mobile in Q1 2012. A 50% increase for these figures would be and 4.05 million 4.95 million respectively for Q2 2012, which gives a 4.5 million middle number estimate.
In its Q2 results Nokia reported that it had sold 4 million Windows Phone Lumia devices, which, together with the estimates above, would suggest Nokia is responsible for between 80% and 90% of all Windows Phone device sales. That's a statistic that underlines the importance of Nokia to Microsoft's mobile ambitions.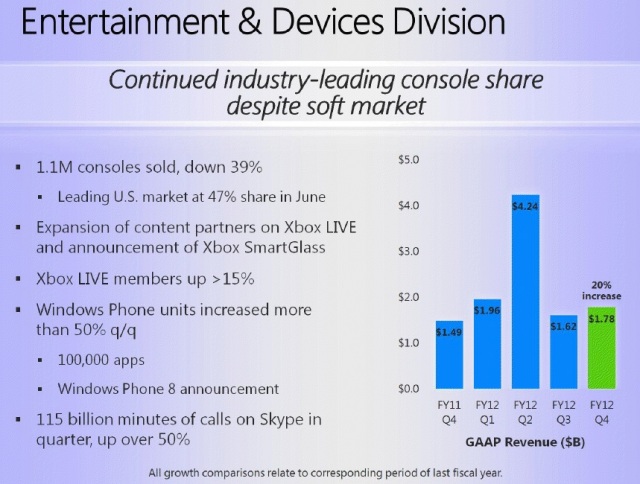 More information is available on the Microsoft Investor site.