Italy, Germany and Russia are the only markets in which pre-ordering, pricing and availability has been officially announced by Nokia. However, based on these prices, we predict UK SIM-free pricing, inclusive of VAT, will be £499 (Lumia 920) and £400 (Lumia 820).

As we previously suggested in our previous article on Lumia 920 and 820, this pricing is broadly equivalent to the "before taxes and subsidies" launch pricing for the Lumia 800 (€420) and Lumia 900 (€480), so there are no real surprises here.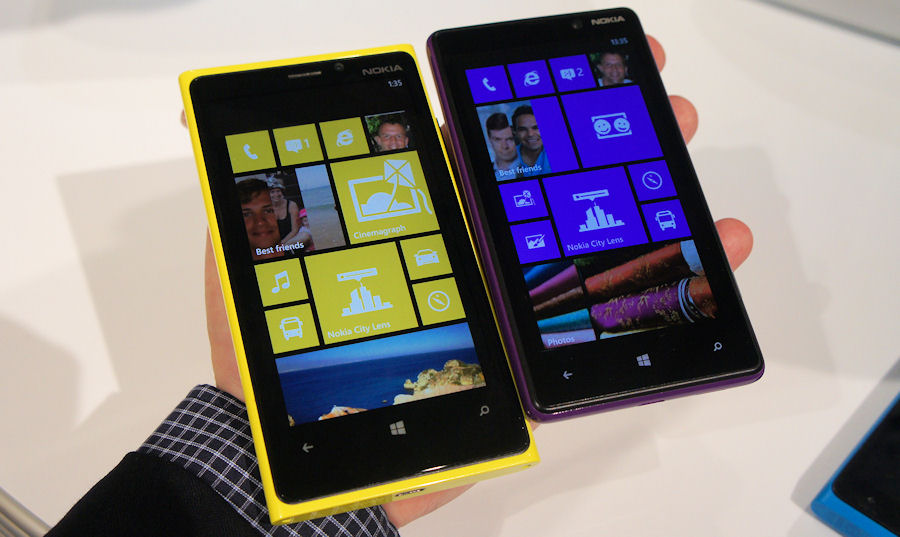 The £499 price point point means the Lumia 920 will under cut the equivalent iPhone (32GB) by £100 (or by £29 for the 16GB model). It is also competitive with other leading smartphones, especially when comparing launch pricing. However, it should be noted that many models (e.g. Samsung Galaxy S III) are now available for less than their launch price. This is typical for most smartphones and the Lumia 920 and 820 are also very likely to follow this pattern.
The exact price point may be a moot point for many UK consumers. This is because the majority of UK consumers, like many other markets, buy smartphones with an associated operator contract. As a result, they receive an operator subsidy and, commonly, do not pay any up front cost for a device. The Nokia Lumia 920 is likely be available free on the £40 (2 year) contract tier, and may also be free on the £35 contract tier (otherwise £49.99 up front). For lower priced contracts, an up front fee will be charged in addition to any monthly contract. The Nokia Lumia 820 is likely be available for free on a £35 contract.
Lumia 920 pricing
| | | | | |
| --- | --- | --- | --- | --- |
| | Pricing | Tax Rate | Base Pricing | £ Price Equivalent |
| Italy | €599 | 21% | €495 | £394 |
| Germany | €649 | 19% | €545 | £433 |
| Russia | 24,990 rubles | 18% | 21,178 rubles | £419 |
Average price in GBP: £415
Average price in USD: $673
Average price with UK VAT: £498

Lumia 820 pricing
| | | | | |
| --- | --- | --- | --- | --- |
| | Pricing | Tax Rate | Base Pricing | £ Price Equivalent |
| Italy | €499 | 21% | €412 | £327 |
| Germany | €499 | 19% | €419 | £332 |
| Russia | 19,990 rubles | 18% | 16,941 rubles | £335 |
Average price in GBP: £331
Average price in USD: $537

Average price with UK VAT: £397

Other notable smartphone prices (Amazon UK prices, including VAT)
Apple iPhone 5: £529 (16GB), £599 (32GB), £699 (64GB)
Apple iPhone 4S: £449 (16GB), was £499 at launch
Samsung Galaxy SIII: £437 (£499 at launch)
Samsung Galaxy Note: £395 (£580 at launch)
Samsung Galaxy Nexus: £295 (£520 at launch)
HTC One X: £380 (£529.99 at launch)
HTC One S: £335 (£440 at launch)
Motorola Razr i: £349 (launched recently)
Motorola Razr Maxx: £375 (£450 at launch)
Blackberry Bold 9900: £380 (£520 at launch)
Blackberry Torch: £339 (£500 at launch)
Nokia Lumia 800: £215 (£449 at launch)
Nokia Lumia 900: £330 (£499 at launch)
Nokia 808 Pureview: £439 (£530 at launch)
More information
Nokia Italy pre-order information
Nokia Germany pre-order information