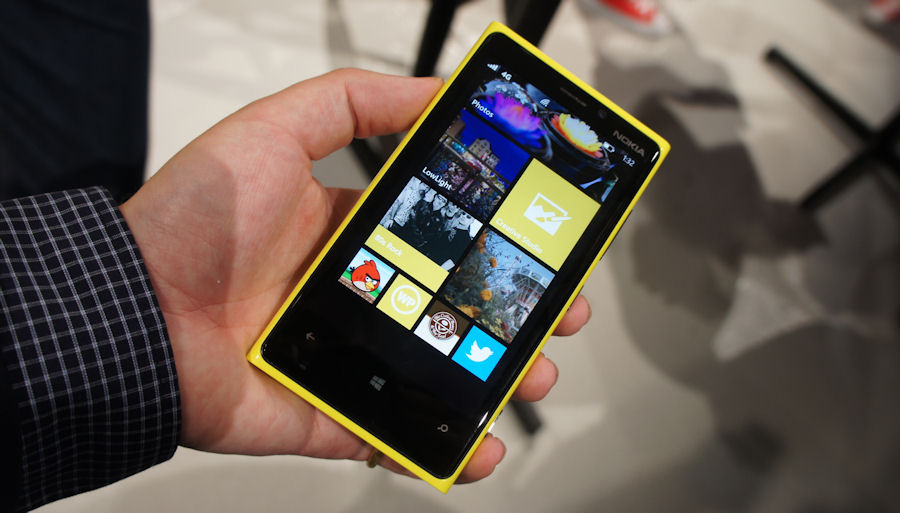 General availability and pricing information
Earlier this summer Nokia indicated an intention to launch Windows Phone 8 first in its key markets such as "the USA, China, UK, and certain other European subsiand Asian [countries]". Nokia's CEO, Stephen Elop, noted that this was because "they are big signalling markets or are big markets overall".
Later in the summer, during the conference call for Nokia's Q2 2012 results, Stephen Elop noted that the company would put "more resources behind specific sales opportunities", suggesting the company would look to create a launch pattern of close operator partnerships (similar to that with AT&T for the Lumia 900), rather than a launch with a broader range of partners (as with the Lumia 800 in Europe).
Early indications suggest the Lumia 920 will see this strategy enacted for the initial primary launch period (November 2012), and, with wider market availability, in a second phase (late 2012 and early 2013). A tertiary phase will see an expansion of operator/retailer partners and markets (2013).
A close operator partnership could range from a period of exclusivity (e.g. as with the Lumia 900 in the US on AT&T, and the Lumia 710 on T-Mobile) to an agreement for co-marketing (e.g. operator agreeing to spend a guaranteed amount marketing the Lumia range). In both cases, Nokia would seek to agree an order for a certain minimum number of devices. The aim would be to both enhance sales and maximise the amount and effectiveness of advertising. This is important because Windows Phone, with its market share of just a few percent, is effectively a new entrant against iOS and Android.
As noted above, the key markets include the USA, China and the UK. The other European countries included in the primary launch period are likely Germany, France, Italy and Russia, but may also include others, depending on the nature of operator agreements that Nokia is currently concluding. The other Asian countries likely to be included in the primary or secondary launch phases are India, Australia, Hong Kong, Singapore and Indonesia, with others following in the tertiary launch phase.
No pricing has been officially announced, but, for the Lumia 820 and Lumia 920, will be in line (+/- €50) with the 'before taxes and subsidies' launch pricing on the the Lumia 800 (€420) and Lumia 900 (€480) respectively.

Operator information
A number of operators, or related parties, have indicated that they will be carrying the Nokia Lumia 920 or Nokia Lumia 820. We've summarised this information below, but if you have anything to add, please let us know in the comments.

USA (November)
AT&T is widely expected to be the launch partner for the Lumia 920 (and possibly also the Lumia 820), with T-Mobile also carrying the Lumia 820. No official announcements have been made, which likely means device development, operator agreements and testing are still being finalised. However, rumours (source 1, source 2) confirm the AT&T availability and point to a launch date of November 2nd. Other sources suggest a date of October 21st, but our own sources suggest the November date is more likely.
In the US, attention will focus on the subsidised pricing for the Lumia 920; a repeat of the Lumia 900 $99 price point is possible, which would give the handset a strong start. The Nokia Lumia 920 is likely to launch first, with the Nokia Lumia 820 following shortly afterwards.

Verizon's Chief Marketing Office, Tami Erwin, told CNET that the operator will be selling "multiple Windows Phone [devices] in the fourth quarter". Marni Walden, Verizon's COO, said the company plans to "work with Nokia". This stops short of a confirmation of Nokia Windows Phone devices on Verizon. The likely scenario is a number of Windows Phone devices (possibly from HTC or Samsung) and at least one Nokia device. The Nokia device is likely to be a Verizon-specific variant of the Nokia Lumia 820 (e.g. Lumia 822), in the light of AT&T's status as the primary US launch partner for the Lumia 920.

UK (November)
Everything Everywhere (T-Mobile/Orange), with an approximate launch date of November (source). Everything Everywhere has a period of exclusivity, but the length of this period is unclear. The Register reports that negotiations with Everything Everywhere are ongoing, and the final terms of exclusivity will depend on the volume commitment made by the operator (i.e. how many they promise to sell).
Nokia has noted the Lumia 920 may be carried by other operators, but has not made any formal announcements. The Nokia Lumia 920 will be available free on the £40 (2 year) contract tier, and may also be free on the £35 contract tier (otherwise £49.99 up front). For lower priced contracts, an up front fee will be charged in addition to any monthly contract. The SIM-free pricing is likely to be around £450.

France, Italy, Germany (November)
France's 2nd biggest operator, Vivendi, will be carrying the new Lumia devices (source). No launch date has been specified, but it is likely to be November.

Telecom Italia (source) will be carrying the new Lumia devices. No launch date has been specified, but it is likely to be November.

Vodafone Germany will have the Nokia Lumia 920 and 820 in November (source). T-Mobile Germany will be offering the Lumia 820 in a similar time frame (source).

Switzerland, Denmark (late 2012)
3 Denmark will be offering the Lumia 920 (source), no launch date specified, but is likely to be late 2012, or early 2013.
Swisscomm will be offering the Lumia 920 from late November (source).

China (late 2012, or early 2013)
China Mobile will get a TD-SCDMA (Chinese 3G) version of the Nokia Lumia 920 (source), but this may not be until 2013.
Versions of the Lumia 920 and 820 compatible with the TD-LTE (Chinese 4G) will be available next year.