As we described in our original report, the Surface has two types of cover which both double as a keyboard. The 'Touch Cover' gives a membrane-like keyboard, which can be purchased separately in white, black or cyan, for £99.99 / $119.99. For those who have heavier text input needs there is a 'Type Cover' which provides moving keys which will set you back £109.99 / $129.99 and is only available in black.
Pricing for other countries are available on the Microsoft Store too (source):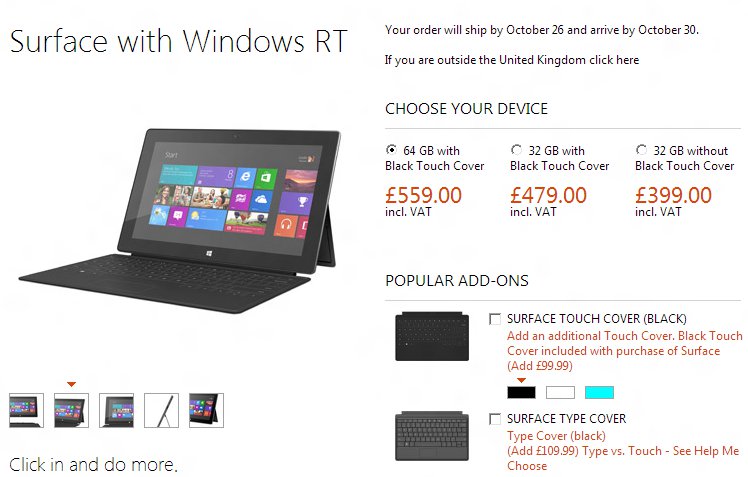 The Surface will be running Windows RT, which is the ARM version of Windows 8. Microsoft said [in its original product announcement] the Intel x86 based 'Surface Pro' would be released 90 days after the Surface. Therefore, look for an announcement toward the end of Q1, or early Q2, 2013.
Windows RT exclusively runs the Metro (ahem) interface and thus can only run applications from the Windows Store. Desktop applications written for x86 PCs will not run on the Surface. As such, the RT lacks the Windows 7 style desktop that is found on the desktop version of Windows 8.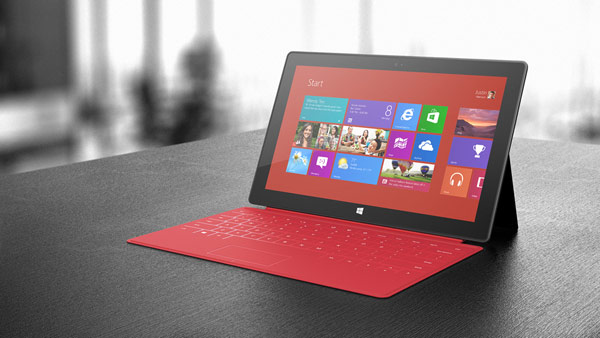 The Surface comes bundled with the Home and Student Microsoft Office 2013 Preview. However, as soon as Office 2013 is available to buy, Microsoft stated:
Microsoft Home and Student 2013 RT Preview edition installed. Final Office Home & Student version will be installed via Windows Update when available (free download; ISP fees apply). Some features and programs unsupported. Office Home & Student 2013 RT Preview and the final version are not for use in commercial, nonprofit, or revenue generating activities. Commercial license options available (sold separately).
The Surface tablet has a uni-body construction, made from a material called 'VapourMg' - that is, Magnesium built up via vapour deposition (presumably not just Magnesium, lest it turns into a flare!). The tablet body has a kickstand panel that swings out from the rear of the device for video viewing or standing in a laptop configuration with a keyboard cover.
The latest specifications on the Surface, according to Microsoft are:
Software - Surface with Windows RT comes with Microsoft Office Home and Student 2013 RT Preview (2) (which includes Microsoft Word, PowerPoint, Excel and OneNote)

Exterior - 10.81 x 6.77 x 0.37 inches, 1.5 pounds, VaporMg casing, dark titanium color, volume and power buttons

Storage - 32 GB (3); 64 GB

CPU - NVIDIA T30, 2 GB of RAM

Wireless - Wi-Fi (802.11a/b/g/n), Bluetooth 4.0 technology

Cameras - Two 720p HD cameras, front- and rear-facing

Audio - Two microphones, stereo speakers

Ports - Full-size USB 2.0, microSDXC card slot, headset jack, HD video out port, cover port

Sensors - Ambient light sensor, accelerometer, gyroscope, compass

Power Supply - 24W power supply

Warranty - One-year limited hardware warranty

Apps (included) - Microsoft Office Home and Student 2013 RT Preview (2) (Word, PowerPoint, Excel and OneNote), Windows Mail and Windows Messaging, SkyDrive, Windows Internet Explorer 10, Bing, Xbox Music, Xbox Video, and Xbox Games
Microsoft has also created an official Twitter accoun for the Surface - @Surface