From Myriam's piece:
It's time to rejoice, because it looks like something's in the works. This weekend we obtained an exclusive set of identical pictures taken with two Lumia 920 handsets -- one setup with the existing PR1.0 firmware, the other running the upcoming PR1.1 update . Here's the great news: looking at these sample shots (see crop above), it's abundantly clear that Nokia's fixed the camera's fuzziness problem. The not-so-great news is that we're still seeing some issues with white balance. Nokia US recently hinted on Twitter that an update is scheduled "this month" and our source confirms that it's indeed PR1.1. The new software also includes many stability, LTE and web browsing improvements, plus Microsoft's own tweaks (such as declining calls via SMS).
Here's another example from Myriam's photo samples. Again with the same 1:1 crop section from a sunlight photo: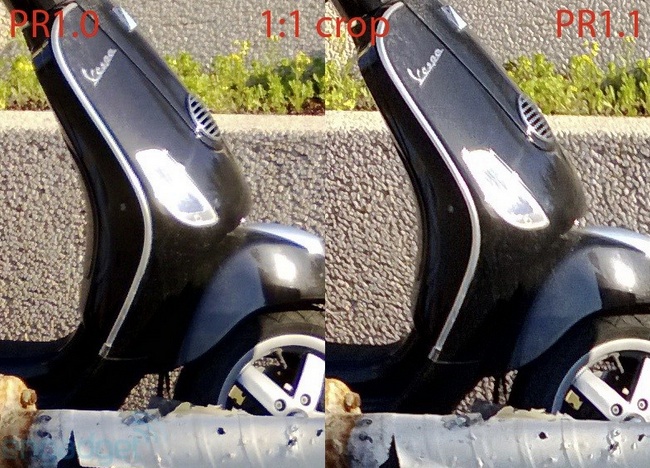 A huge part of the Lumia 920's camera (aside from the optical image stabilisation system) is the image processor and the software that this uses to tweak the raw images coming from the camera sensor. Typically such processing involves noise reduction and edge enhancement and I've already speculated that the parameters for these two procedures could do with some tweaking - it's all very well to reduce digital noise because the sensor isn't very large (compared to the 920's PureView cousin device on Symbian, the Nokia 808), but when there's lots of light, there's not going to be much noise, so the parameters need to be adjusted accordingly.
Happily, it seems that the PR 1.1 software for the Lumia 920 includes exactly this sort of adjustment, with less aggressive noise reduction in daylight, which in turn means you don't need so much edge enhancement. Which, in turn, improves detail and photo quality.
Nokia USA are quoted as saying the update will hit 'this month', but time is drawing fairly short now. The HTC 8X has had its corresponding platform update, mind you - wouldn't it be nice to have our Lumia 920s all sorted, camera-wise, in time for Christmas?