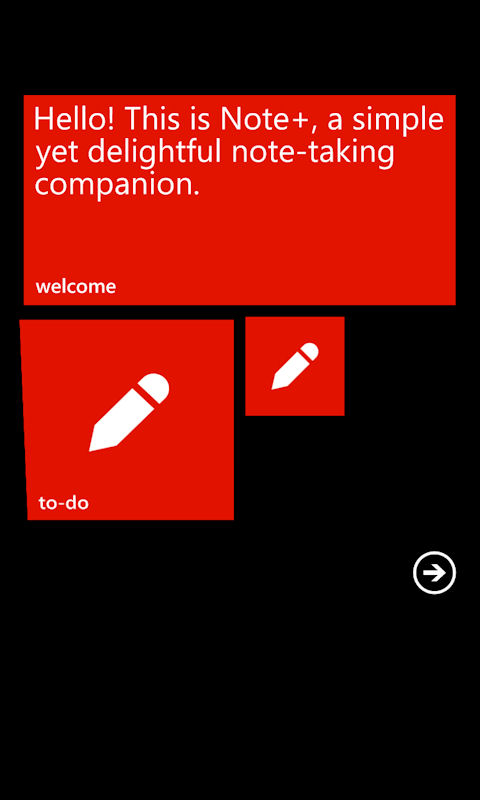 Note+ can be seen as an alternative to Windows Phone built in OneNote app, but while it is in the same broad app category, it's really serving a different audience. If you're the sort of person who keep numerous small text notes scattered around the place, then Note+ maybe the ideal app for you. It may not have the complexity of other note taking apps, but it does have a gentle learning curve, and is a very close digital analog to the post-it-note approach to keeping track of things.
The key benefit of the version 2.1 update is that it more deeply integrates with Windows Phone 8's platform features, making notes more accessible and "glanceable" (e.g. lockscreen and better start screen integration). The voice commands and voice dictation wont appeal to everyone, but they do make it possible to operate the app almost entirely hands free.
Windows Phone Store description:
Note+ is a simple yet delightful note-taking companion. Fast and fluid, it allows you to efficiently take quick notes and keep them organized, share them and pin them to the Start screen without any effort.

Beautifully Modern, from app icon to page transitions, it's as intuitive as a native application. Optimized for Windows Phone 8, it supports Live Tiles, Speech Recognition, Voice Commands, Lock Screen Notifications and Security PIN, as well as instant launch, instant resume and fast app switching.
Note+ can be downloaded from the Windows Phone Store. A featured limited trial is available (creation of up to three notes), with the full app costing £0.79 / $0.99 / €0.99.