The app, which is also doubles as something of a technology demo app, takes advantage of a number of platform specific features including lockscreen integration (changing lockscreen wallpaper), Live Tile integration (showing upcoming events), app2app APIs (to tie in with other Nokia apps), and NFC sharing (share contact details with another attendee).
The app also integrates with other Nokia apps. For example, a Spanish music section provides a shortcut to a number of themed Nokia Music Mixes, and Nokia Maps is used for location functions. There's also an augmented reality view, showing points of interest in Barcelona, which draws on the technology used in Nokia City Lens. As well as providing a number of welcome extra features, it's a good demonstration of the extra value that Nokia apps add to its handsets.
Third party developers will also be pleased to see that there's an area for app recommendations. Nokia will be running promotions during MWC to encourage the usage of these. For example, a special promo code for Postcard on the Run will enable users to send postcard to snail mail address for free from their phone.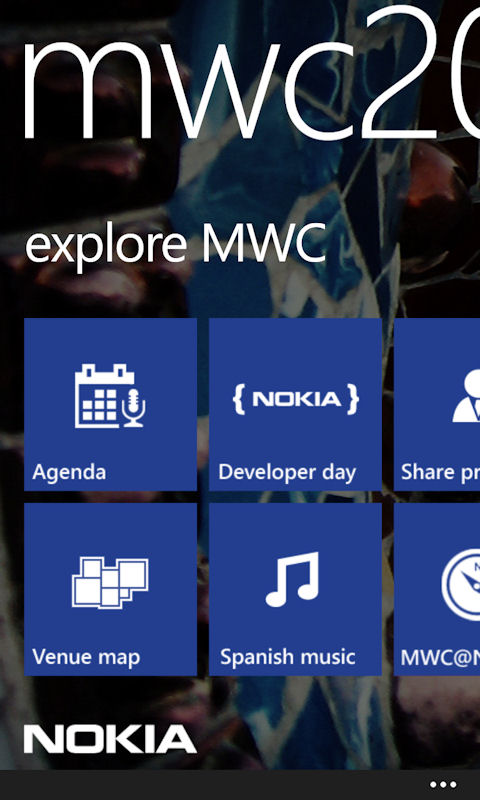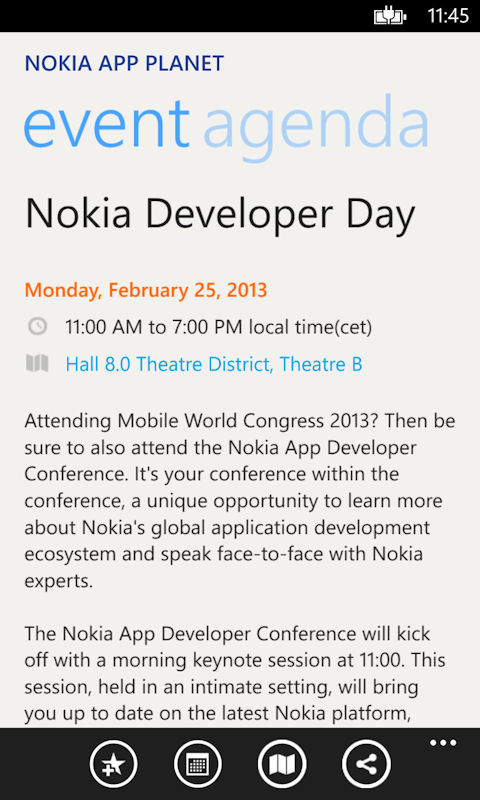 The app compliments the already available official MWC app from the GSMA, which provides a similar feature set, and the NFC badge app that lets you use your phone to pass through perimeter access points at the show (and stops you from having to show your photo ID each time).
All these apps are worth downloading if you're planning to attend the show. Even if you're not attending the show they may still be of interest as the apps do a good job at showing the scale of this largest of mobile industry events.
Windows Phone Store description:
Exclusively for Nokia Lumia, this companion app is your guide to Nokia and Mobile World Congress 2013 in Barcelona, Spain.
View the entire MWC exhibitors, speaker, agenda, including the tracks for Conference, Featured Programme and Seminars
View venue maps without an Internet connection
Personalized your favourite speaker, exhibitor and event list.
Explore Barcelona with the help of built-in Nokia Map, Nokia Drive and AR.
Network within the event by sharing your contact information using NFC.
Read the latest social media feed about MWC.
Remind you of the next upcoming event in lock screen and live tile.
The Nokia MWC 2013 app can be downloaded from the Windows Phone Store for free.