The app can be divided into three core functionality areas:
News - which provides information from Bloomberg extensive content channels. Content is divided into multiple categories and there's also on demand access to Bloomberg's audio and video media properties.

Market data - which provides market data for global Equity Indexes, Bonds, Futures, Commodities & Currencies.

Watchlist - which lets you track, manage, and analyse your personal holdings / portfolio.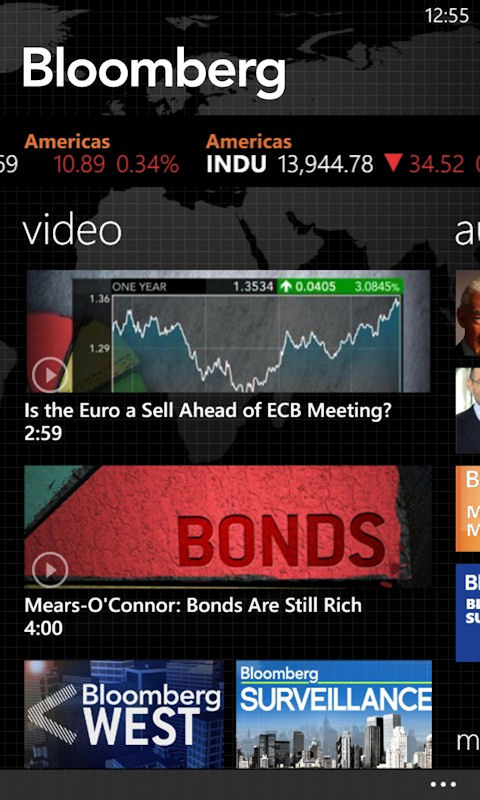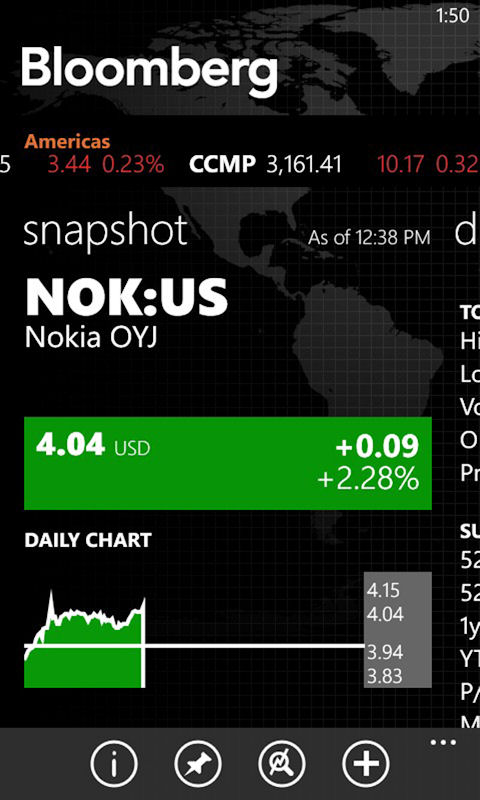 Windows Phone Store description:
Get instant access on your Windows phone to all your business and finance news, market data and portfolio tracking tools from Bloomberg, the most trusted source for financial professionals around the world.

Personalize the information that is most relevant to you and access it instantly with custom panoramas and live tiles of stocks, indexes, news, video, and audio on the home screen.
The Bloomberg app can be downloaded for free for Windows Phone 7.5 and Windows Phone 8 from the Windows Phone Store.
Third party exclusive apps
The Bloomberg app is a good example of an entry in Nokia's exclusive third party app program. This program, which is seen by Nokia as part of its wider differentiation strategy and a way of broadening the app catalogue, has facilitated the arrival of a number of apps on the Windows Phone platform. In most cases they happen because Nokia has provided a financial or marketing incentive to the developer in question. What's not always so obvious is that, in some cases, these apps would not be on the Windows Phone platform at all were it not for the Nokia subsidy.
Understandably these exclusives do cause some frustration amongst users of Samsung and HTC devices. However, in most cases, the exclusivity period is limited to a certain time frame. This is the case with the Bloomberg app, which was first made available on Nokia devices six months ago. Whether that's an acceptable trade-off, from a pure-ecosystem view point is open to debate, but it may be a moot point given than Nokia is dominating the sales of Windows Phone devices (more than 80% of devices being sold).
In anycase third party exclusives are here to stay, for the time being at least. However, non-Lumia Windows Phone users may want to keep a close eye on the Windows Phone Store as some of these exclusives expire... In the next few month we should see a number of EA games fall into category, following in the footsteps of Mirror's Edge.