The screenshots below show a module within the Settings app. This module may be specific to Lumia devices as it's shown along side other Nokia specific entries at the bottom of the Settings app listing. The new functionality offers a clearer display of how space is being used (circular donut chart) as well as a more detailed breakdown of how space is being used, in addition to the aforementioned functionality to clear temporary files.
winp.cn notes that the user can manually clear temporary files, but that the system can also automatically clean up such files at "timed intervals". This kind of functionality would go a long way to addressing the concerns raised by the "Other" storage issue.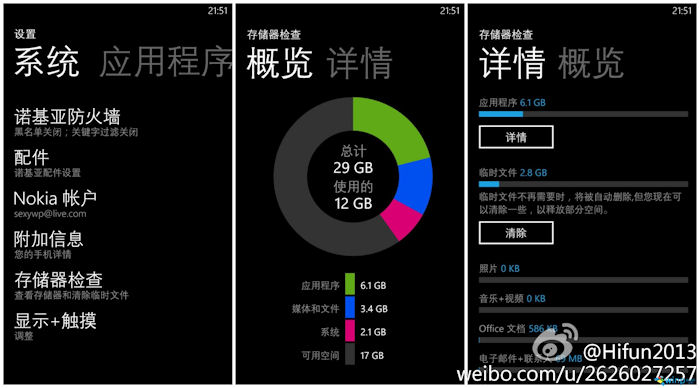 Image source: winp.cn
It's not clear whether this update is what Joe Bellfiore was referring to in a recent tweet when he said "some improvements were coming in a future update". The firmware that reportedly contains functionality is 1232.5957.1308.1004, but it appears a Nokia specific app Settings app (extras+info) update is also required for the storage management features to be present. As such it appears that Nokia is rolling out a temporary solution via an app update, and a more permanent solution will arrive in a platform wide update at a later date.
There are some indications that the 1308 firmware update is scheduled to start arriving in the April or May time frame and that it will also contains a number of other performance and bug fixes, including improvements to imaging, but currently there is no official information, and, as such, this story belongs firmly in the unconfirmed category.