Although there's no way to be certain that the rendered image is genuine it does fit in with Nokia's existing design language and comes from a source with a good track record. It also aligns with what our own sources close to Nokia have said about Verizon's upcoming flagship Windows Phone device.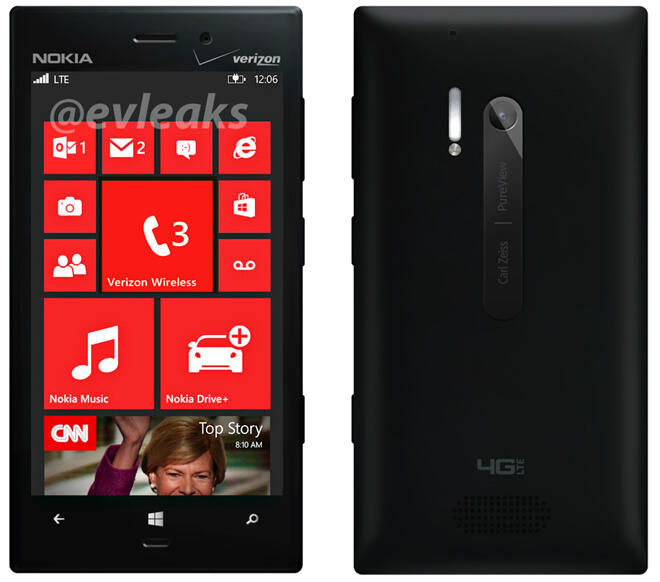 The presence of a Xenon flash is good news for imaging performance. It makes it easier to "freeze" subjects in low light conditions, something that is especially helpful when subjects are moving (e.g. at a party). The Lumia 928 is also likely to be as impressive as the Lumia 920 in non-flash low light mode (also known as the see better than you can mode). It would also represent a considerable engineering achievement because Xenon flashes and their associated capacitor(s) take up a lot more room than a standard LED flash. The leaked picture of the Lumia 928 retains a LED light next to the main flash, but this is likely to be used solely as an auto-focus assist lamp.

Multiple sites, including The Verge, are reporting that the Lumia 928 will be slightly thinner than the Lumia 920 (10.2mm versus 10.7mm) and will also be lighter. The reduction in size and weight is the result of using a thinner polycarbonate shell and some internal component adjustments.
It is also reported that the 4.5 inch LCD screen will be exchanged for a similar sized OLED screen. In terms of core specifications the Lumia 928 is expected to be the same as the Lumia 920, with a 1.5Ghz dual-core Snapdragon S4 processor backed up by 1GB of RAM and 32GB of internal storage.
The smartphones is expected to be running Windows Phone 8 GDR2. GDR2 (General Distribution Release 2) is the second minor update to the Windows Phone 8 platform. GDR2 is expected to add a number of small features, including a return to Windows Phone of FM radio functionality, and will also include bug fixes and performance improvements.
The Lumia 928, while widely anticipated, has not yet been officially announced, as such this news should be considered unconfirmed. Nokia and Verizon are expected to formally unveil the device later this month.
Update:
evleaks has posted a further picture of the back of the device (white variant), which shows some of the detailing more clearly: