The app makes it easy to find content either by browsing through the featured and popular content shown on the app's open page, by performing a keyword search (e.g. search for actor or programme name), viewing available content by category (genre), or by browsing by channel name and date / time. You can also choose to add shows to a favourites page, making it faster to find subsequent episodes in the same series.
TV content plays back in a dedicated video player, with the standard controls, including the ability to seek through a timeline to any point in the current programme. Audio content uses a similar player, but adds an option for background audio playback, including integration with Windows Phone's standard audio controls.
Unlike some versions of the iPlayer mobile app on other platforms, it is not currently possible to watch live TV, to download content for offline viewing, or to access BBC podcasts, but it is possible these features will be added in a future update..
From the Windows Phone Store description:
Watch and listen to BBC TV and radio programmes from the last 7 days on BBC iPlayer.

Features include:

On demand content over Wi-Fi and 3G.
Add shows to your favourites so new episodes are quick to find for you to enjoy later.
Ability to listen to BBC Radio in the background.
Browse programmes by category, schedule, featured and most popular.
BBC iPlayer is a free download from the Windows Phone Store. It is only available for Windows Phone 8 devices, and you will need to be in the UK to use the app (the BBC places geo-restrictions on the playback of content).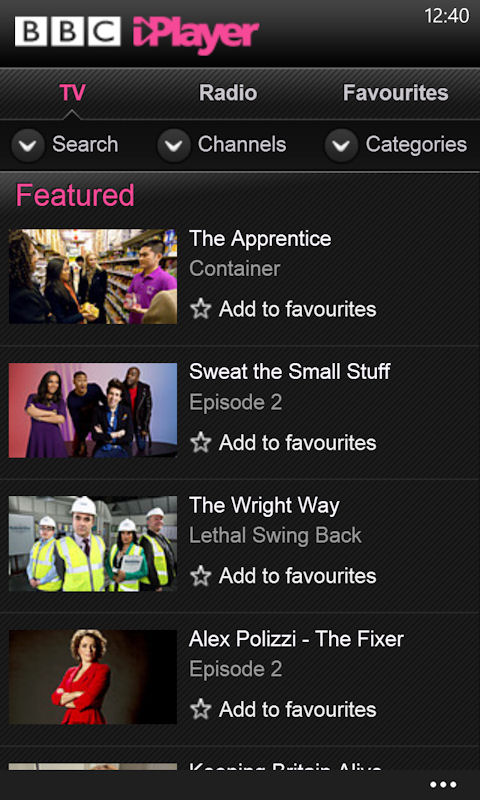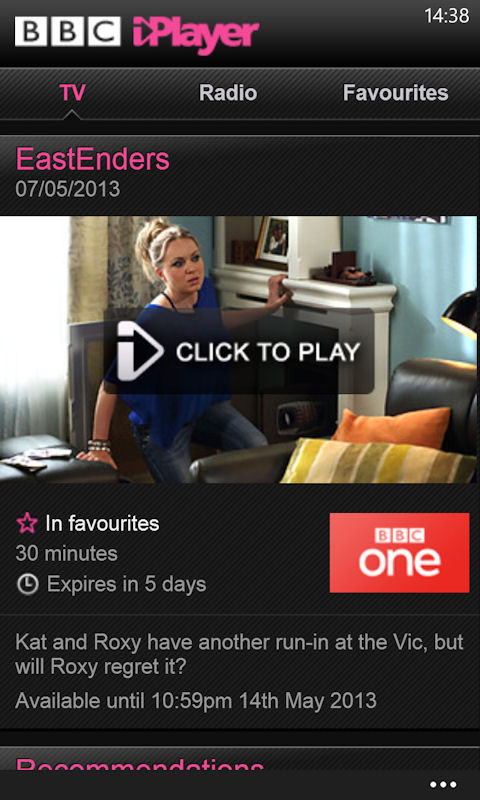 So what about the Windows Phone 7.5 version of the app that was promised in the original BBC post? Unfortunately it seems this will not be released; the BBC's Dave Price explains why in this blog post:
Following our previous blog post some of you will be wondering what about Windows Phone 7.5? Over the last few months we have been working with Microsoft to launch iPlayer on both Windows Phone 8 and 7.5.

Unfortunately, platform limitations with Windows Phone 7.5 have meant we've been unable to provide the same quality playback experience as on Windows Phone 8. This led to the joint decision not to make BBC iPlayer available on Windows Phone 7.5.

Although this is disappointing, Windows Phone 8 currently make up the majority of all Windows Phones on the market and this number is expected to grow. I therefore hope more of you will get to enjoy BBC programmes on the go with iPlayer with Windows Phone 8 devices.