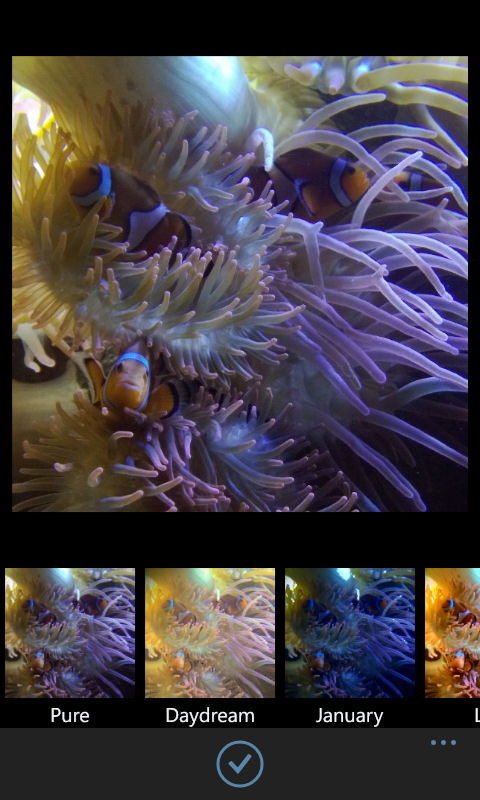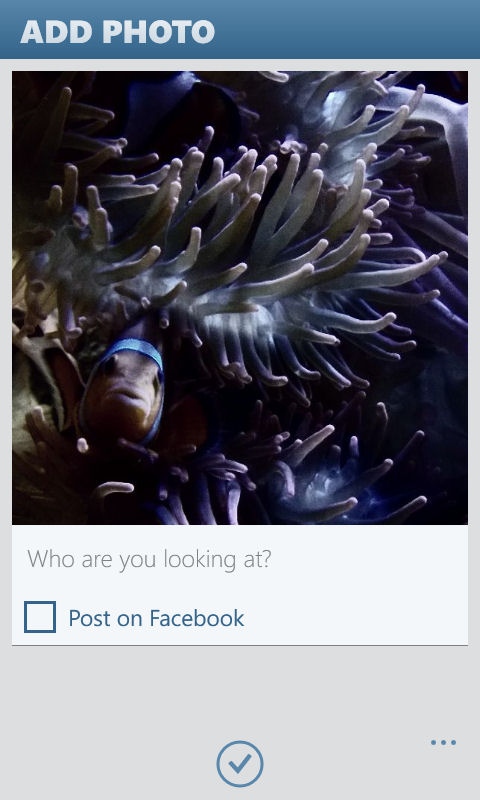 As you might expect for an Instagram app when uploading photos it is possible to apply a range of filters, in addition to adding a caption and tags. The app also includes the ability to update the available filters, without downloading an app update, which should help keep things fresh.
On the browsing side of the app the main pivot view is divided into three: home, popular and activity. Home shows a timeline of photos uploaded by you and people you are following. Popular shows trending photos from the service as a whole. Activity list recent events related to your account and photos (e.g. likes, comments, new followers).
By default the home screen shows photo in a timeline view, but you can switch to a grid view with a tap and hold gesture. Double tapping on a photo will like it, while a single tap will take you to a detail page for that photo, from where you can read comments associated with the photo and add your own comment.
Other features of Itsdagram include social integration (share uploads to Facebook and Twitter, plus use your Facebook friends lists to find people to follow on Instagram), support for Live Tiles (pin users and hash tags to your Start screen), notifications (lockscreen, toast for comments likes on your photos), and search (for users and tags).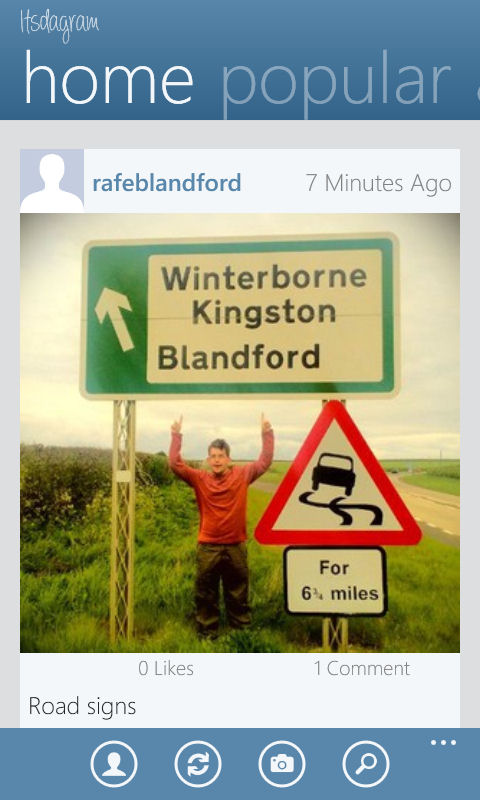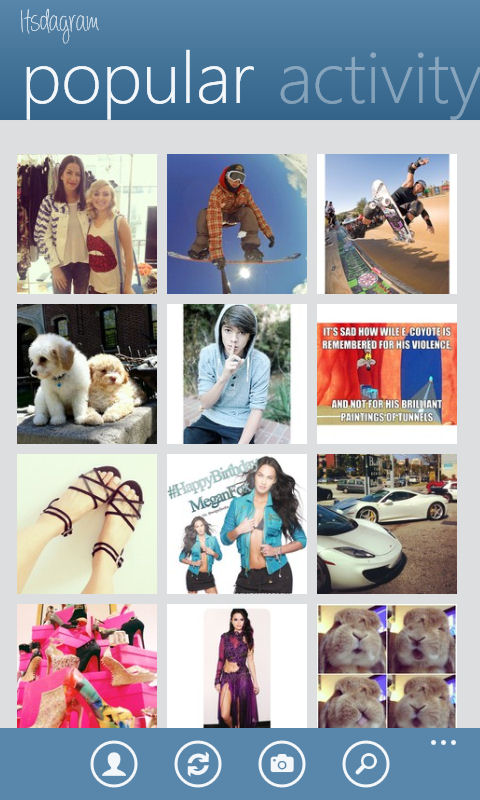 During our early time with the app we did notice a few bugs (e.g. wrong photo loaded in detail view) and some performance issues, but we're confident that these will be resolved rapidly thanks to the on-going beta program.
Windows Phone Store description:
The only fully featured Instagram client on the market. Register, upload, comment, like, follow, find your facebook friends; All from Itsdagram!

What would an Instagram app be without filters!? Itsdagram filters can be updated daily without the need to update the app. You will never know when you've got a brand new filter waiting for you!
Itsdagram, which is only available for Windows Phone 8, can be downloaded from the Windows Phone Store. The app costs £1.29 / $1.49 / €1.49. A free trial is available, but is limited to a single photo upload.
When we first wrote about Itsdagram we talked about the issues around the Instagram terms of service. It's worth recapping this here:
As we've previously explained Instagram's official API only allows read-only access to the service. It is not possible to upload photos, or register a new user, using the publicly documented Instagram APIs. That doesn't mean that such APIs do not exist, rather it means Instagram does not want third party developers using them. Instagram's own apps for iOS and Android do use these APIs and Itsdagram works by reverse engineering these undocumented APIs.

Using these non-public APIs in a third party app is a clear violation of Instagram's terms of service. Apps that do this break section 10 of Instagram's terms of service ("you must not access Instagram's private API by means other than those permitted by Instagram") and will likely also in violation of section 2 of Instagram API's terms of sevice ("you shall not use Instagram APIs for any application that replicates or attempts to replace the essential user experience of Instagram.com or the Instagram iPhone App"). Theoretically, this could lead to the suspension or deletion of an account that uses such an app, although in practise this is unlikely.

It's more likely that Instagram would seek to block such an app. It could do this by changing the API, but this approach is relatively unlikely, given the impact it would have on existing installations of the official app on other platforms. However, there are other avenues open to Instagram, including legal action, and traditionally Instagram has been aggressive in maintaining a policy of only allowing the official apps write access to the service. The most likely scenario? Instagram will ask Microsoft to pull the app from the Windows Phone Store.
This means you would be using an app like Itsdagram at your own risk and there's no guarantee it will available in the long term. However, provided you are aware of the situation before purchasing the app, there's no real cause for complaint, at least from a consumer viewpoint. We'll have to wait and see what happens, but in the mean time there is now a fully featured Instagram client available on Windows Phone.