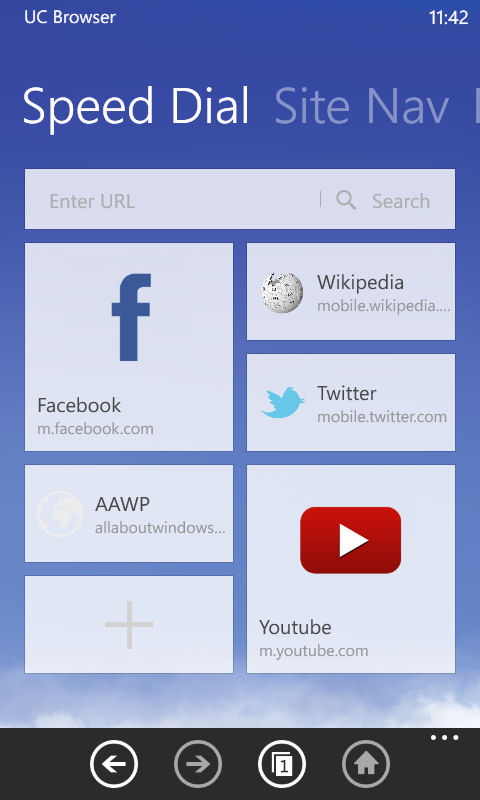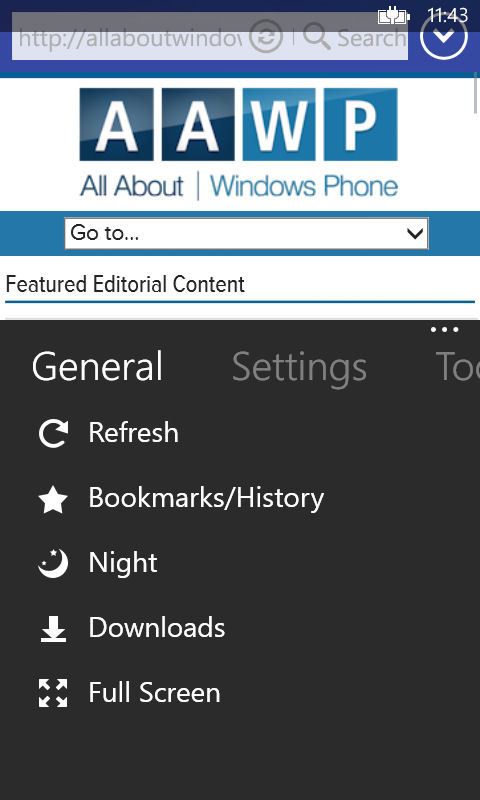 As we've previsouly noted UC Browser is one of very few true alternative browsers for the Windows Phone platform:
UC Browser is notable as one of just a handful of genuine "full" third party browsers available in the Windows Phone Store. The majority of such browsers are simple wrappers around a web control (essentially the in built Internet Explorer). By contrast UC Browser is a purpose built app that has its own rendering engine.
UC Browser started life as a proxy based browser, similar to the Nokia Xpress app. While elements of the proxy technology do appear to remain within the product, the emphasis is more on providing a feature rich experience, rather that the data saving properties usually associated with mobile proxy-based browsers. UC Browser might therefore be best described as a proxy-assisted browsing experience.
On Windows Phone Internet Explorer is a relatively bare bones browser and thus some of the appeal of UC Browser is that it offers additional features such as an incognito (anonymous) mode, bookmark sync, and a watch (videos) offline mode. While the UI does largely follow the convention of Modern UI it is markedly different from Internet Explorer, arguably offering easy access to power-user features such as tabs.
Ultimately UC Browser provides Windows Phone users with choice. Due to the limitations of the Windows Phone platform it can not take over as the default browser, which means it is unlikely to replace Internet Explorer altogether (e.g. web links from other app still open in Internet Explorer), but it's useful addition to any app collection.
Windows Phone Store description:
What's New:

Upgraded Homepage - A complete overhaul of the homepage with new features such as the ability to move and contract your Speed Dials like Tiles in WP8.
Speed Boost - The speed of downloading has been increased by 40%-100%, along with an increase in page loading speeds.
Increased Usability - You can now exit UC Browser by clicking "back" twice at home page.
Domain Name Support - The entering of domain names in different languages (like .рф) allows for more convenient browsing.
QR Code Scanning - You can now scan QR Codes.
UC Browser is a free download from the Windows Phone Store. It is available for both Windows Phone 7 and Windows Phone 8.