Taking on the role of April, a girl who has visions of an empire of Travel Agencies around the world, helping people go on holiday, you'll be managing her time, serving customers , and working as a Tour Rep to make sure they have the best time possible.
I didn't find Jet Set Go to be a trailblazing new look at the genre, it's very much a 'by the numbers' implementation of the title, but if that's your genre of choice, then the title is worth a look.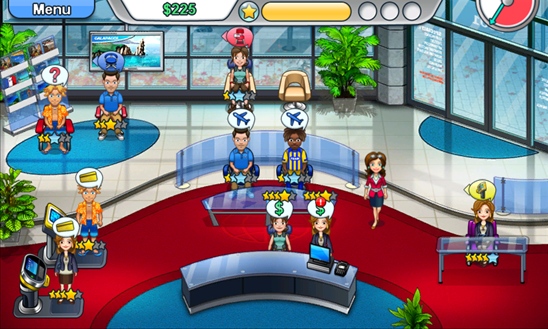 From my review of the title earlier in the year:
These time management games can work very well, but there needs to be a balance between the basic mechanics of the game, while providing enough options and choices to the player so there is enough skill, with a number of decisions at each point of of the game that can have a significant impact on the results.

Jet Set Go doesn't manage any of these. The flow of customers through the travel agency is well regulated and rarely feels overwhelming. There's never any moment of sheer panic or rushing around. If you can start each level with a clear head, which is a relatively simple matter of taking a deep breath, then you're going to get through every level. Perhaps not with a perfect game, but with enough money to carry on to the next level and get your customers to the destinations.