Review:
Jet Set Go (Xbox Live)
Score:
51%
The third of Nokia's Xbox Live releases this past weekend was Jet Set Go, a time management game that anyone who is familiar with the genre will be instantly comfortable with. But they won't find anything new or exciting in this generic title.
Version Reviewed: 1.4.1.0
Buy Link | Download / Information Link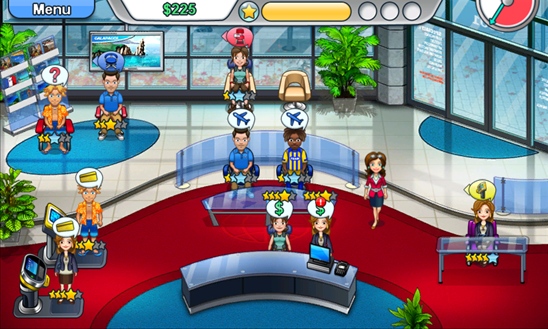 There's actually a very quick way to let you know if you're going to like Jet Set Go, and that's to ask if you've played Sally's Spa or Sally's Salon on Xbox Live. In essence, Jet Set Go is a souped-up version of the Sally games, and your opinion of the former is going to be magnified with the latter. If you liked the Sally games, you'll love Jet Set Go. If you never saw the appeal, you're not going to learn anything new here.
You play April, an up and coming entrepreneur who has opened up a travel agency. Customers will come in, you can help them select a holiday, book it, print out their tickets, then take their money. Using a single screen interface, you'll drag the customers around the screen to various seats in the agency where April can deal with their needs.
At the end of a day (roughly analogous to a level), you'll see how many people you have booked on a tour and how excited they are. Once you get a full plane, you'll fly with them to the destination and tend to their needs... by moving them around a venue, helping them enjoy the holiday, and then trade their excitement to level up for the next in-game day.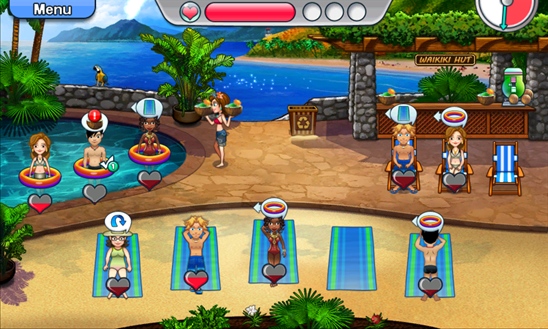 Part of me wonders why this isn't branded as a Sally game, 'Sally's Holidays' anyone? I suspect that they want to try and get a broader demographic playing the game, so have taken some of the femininity out.
Personally, I don't think it's enough. The actual mechanics of the game are just as clunky, the user interface makes little effort, and it doesn't take long for you to realise that you are 'grinding' the same task over and over again to complete a level to open up another almost identical level.
The bonus levels, where you have to help staff the tourist venues, does break up the action a little bit, but you are still prioritising when to do tasks in a specific order so as to upset your customers the least.
These time management games can work very well, but there needs to be a balance between the basic mechanics of the game, while providing enough options and choices to the player so there is enough skill, with a number of decisions at each point of of the game that can have a significant impact on the results.
Jet Set Go doesn't manage any of these. The flow of customers through the travel agency is well regulated and rarely feels overwhelming. There's never any moment of sheer panic or rushing around. If you can start each level with a clear head, which is a relatively simple matter of taking a deep breath, then you're going to get through every level. Perhaps not with a perfect game, but with enough money to carry on to the next level and get your customers to the destinations.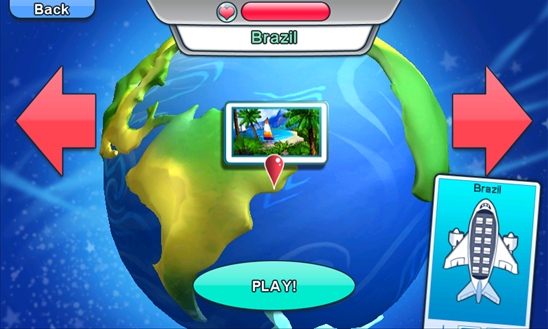 Games are inherently applications that will reward the time you spend with them through good gameplay, challenging tasks to complete, and a sense of accomplishment. Jet Set Go doesn't offer any of those. Yes, it is a timewaster, but I never felt that I would lose a level of the game. All I would do is press an icon when prompted and I would win. How can I feel satisfied with a game that will just hand me victory? I can't.
Jet Set Go is a good idea, but it fails to find any sort of gaming balance. It feels like a derivative of a better line of games, but like any such film it seems to miss the point of what made the original interesting and engaging. Genre fans might find something in here, but there's nothing to attract the casual player here.
Reviewed by Ewan Spence at