Those who regularly download podcast, as opposed to streaming them, will welcome the addition of an option to auto-delete a completed podcast. This is especially useful on devices with smaller amounts of internal memory, such as the HTC 8S.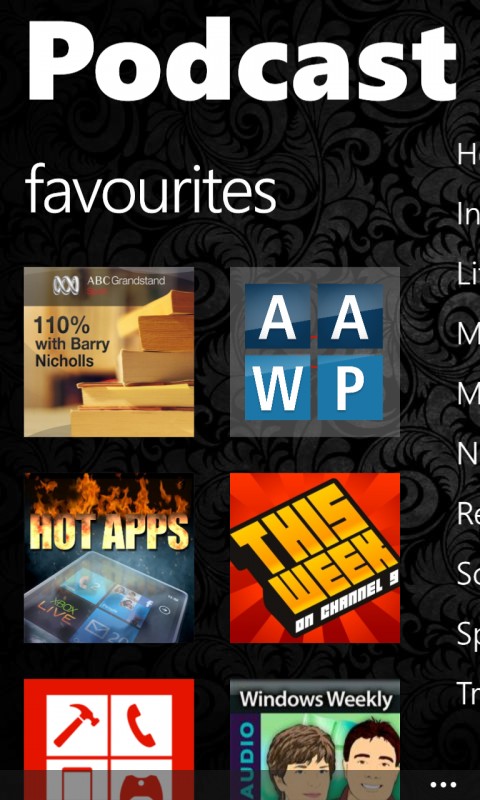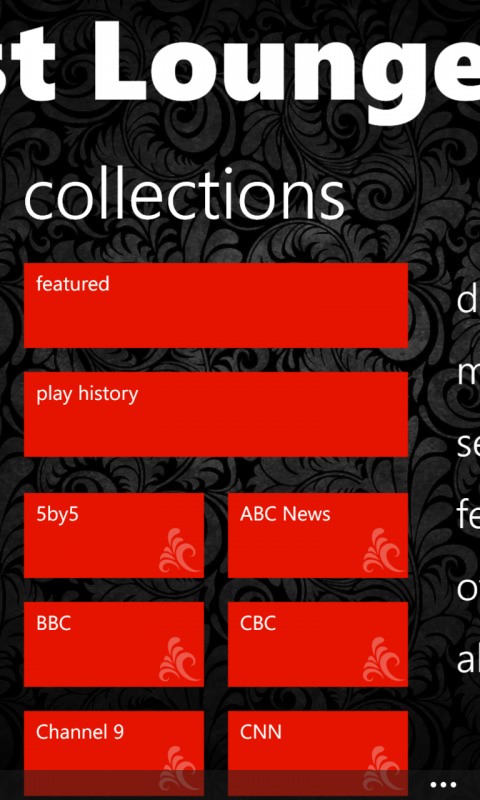 Another nice touch is the restyling of the episode listing page's context menus. Gone are the large text based vertical menu, replaced by a more attractive text+icon horizontal menu, similar in style to those found in the Rowi Twitter app. Similarly, the app now does a better job of monitoring when new episodes are available, automatically checking favourited podcasts on start-up, and offering a manual pull-down-to-refresh on the app's opening screen.
Other updates include filtering for categories / collections, multiple reliability and performance improvements, and the implementation of a file association for .opml (Windows Phone 8 only). The last of these makes it easier to import podcasts from another client (e.g. launch and import from an email attachment).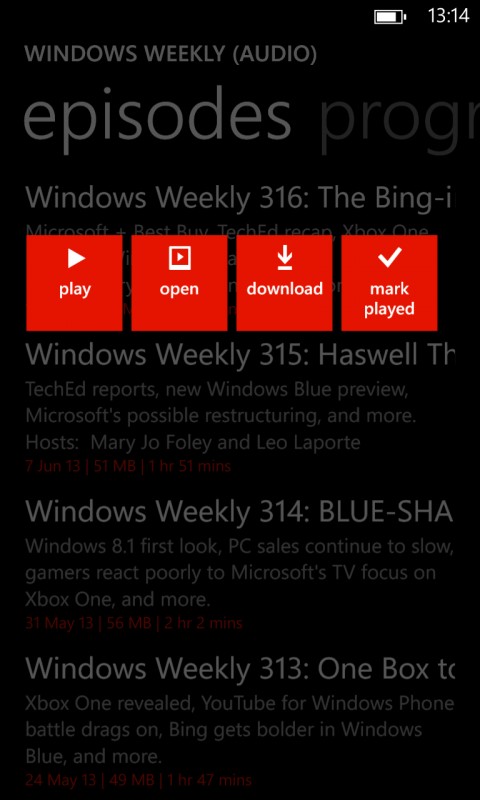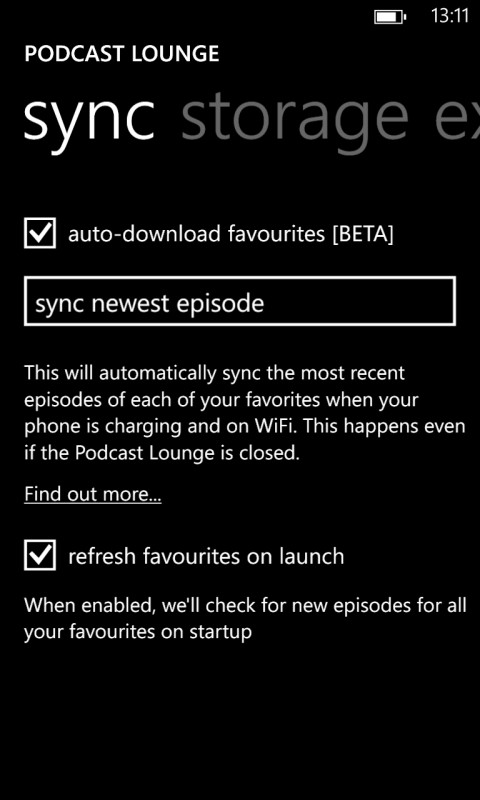 A notable feature of Podcast Lounge is the ability to set favourite podcasts to download (sync) automatically in the background (when phone is charging and WiFi connection is present). Uniquely among Windows Phone podcast apps Podcast Lounge's automatic download is triggered by a background task, rather than from the foreground user interface. If you charge your phone overnight this means it will automatically check for and download any new podcasts ready for the next day.
The bad news is that a bug in a Microsoft provided API means that this feature does not work on the release or GDR1 versions of Windows Phone 8. The good news is that the bug has been fixed in Windows Phone 8 GDR2 release. That means devices that ship with GDR2, like the Lumia 925, or devices upgraded to GDR2, will support Podcast Lounge's unattended downloads feature. The GDR2 update should be made available to existing Windows Phone 8 devices in next month or so.

Windows Phone Store description:
Access audio and video podcasts from all over the world from a library of over 90,000 podcasts. Sumptuous user interface that enables you to browse, search, stream, download and enjoy your favourite podcasts effortlessly. Featuring the most powerful podcast search available on Windows Phone capable of finding even the most obscure programmes.

Changes in version 1.8

Lots of performance improvements
Reliability/Stability improvements
Added podcast collections
Added play history
Added new context menu system
Added delete after play option
Added continuous playback option
Monitors for new favourite episodes
Filtering for categories/collections
Association for OPML files on launch
Podcast Lounge can be downloaded from the Windows Phone Store. A free trial is available, with the full app costing £1.49 / $1.99 / €1.99.