In its press release HTC does suggest that results will improve in Q4 as it launches "a range of innovative and competitive mid-tier products in the coming months". The company also notes that its overall gross margin has been impacted by scale and inventory issues. The company should be able to improve this cost structure as it moves into Q4:
We also have plans underway to launch a range of innovative and competitive mid-tier products in the coming months. We hope to regain momentum and market share in these segments in Q4. This will address our challenge of mid-tier products competitiveness

Our overall gross margin has been impacted by the relatively higher cost structure, lack of economy of scale and certain provisions needed to facilitate the clearance of aging products in the channel. Actions have been taken and we expect to see improvement in Q4

We are also optimizing our organization, including the improvement of management efficiency and effectiveness.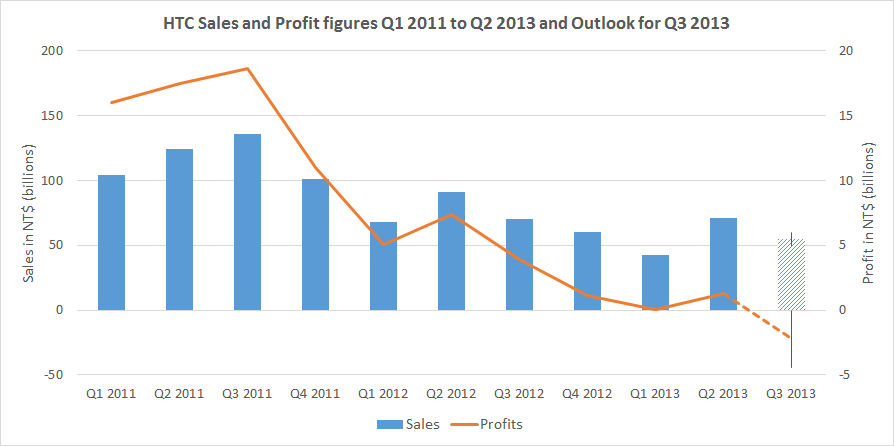 HTC does not release a breakdown of how many devices it has sold, but the sales volume of its Windows Phone products (HTC 8X, 8XT, and 8S) continues to be relatively small when compared to its Android devices. Nonetheless, Windows Phone is an opportunity that HTC continues to pursue and there are some suggestions that HTC's Q3 announcements will include one or more Windows Phone devices.
As we have previously mentioned HTC is continuing to face scale issues, especially when compared to some of its larger competitors. Moreover, HTC is a smartphone only company, with no other division from which it can draw cash or support (contrast to Sony, LG, and, to an extent, Nokia):
The issue facing HTC is that it must maintain sales levels at a level that will sustain planned operations in both device development, sales, and marketing. There is a danger than falling sales could lead to a vicious circle where cuts have to be made to the marketing budget in order to maintain sufficient cash flow, which could then lead to a further fall in sales.

The HTC One is a excellent device and has been well received by technology reviewers. We rate it, ahead of the Samsung Galaxy S4, as the best Android device currently available. That may not be enough though as smartphone sales are about more that how "good" a device is. A good example of this is the comparison between the Nokia Lumia 920 and HTC8X, both are good devices and have been well reviewed, but sales figures and other data suggest the Lumia 920 is outselling the 8X by several orders of magnitude in most markets.

The crux of the problem is that HTC is facing off against two giants, Nokia and Samsung, in the Windows Phone and Android ecosystems respectively, both of which have much bigger marketing budgets, better economies of scale, and more sales channels than HTC. In order to counter act this HTC must either out-innovate or be more nimble than its larger rivals. An easy proposition to suggest, but one that is much harder to implement.