Kantar Worldpanel reports its data as a percentage market share of sales in the preceding 12 weeks (i.e. a three month moving average). The data is drawn from a continuous survey methodology, where consumers are interviewed and consumer behaviour recorded.



The full Kantar Worldpanel data for September 2011/2012 is available here.
According to the latest set of Kantar Worldpanel data, Italy is the strongest market for Windows Phone out of the EU5 with market share for the 12 weeks ending February 2012 at 13.1%. Italy is followed by Germany (6.8%), and the UK (6.7%).
However, as we have seen in previous data and can be seen in the chart below, which shows Kantar Worldpanel market share figures for Windows Phone from the last thirteen months, there is significant variation from month to month, even with the smoothing effect of a three month moving average. This is because, within a given market, sales volumes of mobile phones are volatile, subject to peaks and troughs in response to handset launches, promotional activity, and price changes.
The overall pattern for Windows Phone is positive, shown by the dotted trend line in the chart, with market share increasing from 3% (January 2012) to 6% (February 2013). In some markets there was a noticeable fall in sales in the months preceding the launch of Windows Phone 8, but recovery has been swift.
In its press release, commenting on the UK data, Kantar notes that Windows Phone growth is being "driven by its Windows 8 devices appealing to consumers, rather than sales of older Windows 7 models on promotion, which is good news for margins". Kantar also notes that Nokia holds 5.6% of the market, which suggests approximately 80% of Windows Phone devices sold in the UK are made by Nokia, in line with other data we've reported on.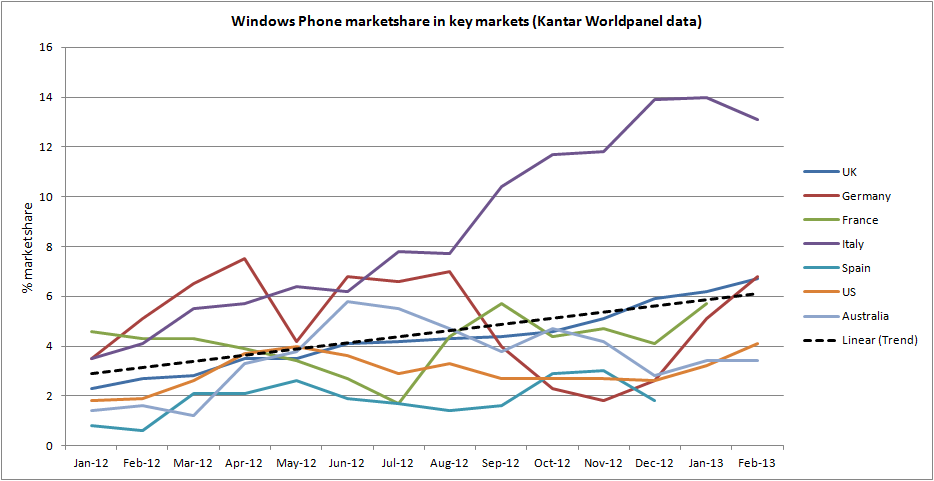 In the context of the overall smartphone market Windows Phone remains a relatively small player, eclipsed by both Android and iOS, as the charts below show. However, Windows Phone can now reasonably claim to be the third platform, in terms of device shipment numbers, in most developed countries. Kantar data shows it ahead of RIM in the UK, Germany, France, Italy, USA, and Australia, a significant improvement on the position in October 2012, suggesting that the release of Windows Phone 8 has been driving increased sales.
Android continues to be the dominant smartphone platform, but its market share has stopped growing and in some countries there are early signs that it is beginning to fall (e.g. September 2012 to February 2013: US 59.6% to 51.2%, UK 62.5% to 58.3%).

Symbian device sales have almost completely disappeared in developed markets (0.6% in the UK, 3.7% in Italy). In the longer term (20 months) Nokia has not been able to to achieve 1:1 replacement sales between Symbian and Windows Phone. However, in the shorter term (12 months) the picture is more positive (February 2012 Symbian compared to February 2013 Windows Phone: UK: 2.4% versus 6.7%, Italy: 18.5% versus 13.1%).
Blackberry device sales are taking a similar trajectory to Symbian device sales a year ago. As was the case for Symbian, Blackberry does remain strong in some markets (typically costs sensitive or emerging markets). The release of the Z10 may offer BlackBerry a chance to regain some ground, but the first month of sales in the UK (launch market) has not reversed the decline in device sales (January 2013 to February 2012: 5.8% to 5.1%), but that may change if BlackBerry can get its new platform on to lower cost devices.

Market share figures continue to vary significantly between markets, underlining the importance of a broad view when considering market share figures or projections. For example, Windows Phone share is more than three times higher in Italy than it is in the US and iOS market share in Spain remains in single digits.
Looking back over 22 months of data the current duopoly of the smartphone market between iOS and Android is clear, as is the scale of the task facing Microsoft and its hardware partners, or any other new entrants for that matter. Despite this the early evidence does seem to suggest Microsoft is beginning to establish Windows Phone as a viable platform (doubling market share in the last 12 months), although much depends on sales performance through out the rest of 2013.
It is also apparent that release cycles still play an important role in device sales. The increase sales for iOS around the announcement of the iPhone 4S and iPhone 5 are obvious, but the same effect can be seen with the release of Windows Phone 7.5 (Nokia entry) and Windows Phone 8.