The app's tag composer feature currently supports 20 record types and allows the adding/editing of 150 distinct details for various messages. These can then be written to a suitable NFC tag, or directly shared to any other NFC phone.
The record types range from the standard (business card, URI, telephone call) to the more specialist (Nokia Accessories, Social Network), but one thing they have in common is that the relevant specifications are fully implemented. One of the specialist types of records supported by the app, which may be of interest to tech-savvy consumers, is for launching Windows Phone 8 apps (built in, settings app, and third party), allowing you to create tags that, when tapped, will start the specified app (e.g. one for HERE Drive when you get in the car).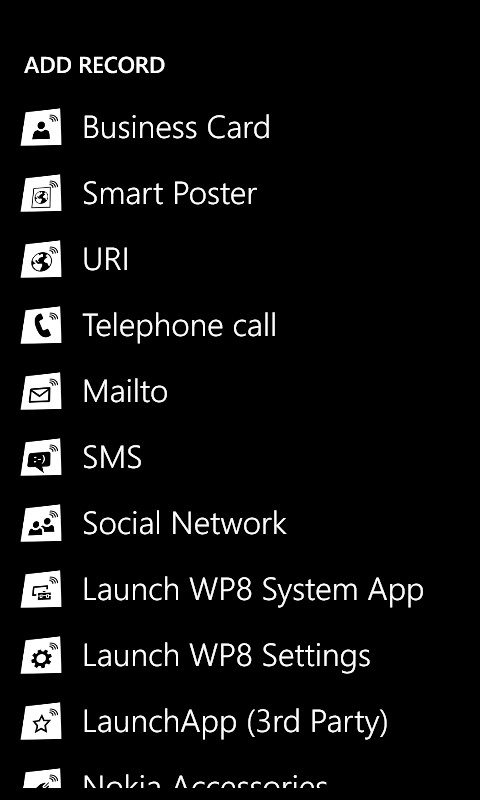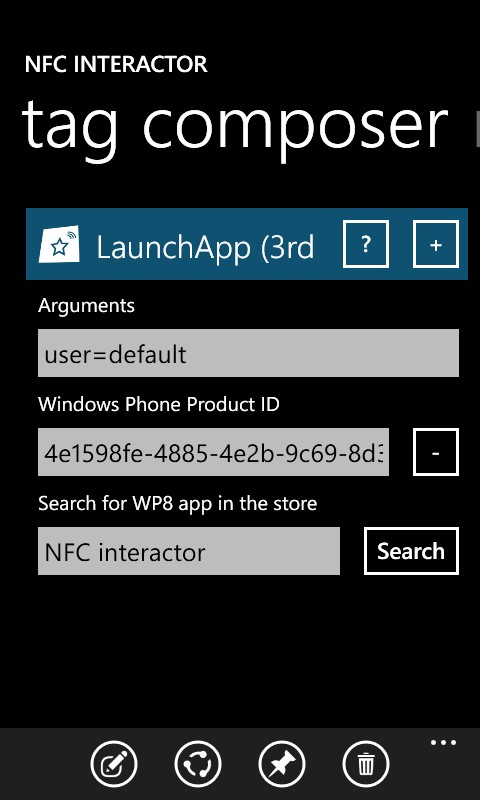 What's even more impressive is NFC Interactor's professional features for those working at a lower level with NFC tags. These range from creation of custom NDEF records by manually specifying the necessary information, complete tag deletion (creates random data as big as tag contents so that any existing data is truly over-written), sharing tag content via email (effectively an export tag via email option), a text editor and hex editor for creating custom records / payloads, an NDEF importer tool (parse hex string into a complete NDEF message), to support for .nfc and .ndef file association that allows you to import tag contents from a file (e.g. via an email attachment of web download).
The most recent release of the app make it easier to use by improving the usability via tweaks to the user interface (e.g. icons for each record type) and changes to task flow. For example, the app now supports Live Tiles allowing quick reuse of tag compositions (e.g. one tap sharing of a business card). Live Tiles can be set to either to trigger writing mode (ready for writing to a tag), or sending to device (peer to peer) mode. The latter is particularly useful for the business card use case.
Perhaps the most visible change is the new dedicated publish page, which gives a better visual indication of when a tag has been sucessfully written or sent to another phone (or shows error messages).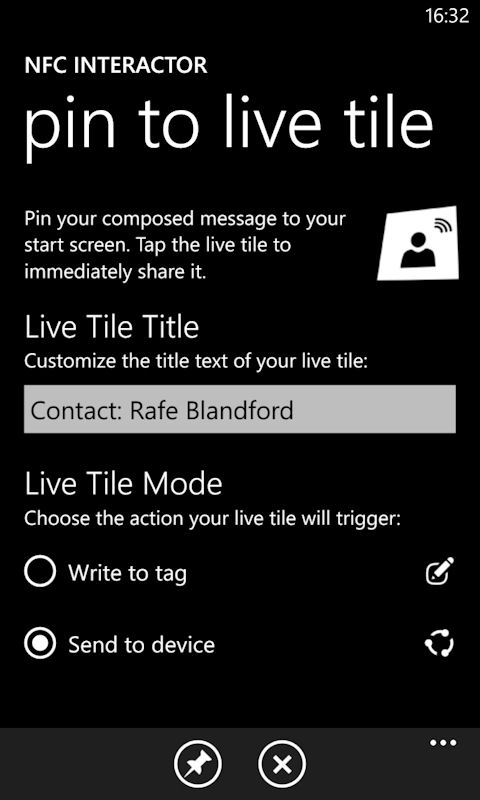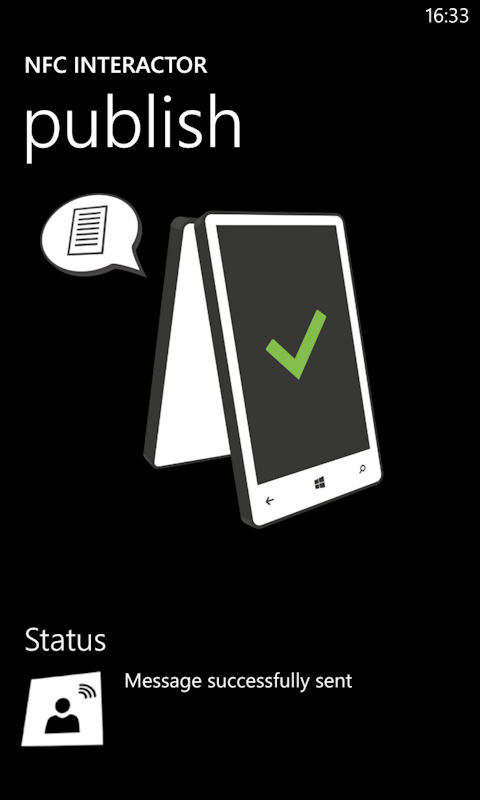 Windows Phone Store description:
NFC interactor is a powerful Near Field Communication tag reader / writer app, aimed at enthusiasts and developers.

- Simply tap NFC tags to parse their contents to human readable form, or view their raw byte contents
- Create & write own tags with the dynamic message editor for 20 tag type categories, with 150 details to choose from and edit
- Send your messages to other NFC phones / devices
- Pin your own tag compositions to live tiles for instant sharing & tag writing (e.g., to instantly share your customized business card by tapping phones)
NFC Interactor can be downloaded from the Windows Phone Store. A free trial is available with the full app costing £1.49 / €1.99 / $1.99.
Developers will be interested to know that the core NDEF (NFC Data Exchange Format) library used by Nfc Interactor is available as open source through CodePlex. This has the potential to save significant amounts of time and effort when implementing NFC solutions on Windows Phone 8 and Windows 8.