As with previous versions the app has been developed by Microsoft, so technically it's not an official app, but rather a third party one. However, in this instance it seems safe to say that Google has signed off on the app, making the official / third party designation a moot point.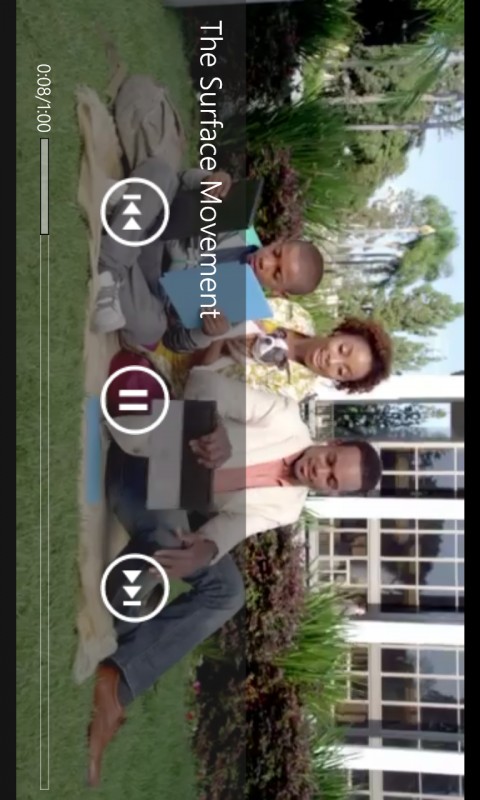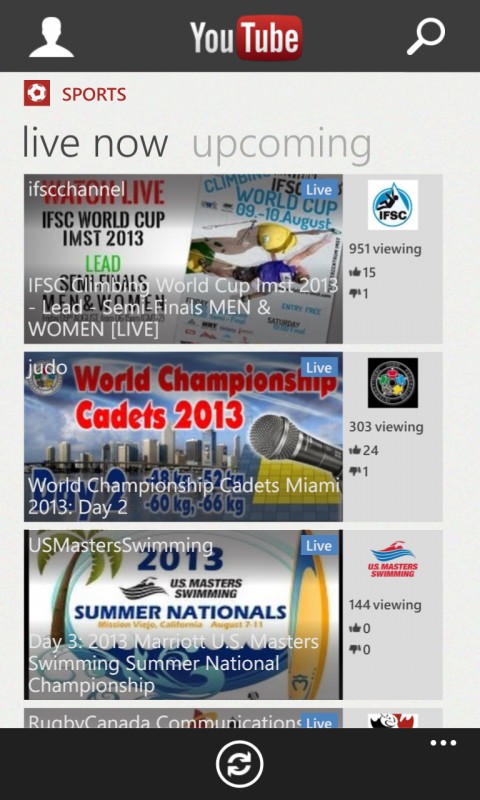 Here's how we described the initial release of version 3.0 of the YouTube app:
It's now a fully featured YouTube client with support for browsing categories, video channels, and playlists; the playback of video at low, medium and high quality; video interaction (likes, comments, sharing); user sign-in (giving access to subscriptions, watch later, history, and more).

The updated app has a first class design, combining Modern style panorama and pivots, with familiar YouTube branding and iconography. Other notable features include support for playing video in the background (even under the lock screen), integration with Kid's Corner (limit content based on YouTube search filtering setting), and comprehensive Start Screen pinning options (videos, playlists, channels, search queries).
That core feature set and design remains the same in the latest release, but, as noted above, an upload option has been added to the app, and there are a few changes designed to make the app compliant with the YouTube terms of services (no downloads and support for adverts).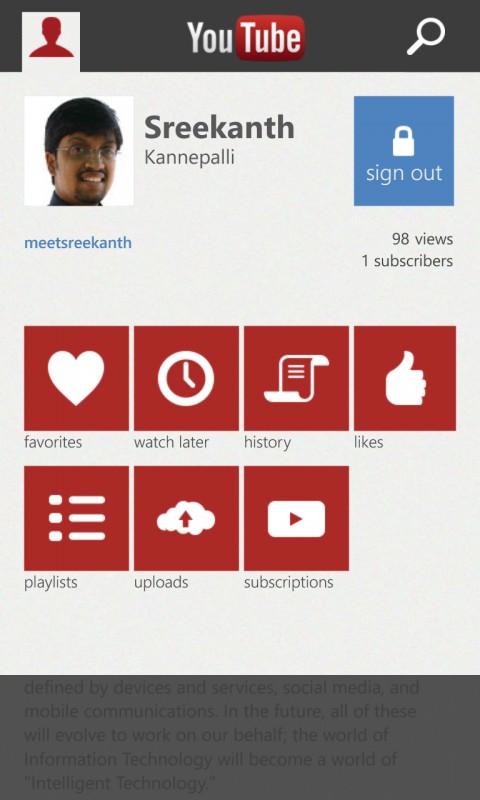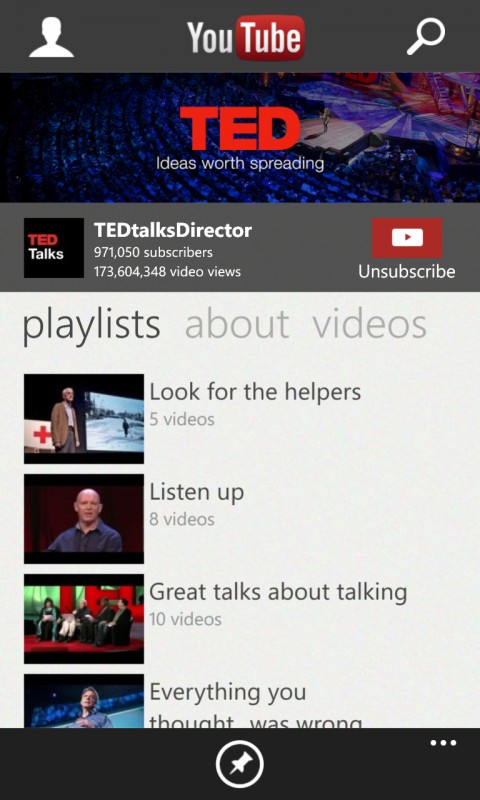 The new upload feature is notable for allowing you to upload any video recorded on the phone using the default Camera app (not just video recorded within the app).
However, there are a number of restriction that limit the utility of the upload feature. It is not possible to upload a video more than 100MB in size (about 1 minute 15 seconds in 1080p resolution), and any upload more than 5MB (just a few seconds of video) in size must be done over WiFi, while the phone is being charged. These limits are related to Windows Phone's standard Background Transfer Policies, which are designed to protect users from bill shock / excessive data usage, but feel rather misplaced in this case (a good example of where, with a user prompt, an exception should be made to the standard "rules").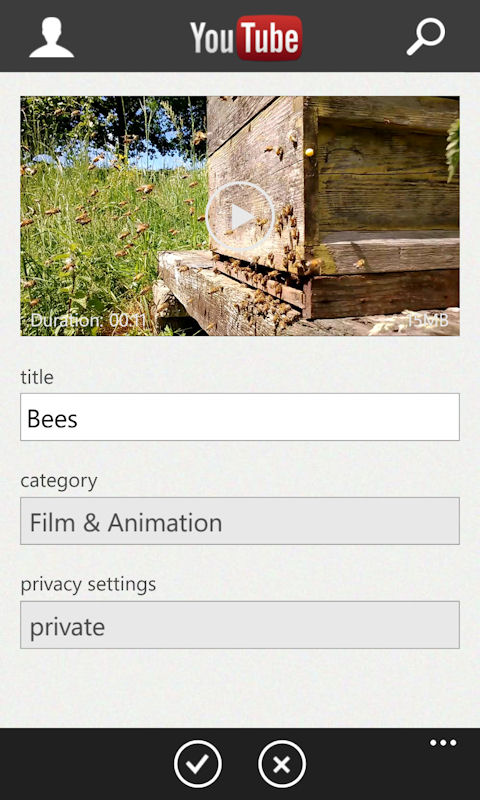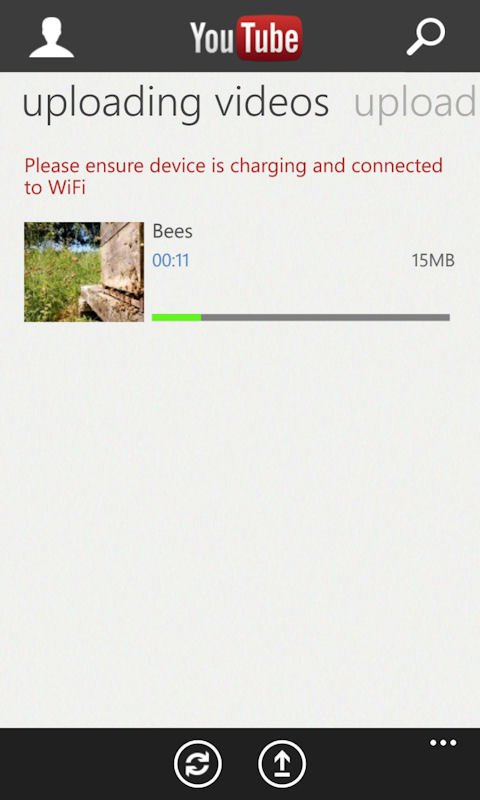 In a statement Microsoft noted that the new version of the app addressed the concerns expressed by Google in May and that it looked forward to continuing its collaboration with YouTube:
We've released an updated YouTube app for Windows Phone that provides the great experience our consumers expect while addressing the concerns Google expressed in May, including the addition of ads. We appreciate Google's support in ensuring that Windows Phones customers have a quality YouTube experience and look forward to continuing the collaboration.

Windows Phone Store description:
Experience the world of YouTube on your Windows Phone! With this app, created by Microsoft, access your YouTube account and easily explore and manage YouTube's vast catalogue of videos and channels. Upload your own videos from your phone. Share videos with your friends via social networks, email and text messages. Enjoy listening to your video playlist with enhanced player controls.

Pin videos, playlists, channels and even search queries to the Start screen as Live Tiles. Live Tiles flip to show YouTube's most popular videos or your subscriptions' latest uploads. YouTube for Windows Phone is also integrated with Kid's Corner, so you can help ensure that your kids are watching age-appropriate videos.

YouTube is a free download from the Windows Phone Store.