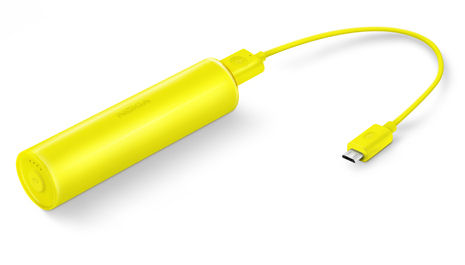 When making a comparison with the earlier DC-16 accessory it is obvious that Nokia has been able to provide a significant upgrade in the DC-19. Battery capacity has been given a boost of almost 50% (2200 mAh to 3200 mAh), which means it will be able to fully recharge any Nokia device, even those with the higher 2000mAh capacity batteries. The extra capacity comes with almost no weight or size penalty.
Also notable is the increase in the output current, which means the DC-19 will recharge devices faster than the DC-16 (where device support higher charging input). In addition the DC-19 itself can be recharged quicker (200 minutes) than the DC016 (300 minutes) even with the higher capacity taken into account.
As with the earlier model a set of four LEDs on the end of the accessory are used to indicate both the battery level of the DC-19 and charging status when it is being used.

| | | |
| --- | --- | --- |
| | Nokia DC-19 | Nokia DC-16 |
| Height | 99.5 mm | 120 mm |
| Diameter | 25.4 mm | 23.3 mm |
| Weight | 78g | 75g |
| Capacity | 3200 mAh | 2200 mAh |
| Charger Output | 1200 mA | 950 mAh |
| Standby time | 6 months | 3 months |
| Recharge time | 300 mins (max) | 300 mins (max) |
| Charging Indicators | Yes (4 LEDs) | Yes (4 LEDs) |
| Connector | microUSB | microUSB |