Review:
Nokia DC-16 charger
Score:
78%
As more smartphones are designed with non-replaceable batteries, the potential of getting through a day of heavy use by carrying a spare battery is going away. This has in turn created a market in external batteries. For instance, the first phone with a non-replaceable battery was the iPhone, which has an array of battery jackets. However, these are fixed to just one phone design. The alternative is external batteries that connect via cable. It's a less stylish solution, but guarantees that any of your devices can be topped up. That's where Nokia's new DC-16 external battery steps in, and we've been putting it to the test in this review.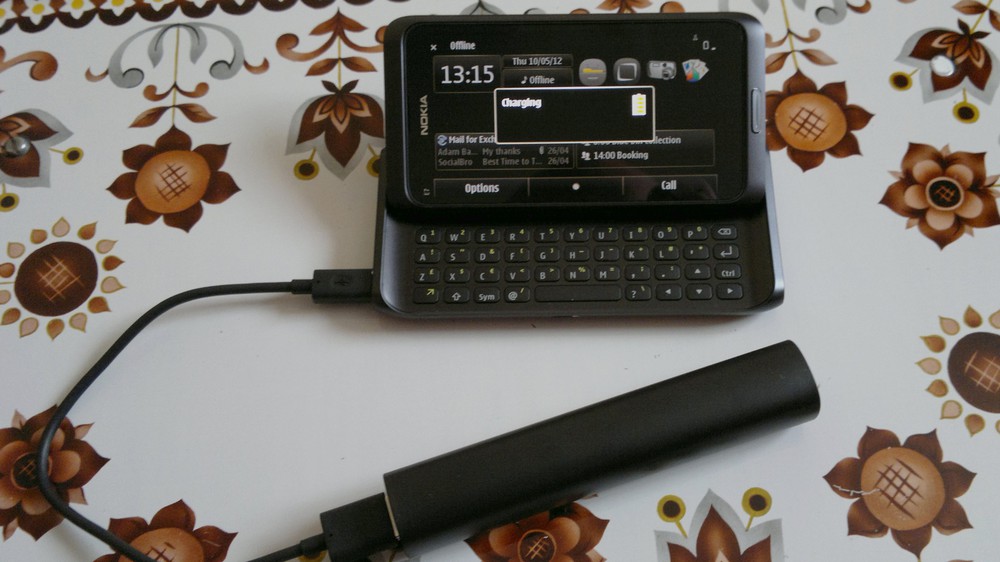 Charging a Nokia E7-00
The DC-16 is Nokia's latest external battery, and as you can see from the box below, it has been designed to complement the Lumia range of phones with the distinctive, Cyan, Magenta, Black, and White colour options. However, it will work with any device that charges via Micro USB.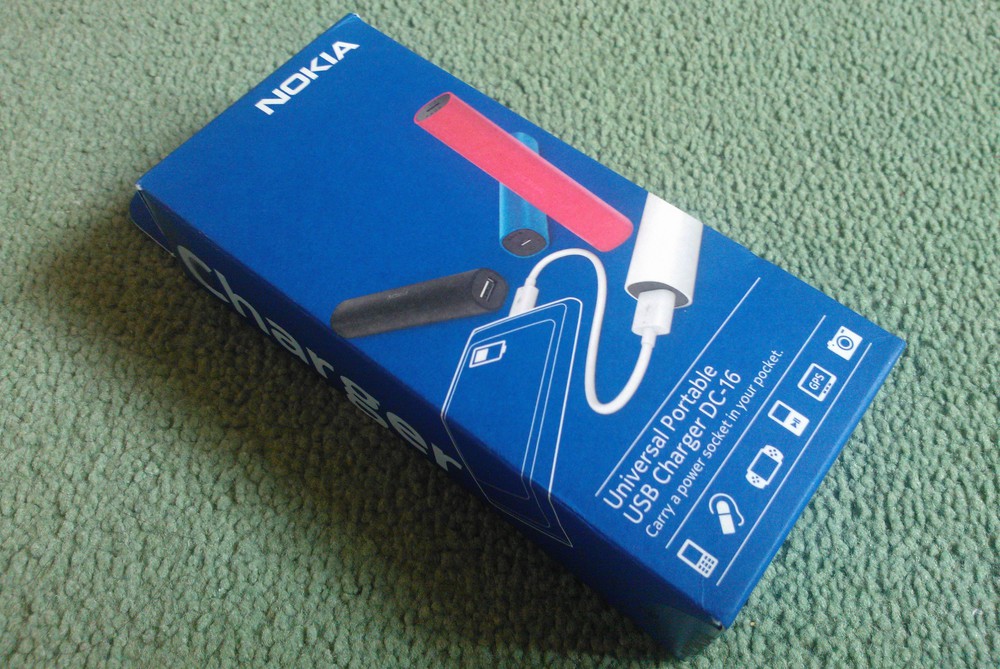 DC-16 Box
The box simply contains the DC-16, the CA-189CD USB to Micro USB charging and data cable, plus user guide and warranty. The charging cable is an update of Nokia's CA-101D short USB cable which has shipped with devices over the last two years. If you're familiar with that cable, the CA-189CD is less than two inches longer, and the socket casings are made from a rubbery material which improves grip, but attracts dust like a magnet. As mentioned above, the DC-16 is available in the four Lumia colours, and the supplied cable will be of a matching colour.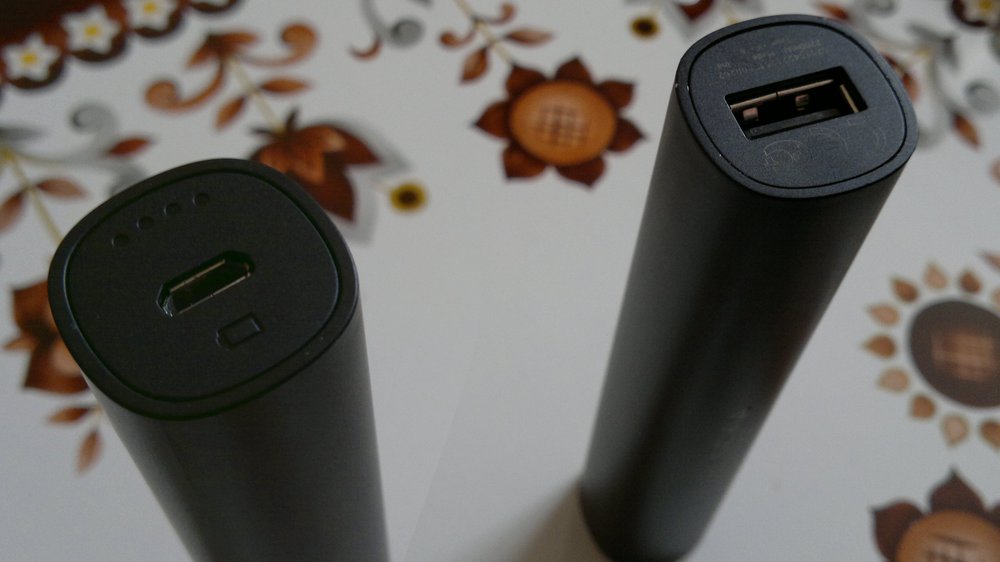 Both ends of the DC-16
The DC-16 follows a very simplistic design, and can be mathematically described as a squircle prism; i.e. the shape used in Symbian Anna iconography. At one end, there's a Type-A USB port from which other devices are charged (i.e. the output); the other end comprises of a charge level indicator and a Micro USB port with which the DC-16 is charged (i.e. the input). This simple design is actually quite ingenious as the device can both charge and be charged with the same cable, just by reversing the ends at which they're connected, as shown in the configurations below.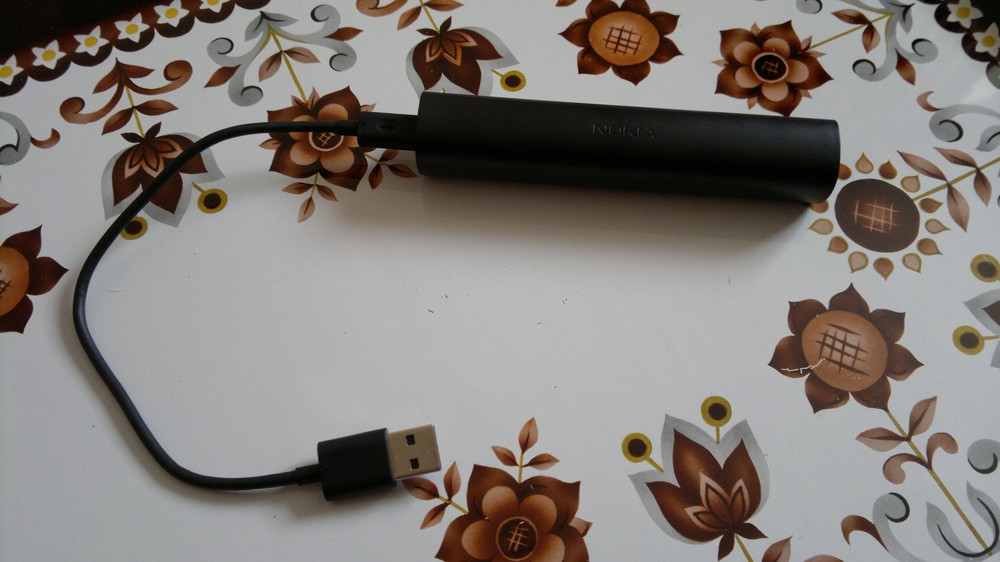 Configuration - charging the DC-16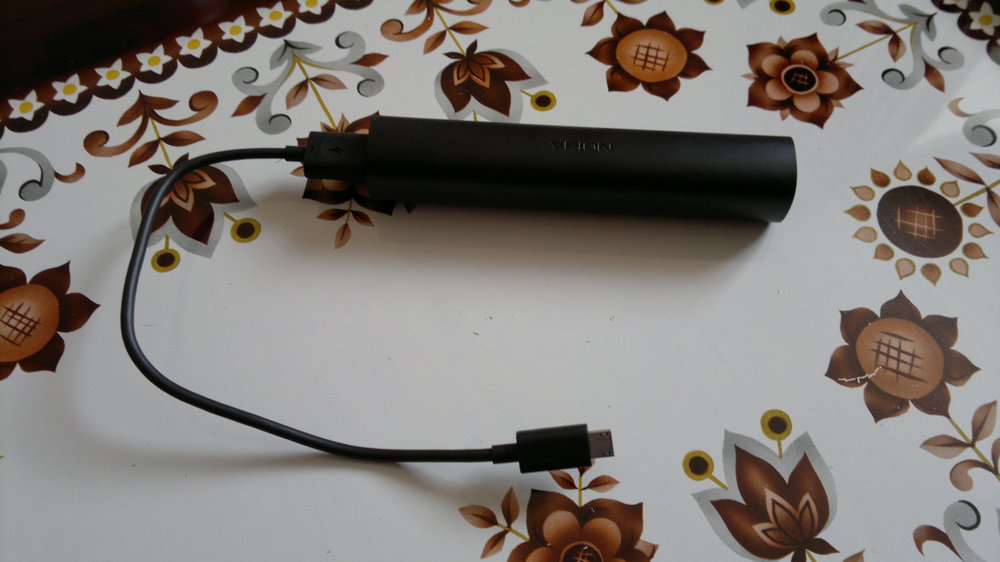 Configuration - DC-16 to charge another device
The DC-16's capacity is rated at 2200mAh, which is equivalent to less than two full charges of most smartphone batteries; it is also guaranteed for 500 charge cycles. Nokia say the output current is 950mA, which is quite high for a battery of this class. Anecdotally, it can quickly recharge our Lumia 800 to full (from empty). Time taken to charge the DC-16 itself will vary depending on your USB charger. If you're only charging from a PC, expect a long wait though. From a 1A wall charger, charging from flat can take up to 3 hours. While charging, the four green LEDs illuminate, with each going from flashing to constant in sequence to indicate the current charge level. For example, three constant lights with one flashing means the charge is between 75% and 100%.
Look carefully at the indicator end, and you'll find an embossed battery icon beneath the Micro USB port. This pinpoints a button, concealed by a flexible surface, which (while not recharging) switches on the LEDs to indicate the current charge level; e.g. four LEDs means the charge level is between 75% and 100%, and so on. The LEDs only stay on for 10 seconds so as to not waste energy.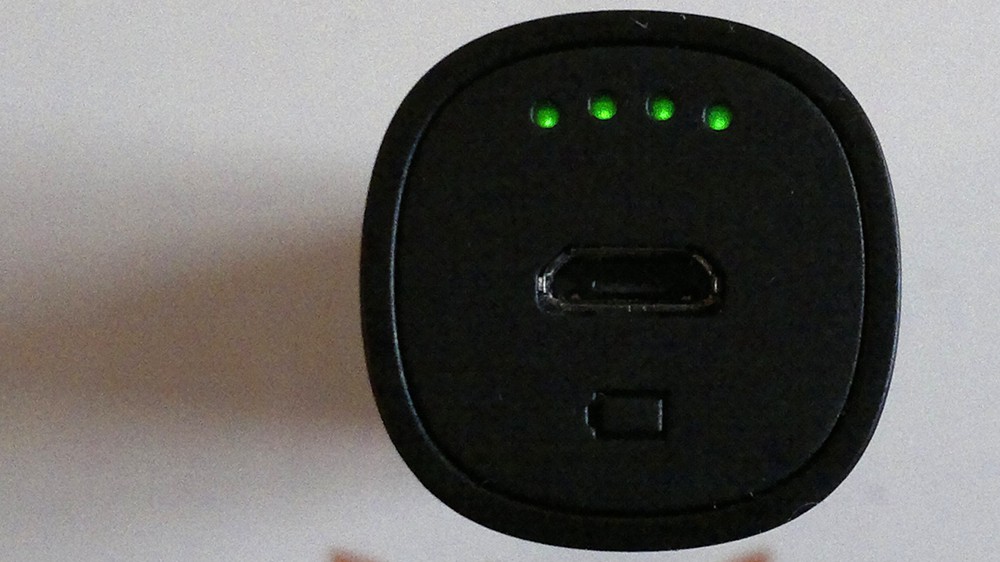 DC-16 indicator LEDs
The DC-16 has a trick up its sleeve ­– you can connect the charger in-line (in series) with your phone. In this configuration, the battery will charge up first, and then allow current to flow and recharge the phone. I love this, but there are a few caveats to keep in mind, none of which are deal breakers. Firstly, the charge level on the DC-16 can repeatedly drop just enough to make it shut off current to the phone, and then switch on again, and off again, etc. If your phone is configured to emit a sound when it begins charging, this repetition can become annoying. Even so, if you're on the road and only have a single USB port to charge from, this flexibility is ideal, as long as you put your phone on silent! Secondly, if you're trickle charging from your PC, don't expect to be able to transfer data via the DC-16 – there's no through-data connection. Then again, in this configuration you already have two charging cables, so just use two separate USB ports on your computer instead.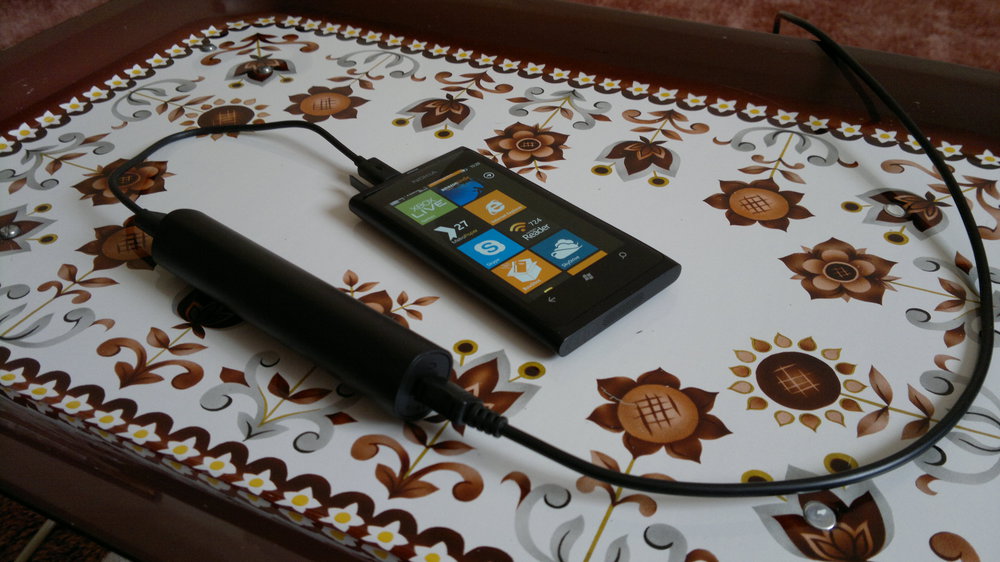 'Daisy chaining' the DC-16 with a Lumia 800
The DC-16 retails for £30, or slightly less if you shop around carefully. It's difficult not to compare this to the Proporta TurboChargers, all of which offer higher capacities and a better ratio of capacity to cost. Also, Proporta's TurboCharger 7000 has more than double the potential output current, allowing for faster charging, depending on device. However, the strength of the DC-16, and why I would buy one for myself, is that it can easily slip in a pocket beside your phone. This compactness, combined with its clever design, make for a product I enjoy having in my tech-kit.
Recommended.

David Gilson, 10th May 2012
Reviewed by David Gilson at