As a reminder here's a chart of IDC's numbers for global smartphone shipments over the last two and half years: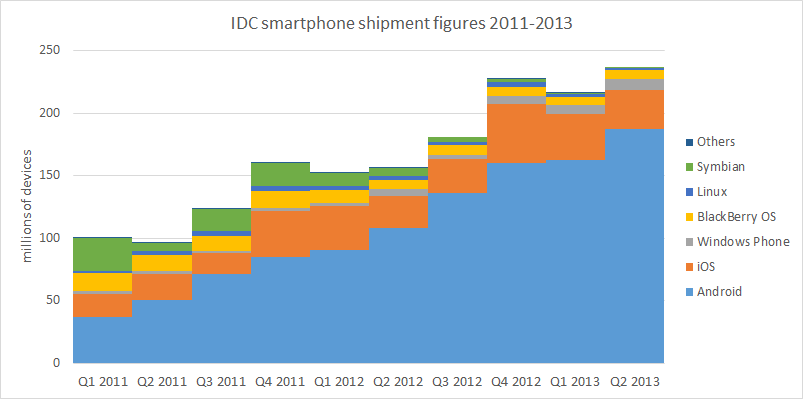 Mexico, Italy, France, and the UK have been highlighted recently as markets with strong Windows Phone sales performance. It's not really clear how far this extends, since it is always going to be possible to pick out a few markets with strong performance. However, a number of recent media reports do provide some evidence of strong sales performance in other markets.

Middle East
Regional IDC data, reported by Hispanic Business (via WMPowerUser), indicates that in Q2 2013 market share in the Middle East market saw Windows Phone in third place (11.8%), behind Android (60%) and Blackberry (13.3%), but ahead of Apple (11.8%). Nokia remained the regions leading manufacturer (45.2%), primarily due to strong sales of its feature phone devices. Samsung was the leading smartphone manufacturers (around 50%), outselling Nokia by almost five to one, reflecting the strength of Android over Windows Phone.

Russia
Data from Euroset, a Russian electronics retailer (via WPCentral), indicates that Nokia (29%) has regained, from Samsung (27%), its position as the number one mobile phone manufacturer in Russia. Vedomosti.ru, reporting on the Euroset data, suggest this is the result of strong sales performance from both low cost Lumia devices and the Nokia's feature phone Asha brand, which has result in a fall in the average selling price for a Nokia device from 32929 rubles to 2769 rubles in the last 12 months. Nokia's Lumia range is reported to "have grown significantly in popularity in the last six months".

New Zealand
Stuff.co.nz (via WMPowerUser) reports that at TechEd 2013 New Zealand Paul Muckleston, Microsoft New Zeland General Manager, shared some internal company data on the performance of Windows Phone in New Zealand. Windows Phone market share has increased from 2% (year ending June 2012) to 4.5% (year ending June 2013), with a figure of 8.5% for the last quarter, and 15% in July 2013. This substantial increase in market share was the result of new low cost product releases from Nokia.
New Zealand is a small market, but it is a good indicator of the likely performance of Windows Phone in developed markets outside of the key (large) market designation.
Muckleston is also quoted as saying that the increase in market share will have an impact on the production of local apps (currently less than 1,000 in new Zealand):
"When we look at other markets that have got more over 10 per cent, a couple of things have happened. We have seen a dramatic increase in the number of local apps and some of these markets get Windows Phone and Microsoft Surface together and you get a deal and a really uncluttered experience."