Nokia's own Q3 numbers indicate that the leading Windows Phone manufacturer shipped 8.8 million Lumia devices in Q3 2013. Using the Canalys number for total Windows Phone device shipments this would mean that non-Nokia manufacturers (HTC, Samsung, and Huawei) shipped just 0.4 million Windows Phone devices. That translates to a percentage of Nokia shipping 95% of Windows Phone devices in the third quarter of 2013.
However, it should be noted that research firm shipment numbers are estimates and that Canalys may have under counted non-Nokia Windows Phone device shipments. Estimates for device shipments do vary, as almost all shipment numbers not released by manufacturers are based on sampling. For example, Strategy Analytics, which recently released it own Q3 numbers, estimated that 10.2 million Windows Phone devices were shipped in Q3 2012.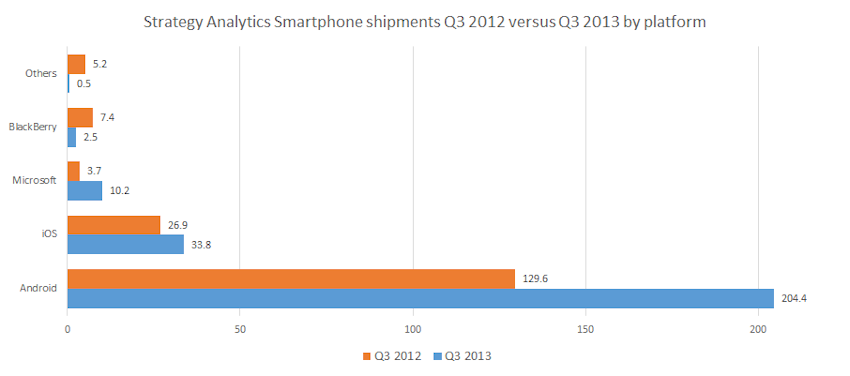 Other points of interest in the Canalys press release include a list of the top five smartphone manufacturers (Samsung, Apple, Huawei, Lenovo, and LG) and the fact that the shipments of large screen smartphone reached their highest ever level. Canalys states that 22% of smartphone shipped (56 million units) had a screen size of 5" or greater. 66% of these phones had a 5" display, 31% had a display been 5" and 6" in size, while 3% had a screen 6" in size or bigger.
Canalys says it expects the large screen smartphone segment to grow, but notes that the markets where such devices are most popular are among the most price sensitive:
'The 6"-plus segment will be boosted next quarter by Nokia's arrival, but this market won't develop quickly unless Samsung invests marketing dollars to push its Galaxy Mega range,' said Jingwen Wang, Research Analyst. Over the next year, Asia Pacific is expected to continue to lead the demand for large-screen smart phones due to the nature of emerging markets there. Low PC and home broadband penetration, a high level of mobile network use, and low Wi-Fi network penetration in these countries limit the presence and functionality of Wi-Fi tablets. At the same time, many consumers in these countries are price-sensitive, so domestic vendors have been successful with affordable large-screen smart phones – a phenomenon that is less visible in other regions. Worldwide, though, Canalys expects smart phones with screens between 4.1" and 5" will be most popular with consumers in 2014 as they offer the best balance between portability and legibility.
The affordable large screen smartphone tag does not fit the high end Lumia 1520, but is a good description for both the Lumia 1320 and the Lumia 625. While the Lumia 1320 received little attention at Nokia World it is likely to be a bigger seller than the Lumia 1520 and has the potential to become a sleeper hit for Nokia, if the 6" screen smartphone category becomes popular.