The DC-50 is essentially two accessories in one. When plugged in it behaves like the standard Dt-601 and DT-900 wireless charging pads (and will also recharge the internal battery). Away from a wall socket it is the equivalent of the DC-19 Portable Charger, with the added bonus that there's no need to plug in any cable as it will continue to charge a phone wirelessly. It really is the best of both worlds in a single accessory.
The Nokia DC-50 is currently available though Amazon UK for £64.95 and stock is also expected to arrive at other online retailers in the next few weeks.
Key specifications:
Size: 69 x 134 x 12 mm
Weight: 150g
Wireless charging standard: Qi
Charging connector: microUSB
Battery technology: Li-Ion
Battery capacity: 2400 mAh
LED indicators: battery level indicator and charging indicator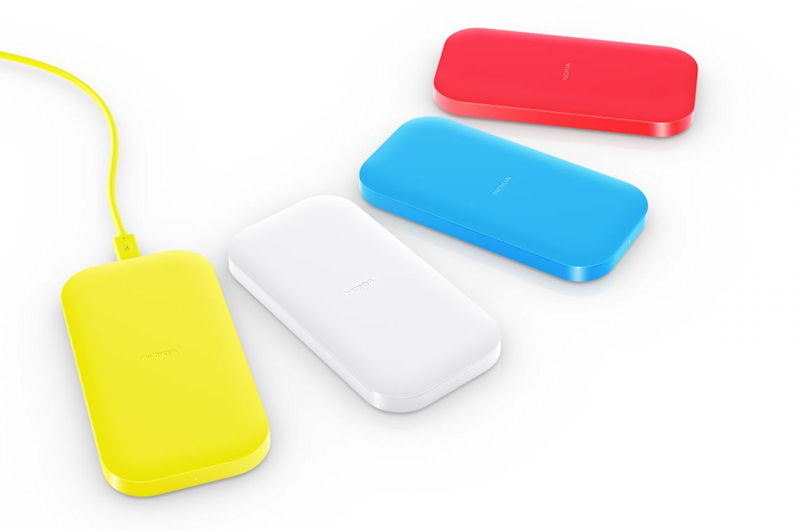 As we noted in our initial story about the DC-50 there is an important point to note about the efficiency of transferring charge from portable battery chargers in general, with an extra caveat for a wireless portable charger:
Transferring charge via a traditional cable usually loses around 20% of the total charge available through heat and electronic inefficiencies. Transferring charge wirelessly in a typical Qi configuration is typically only about 70% efficient at best, so at least 10% less charge can be transferred, plus any transfers are likely to be a little slower than when using wires. In short, the internal 2400mAh will, at best, only be delivering a possible 1700mAh or so to a phone in real world conditions.

The standby consumption is also higher, at 30mW, than would be the case for a traditional all-wired portable charger, because of the need for powered-up circuitry to detect the presence of a Qi-compatible device. However, at the rate quoted, you should still see a week or two of useful "on the shelf" life before the internal battery will need recharging.
Neither of these issues are likely to be a big deal if the DC-50 becomes your main charging solution and there's a lot to be said for cutting down on the number of charging accessories in your life.
While the official name for the DC-50 is the Portable Wireless Charging Plate we prefer to call it the Wireless Wireless Charging Plate - it some how seems more appropriate.