The Lumia 1320, which is available in white, red, black, and yellow, has a 6 inch LCD IPS 720p screen, 1.7GHz Dual-Core Qualcomm Snapdragon 400 with 1GB RAM, 8GB of internal storage with microSD card support, and a 5 megapixel camera. The latest addition to the Lumia range is essentially a low cost version of the Lumia 1520; a similar comparison could be drawn between the Nokia Lumia 920 and Nokia Lumia 720.
The lower price point of the Lumia 1320 has been achieved by cutting a few specification points. The most obvious of these are the processor, RAM, and camera, but also notable is the use of a single HAAC microphone and the reduced size of the internal storage. On the plus side the cuts made to the Lumia 1320 are less severe than those for the Lumia 520 and 620. For example, the Lumia 1320's screen is protected by Gorilla Glass 3, usually only found in higher end devices. More importantly, the on board sensor package includes a compass, though not a gyroscope, allowing for full use of the HERE software suit, including augmented reality based functionality.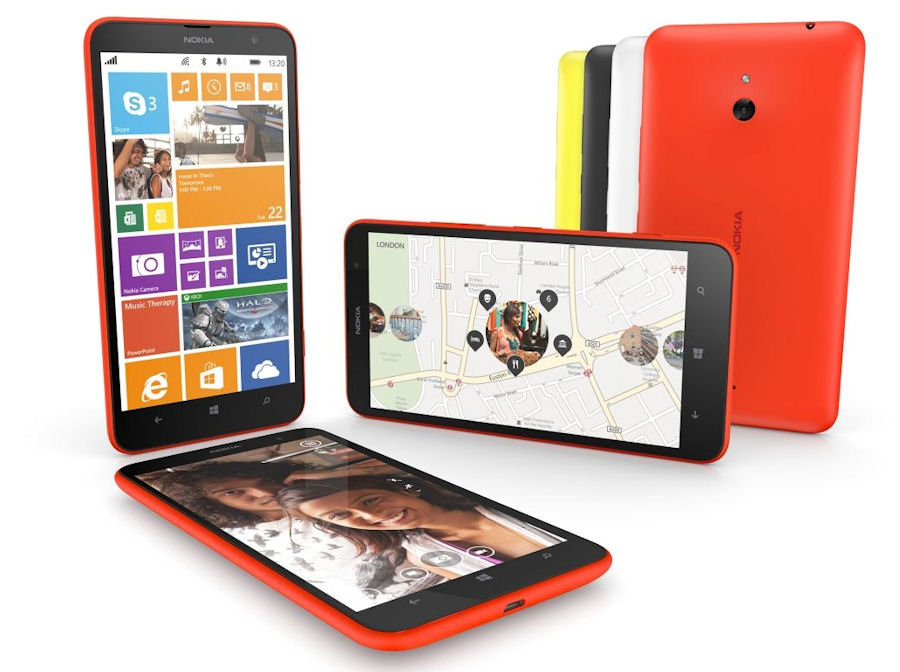 The Lumia 1320 is the first Nokia Windows Phone device to be built around the 1.7GHz Dual-Core Qualcomm Snapdragon 400 SoC. It is likely to be representative of the "new" low end specification for the Lumia range, in the same way that the Lumia 1520 is the first of the "new" high end specification devices. Both of these new hardware platforms, representing the third generation of hardware since Nokia adopted Windows Phone, are likely to be used in multiple devices throughout 2014. This gives the Lumia 1320 a certain appeal beyond its mid-range pricing and large screen.
The Lumia 1320 builds on the Lumia 625's mission to position Nokia's Lumia range as an affordable choice for a capable large screened device. This is not a handset that is focused on Western markets, rather it is about targeting a specific desire and position in the East. The early availability in in China suggests that Nokia hopes that this will be a popular handset during the traditional gift giving period of the Chinese New Year.