The profiles have been created by Nokia employees who have been shooting in DNG format as soon as it was enabled on the Lumia devices. While DNG color profiles can be created by anyone using free Adobe tools, the profiles being released by Nokia today will inevitably have adde cachet since they have been created by Nokia's own imaging team (i.e. they are as close as you are going to get to being the "official" profiles for the respective devices).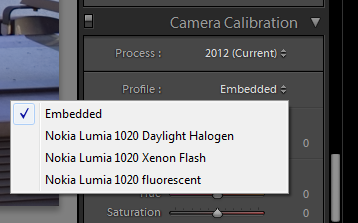 A colour profiles tells Adobe Lightroom (and other other compatible applications) how it should convert the colour of the raw image file. Essentially, the profile provides a set of settings for this conversion process. You'll almost certainly want to modify these settings to get the "perfect" picture, but it is going to be a much smaller adjustment that doing the whole process manually.
The colour profiles that Nokia is making available today are, as their names suggest, for three different light sources, effectively providing a light source optimised version of the default profile. This should speed up DNG processing times significantly as you'll be able to match a profile to photos taken in the given lighting conditions.
In a post of the Nokia Conversations blog Nokia's head of imaging technologies, Juha Alakarhu, explains the potential benefits of using a DNG color profile:
Working with raw files and adjusting the colors in raw conversion always means a little bit of extra work, but it's a process of love. When I'm using a color profile though, I can avoid some of that manual work by simply selecting the correct profile from the menu.

For example, if I know I've taken an image using a flash (built-in or external), I can select the flash color profile that will make it easier and quicker to get the colors perfect in that image.

You can still continue using the default profile embedded in the DNG file, and not worry about the specific color profiles we published today. The color profiles are for real enthusiasts anyway, but I guess that's what we are here in Nokia.
Download the additional profiles for Lumia 1020 and Lumia 1520, and follow the installation instructions on the Adobe website to get them working with Lightroom.
If you're looking for some Lumia generated raw DNG files to experiment with check our Nokia Lumia 1020 RAW camera capture samples.