Windows Embedded 8 Handheld is fully app compatible with Windows Phone 8 and uses the same Modern (Metro based) user interface. It is essentially a customised version of Windows Phone, with additional API support to access the integrated peripherals and device management features that are the hallmarks of industrial handheld devices.

Key specifications of the BM180 and BP30 include a 5 inch screen (1280 x 720 resolution) screen, 8 megapixel autofocus camera, 3,000 mAh battery, WiFi and Bluetooth support, integrated GPS, microSD card slot, and 4G connectivity. The hardware is based around a Qualcomm Snapdragon S4 processor (dual-core processor running at 1.5GHz), with 1GB RAM, and 16GB BROM. The device is relatively slimline for an industrial device at 77.95 x 153.1 x 16.7mm and 261g by weight.
A variety of optional attachments and modules are available including a 2D image (barcode reader), a magnetic stripe reader (reading credit cards), and an extended 4,500 mAh battery pack (including a hot-swap battery capability). There's also support for a wide range of contactless technology including MiFare, Felica, and Calypso.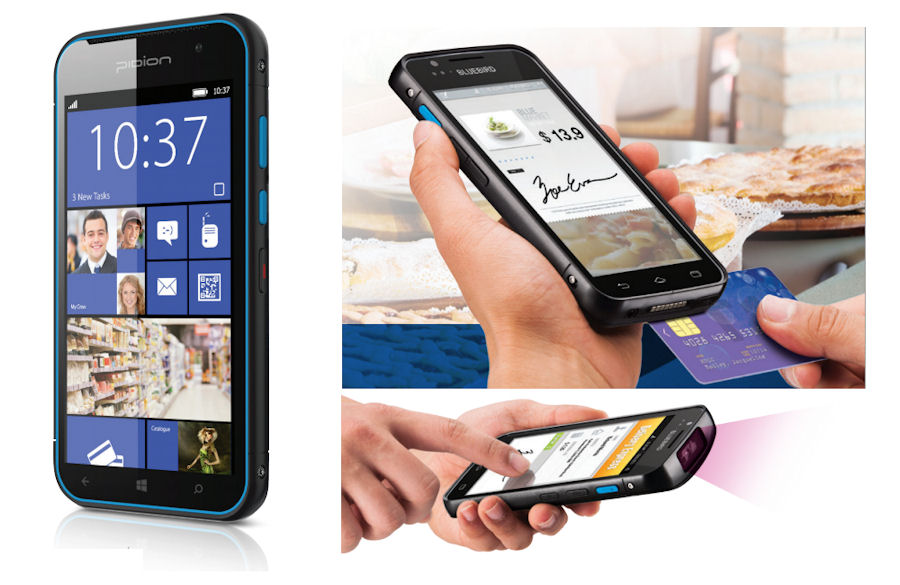 Industrial devices are typically much more robust that consumer devices. The Bluebird BM180 devices is built to the MIL-STD-810 standard and is able to withstand a 1.2m / 4 foot drop. It is also meets the IP65 Sealing standard, which means it is dust tight and able to withstand water projected from a nozzle.
While Windows Embedded 8 handheld is the lead platform on the device the brochure for the BM180 indicates that the device can be configured to run either Microsoft's platform or Google's Android 4.2 (Ruggedroid). The device is not intended to be swappable between the two platform as each version comes with capacitive keys specific to the platform in question. However, the device is a good demonstration of the way that Windows Phone and Android can run on the same hardware, something that has been in the news recently because it is seen as a way Microsoft maybe able to persuade more manufacturers to release Windows Phone hardware.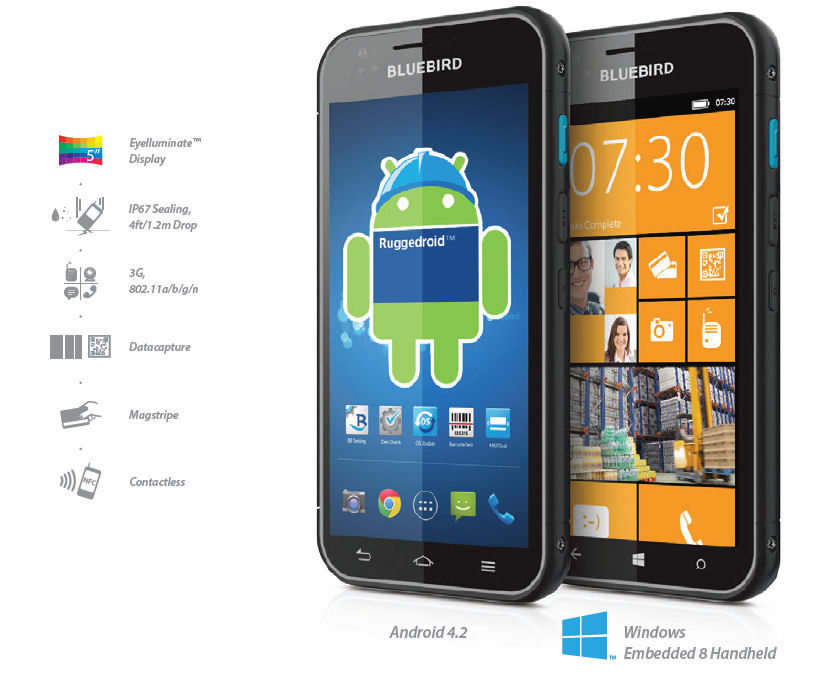 From the Bluebird press release:
Retailers are attempting to manage their stores in the most efficient way through the integration of voice and data communications into one single device. The use of Mobile POS terminals has significantly decreased the waiting time at the checkout lines. Bluebird has proactively addressed this changing environment, starting with their enterprise BM series mobile computer in 2004. Building on this market experience, Bluebird is launching the BM180 / BP30, the first Windows Embedded 8 Handheld devices to be available.

With Windows Embedded 8 Handheld, enterprise users gain development productivity when creating business apps using common application programming interfaces (APIs) to access integrated peripherals in handheld devices. The same APIs are available in Windows Embedded 8 Standard and Windows Embedded 8 Industry platforms, making it easy to deliver an application on these industry specific handheld devices and then bring that application to fixed point of sale terminals, digital signage, kiosk and other embedded devices.

Although these products are made for enterprise customers, both products offer the most user-friendly features such as the interface, screen size, slim design and compact form factor. With these products, many more will recognize the prime quality of a Windows solution.
More information about the BM180 is available in the BM180 brochure (PDF), BM180 datasheet (PDF), and Bluebird website.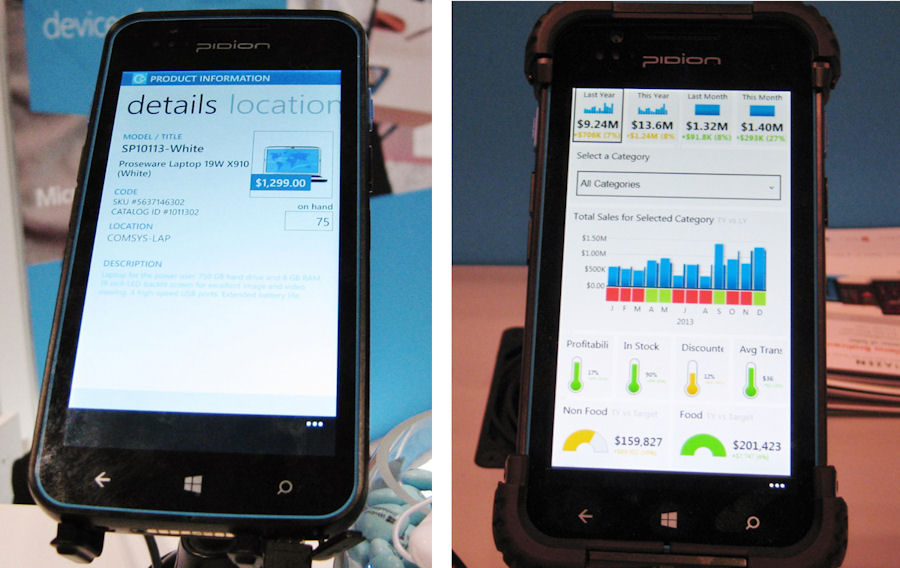 Bluebird BM180 and BP30. Image source: Microsoft