These devices will be used in a variety of contexts, from stock taking (with a barcode scanner attachment), through product picking and fulfillment (in a warehouse or at the point of delivery), to point of sale (taking payment on the shop floor), and many more. These devices can be thought of as the industrialised and ruggedised equivalent of the consumer Windows Phone devices available today, but clearly have a very different purpose.
Windows Embedded 8 Handheld is fully app compatible with Windows Phone 8 and uses the same Modern (Metro based) user interface. The arrival of Windows Embedded 8 Handheld means that Microsoft's consumer and industry mobile/handheld platforms are now aligned, something that should help with awareness and implementation costs for both types of devices, especially in the enterprise space.
Windows Embedded is a family of operating systems from Microsoft that are design to be used in embedded systems. The latest additions to the Windows Embedded lineup include Windows Embedded 8 (based on Windows 8) and Windows Embedded 8 Handheld (based on Windows Phone 8), but earlier implementations include Windows Embedded Professional (based on Windows XP), Windows Embedded Handheld 6.5 (based on Windows Mobile 6.5), and Windows Embedded Compact (previously known as Windows CE).
Microsoft is working with device manufacturers Motorola Solutions, Intermec, Honeywell, Ingenico and Bluebird on a range of devices. Other manufacturers, including Panasonic, have also announced their intention to deliver a range of rugged mobile computing products powered by Windows Embedded 8 Handheld.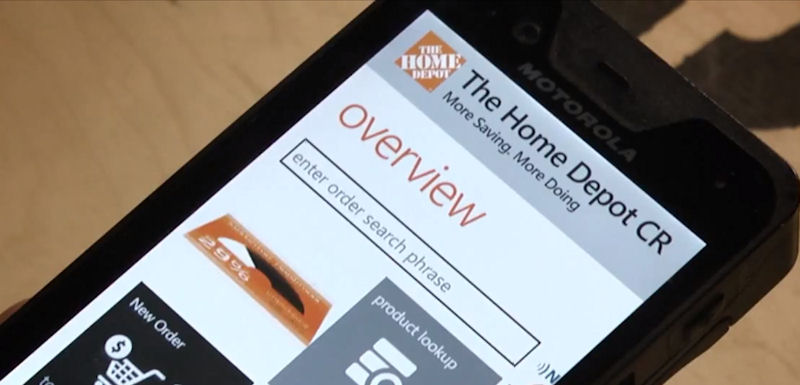 Here's how Microsoft describes its partnership with Motorola Solutions to create Windows Embedded 8 Handheld devices:
For example, a team of Windows Embedded engineers is working closely with Motorola Solutions, a provider of mission-critical communication solutions and services for enterprise and government customers, to design a line of retail devices from the circuit board up. The devices offer the latest technology support, including intuitive touch usability; support for mobile point-of-service (POS) scenarios such as line-busting; and new application interfaces that make it easy to build line-of-business applications for taking advantage of peripherals, such as barcode scanners, magnetic stripe readers and receipt printers.

Microsoft says that using Windows Phone 8 as the base platform for Windows Embedded 8 Handheld has a number of important advantages for enterprise customers. Firstly, businesses will be able to use the same mobile device management tools (e.g. managing security, users, and app deployment), secondly, software developers will be able to use the familiar Visual Studio-based Windows Phone 8 SDK (an add-on to the SDK for the Windows Embedded 8 specific features that will be made available later this year with standardised APIs for common industry peripherals), and thirdly, the devices will support off-shelf business and productivity apps such as Microsoft Lync, Microsoft Office, and Microsoft Dynamics for Retail.

Microsoft has published a number of videos to YouTube, offering a useful overview of the technologies being demonstrated, including a brief glimpse of the Windows Embedded 8 handheld devices.
This first video offers an example of how Windows technology can be used to "implement a customer centric strategy" allowing businesses to "increase efficiency, empower employees, and leverage consumer insight and optimising operations". The video shows how a customer might order a product from the Home Depot website and how a Windows Embedded 8 Handheld device might be used to facilitate the picking (fulfillment) of the order. The device is this demo is a prototype from Motorola Solutions (the bit of Motorola that Google didn't buy).
The Home Depot example shown in the above video will begin a pilot program later this year, eventually aimed at replacing the 50,000+ Windows Embedded Handheld 6.5 devices in use at the retail company:
The Home Depot and Microsoft have defined the next generation of that popular device, which will pilot later this year, giving The Home Depot associates advanced tools such as voice search and easy-to-use, touch-enabled business apps — such as those on a typical Windows Phone 8 smartphone — that can still withstand the daily rigor of the retail environment.

The demo shows how a customer can purchase an item on the website and schedule it for pickup at his or her local store. Associates each carry a Motorola Solutions device loaded with task management, customer lookup, order processing and store inventory data. When the customer arrives, the associate uses his or her device to locate the merchandise and identify opportunities to help the customer with related needs so the customer has everything he or she needs to get the job done.

A second video offers a demo of a clothes shopping experience with a "digital enabled" fitting room. A customer can request additional clothing is bought to them by tapping a few options on a touch screen device. This sends a message to the Windows Embedded 8 Handheld device being carried by a shop assistant who is then able to bring the requested item to the customer. The device in this demo is a prototype from BlueBird.