Here's what's new for version 1.3.2.11, since the last time we covered MoliPlayer Pro back in November:
Added support for downloading and playing resources in Baidu Cloud, 360 Cloud, Kuaipan.cn and SkyDrive
Added support for RTSP and RTMP streaming formats
Added support for .LRC lyric files
Can now insert a description when sharing screenshots
Added an option in setting for resuming playback in movies
Optimized non-stop playing real-time contents when fast forwarding and rewinding
Added download manager for internet videos
Pinch-zoom and pan of videos during playback (software only, doesn't use GPU).
Support for embedded subtitles during playback
Added new playback modes, including loop, shuffle, continuous, and single loop
Video files now searchable by first letter (when there are more than 10 files, sorted by name)
Added playback speed changes: slow motion & fast motion
Added support for customisation of buttons on the control panel
Now displays battery indicator during playback
Now displays playlist to select another video or music during playback
Browsing & playback of videos and audio stored on a PC/NAS/Wireless HD through uPnP/DLNA
Music playback now possible in background or with screen locked.
Added dual-audio mkv playback
File list can now be sorted by recently watched
Refreshing of file list & newly added files now works properly
Added font size selection for subtitles
Added WiFi transfer to a folder on SD card
Added facility for displaying or hiding all video & all music
Performance optimisations
Added seven more languages. There's now a total of eleven supported languages
Bug fixes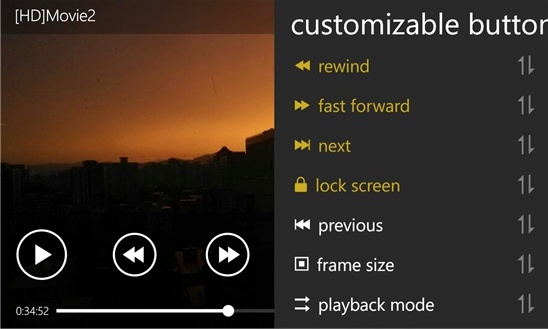 MoliPlayer Pro is a terrific solution once you've managed to get all your video content into the right places on your smartphone - as often happens with Windows Phone applications, working around the OS's own straitjacket is the biggest hurdle to overcome.
MoliPlayer Pro can be downloaded from the Windows Phone Store. A free trial is available with the full app costing £2.29 / $2.99 / €2.99.