As we've previously described the music profile used to generate the playlist for the PlayMe feature is based on a number of factors:
From a technical point of view, the contents of the Play Me mix is based on a personalised music profile, created from your listening behavior, favourite artists preferences, and track ratings. Other factors that are taken into account including your location (country) and the time of day.

The personalised music profile is matched against the Nokia Music database, which consists of more than 26 million tracks, together with metadata describing the way tracks relate to each other (e.g. similar genre). This meta data is based on several components, including machine matching, millions of data points of user behaviour (listening habits), and input from Nokia's "musicologists" (i.e. the hand curated mixes).
It's worth noting that some of these factors (e.g. favourite artists) can only be adjsted / accessed in the Windows Phone and Windows 8 MixRadio apps. That shouldn't be a major issue though as we expect most users of the web version of MixRadio to use it only after having been introduced to the service on a Nokia device.
In order to get the most out Nokia MixRadio (web version) you will need to pay for a premium Nokia MixRadio+ subscription (£3.99 / $3.99 per month), otherwise music tracks will be limited to 30 second samples. The only exception to this is when accessing a "MixSharing" URL generated by a Nokia device in which case you will get the full version of the first three tracks.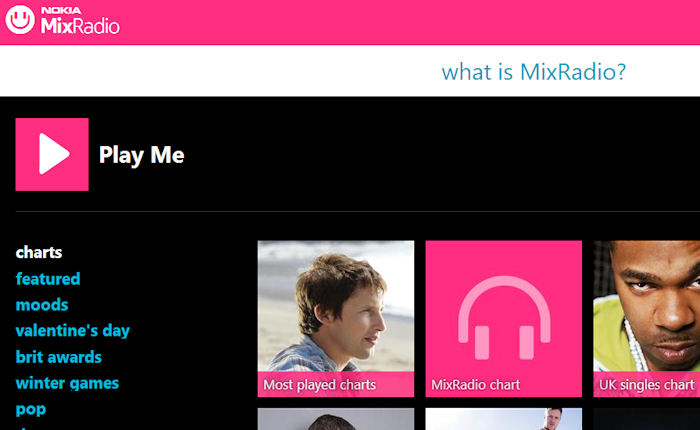 The web version of MixRadio is optimised for use on mobile device, such as tablets and smartphones, but can also be used on PCs and other connected devices.
You can read more about MixRadio in our story that described the launch of the service.