As part of the rebrand, the Nokia MixRadio app is getting a new look, with a greater focus given to the streaming radio (mixes) element of the experience. MixRadio's opening screen puts the new Play Me mix front and centre, allowing you to start listening to personalised music with just a single tap, as demonstrated in our app walk through video below:
From a technical point of view, the contents of the Play Me mix is based on a personalised music profile, created from your listening behavior, favourite artists preferences, and track ratings. Other factors that are taken into account including your location (country) and the time of day. Nokia says that future versions of the Nokia MixRadio platform will refine this further, taking into account exactly where you are, thereby providing different mixes for the gym, office, or morning commute.
The personalised music profile is matched against the Nokia Music database, which consists of more than 26 million tracks, together with metadata describing the way tracks relate to each other (e.g. similar genre). This meta data is based on several components, including machine matching, millions of data points of user behaviour (listening habits), and input from Nokia's "musicologists" (i.e. the hand curated mixes).
Jyrki Rosenberg, VP and Head of Nokia Entertainment, describes the Play Me feature as having the underlying intention of "creating a personalised radio station for everyone in the world", ensuring "disappointment proof music". The personalisation is the key he says, because "everyone loves music, but not the same music".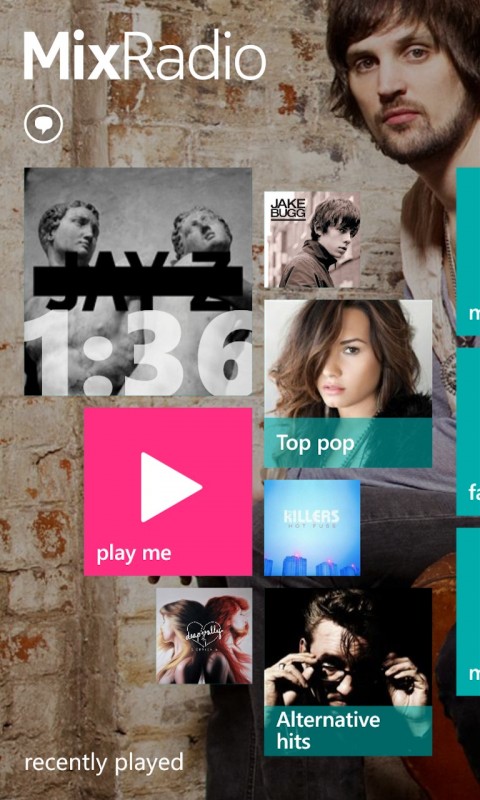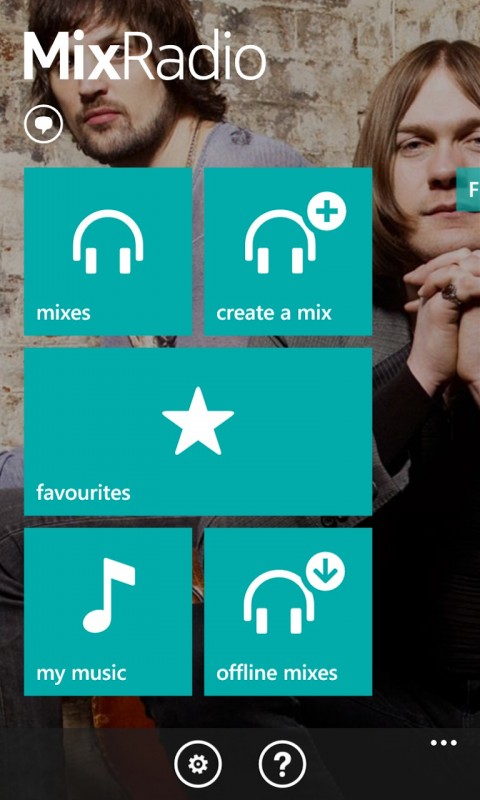 Other features of the app, including the curated mixes list, mix creation, favourite artists preferences, offline mixes, and locally stored music, are a single swipe away, with the powerful artist, music, and gig search available on the third page of the main panorama.

As with earlier incarnations of Nokia Music, Nokia MixRadio makes good use of album and artist artwork, offering both a strong visual identity and a showcase for artwork that is often missing from the digital music experience. This is most obvious in the now playing screen, but is also used in other sections of the app, and for any MixRadio live tiles pinned to the Start screen.
The now playing screen gets two new features, tracking rating (via thumbs up/thumbs down buttons above the play bar), and the ability to share mixes via social media, email, and SMS. The new sharing functionality, termed "MixSharing" by Nokia, generates a URL that can be used to share three full tracks, via the mixrad.io website, free of charge.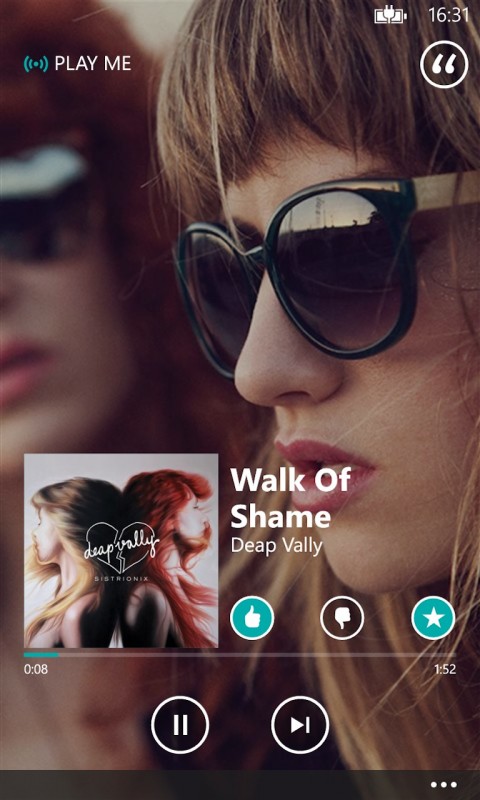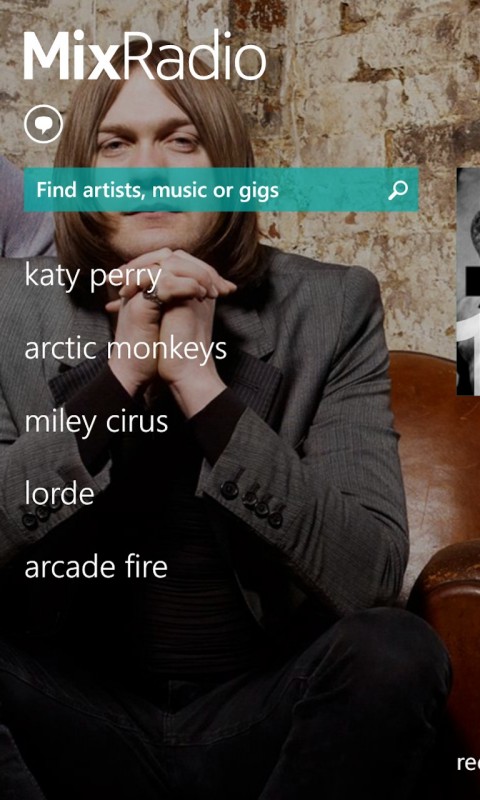 As with Nokia Music, the MixRadio service is free of charge and free from advertising. A premium version, Nokia MixRadio+, is also available, with the monthly subscription of $3.99/£3.99 giving unlimited downloads for offline use (compared to 4 mixes for free), unlimited skips, higher quality audio streams, lyric information, and multi-device use (use MixRadio via the Web, tablets, and Windows 8 app).
From the Windows Phone Store description:
Introducing the next generation of Nokia Music, Nokia MixRadio, bringing you free, personalized music with no advertising.
Listen to the music you want to hear with Play Me, a constant stream of music created just for you. Use Thumbs up and Thumbs down to tell us what you like so that your mix gets better and better every time you play. It's like having your own personal radio station.

Also includes the features you know and love – my music, mp3 store, create a mix, gigs and offline playback – so that you can store your favorite mixes on your phone and enjoy anywhere, even without a connection. Feature availability varies by country, which is determined from your SIM.

New features in this version:

Play Me is a personalized mix inspired by your unique music profile.
Thumbs up / Thumbs down to help refine your music profile.
Share mixes with your friends on Facebook, Twitter or by email and SMS.
New name and a new look to make it even easier to use.
Bug fixes.
Nokia MixRadio is a free download from the Windows Phone Store. It is exclusive to Nokia's Lumia devices. The new version is for Windows Phone 8 only. An earlier version continues to be available for Windows Phone 7.8 devices.
Note that Nokia MixRadio is currently only supported in the following countries:
Australia; Austria; Brazil; Canada; China; Finland; France; Germany; India; Indonesia; Ireland; Italy; Malaysia; Mexico; Netherlands; Norway; Poland; Portugal; Russia; Saudi Arabia; Singapore; South Africa; Spain; Sweden; Switzerland; Thailand; Turkey; United Arab Emirates; United Kingdom; United States of America; Vietnam