The green colour can be seen on many of Nokia's official Twitter accounts, on its main Facebook page, on its main YouTube page, and many other official Nokia social accounts.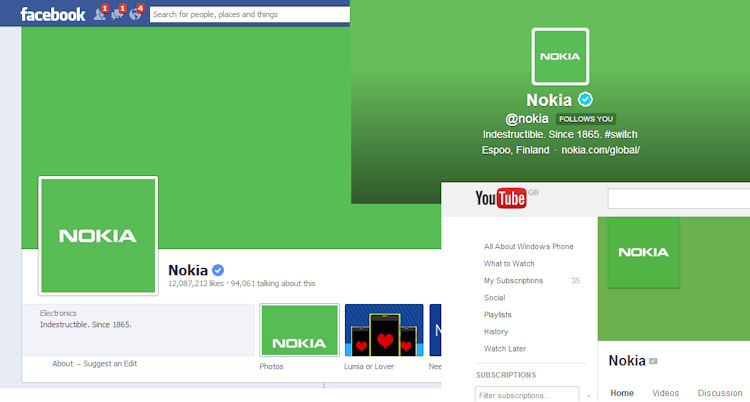 One explanation that is popular on social media is that the colour is hinting at the forthcoming Nokia Normandy product, which is believed to run a forked version of the Android Open Source Project. Green is a colour widely associated with Android thanks to the Android Robot logo and the use of the colour in Google's Android activities. However, we're expecting Nokia to play down the Android connection for this yet-to-be announced product, just as Amazon does for its Kindle Fire product, especially for consumer facing messaging (i.e. it'll be in the tech specs, but it'll not be presented as an Android product, mainly because it's really Asha on Android, not an Android smartphone in the way most people would think of that term).
It's worth pointing out that the colour in question is the wrong green (#59BD56 versus #A4C639). But, that does not rule out this explanation altogether. The likely scenario here is that it is convenient link to Android, but the actual specific colour represents Asha on Android, either in terms of device colour (see below), or a highlight colour used in the UI.
An alternative explanation is that it's related to the acquisition of Nokia's Devices & Services division by Microsoft. After all, one quarter of Microsoft's logo is green and the acquisition by Microsoft is a much bigger event than any single product announcement. That said, legal restrictions ahead of the completion of the deal do make this a bit unlikely and the link is tenuous.

Thinking about green as a long-term Nokia watcher the obvious explanation is that green is related to Nokia's environmental policies, which are among the best in the mobile industry. Nokia has a history of being environmentally sensitive long before it was fashionable to do so, as result of a corporate culture that's rooted in the Finnish respect for the environment. An environmental themed set of announcements at MWC would also fit with an "under the tree" press conference invitation and, given the company's pedigree in this area, would be rather fitting for what is almost certainly going to be the last major announcement as the "old" Nokia.
More simply, there are also a number of Nokia products that are quite literally green. It may not be a mainstream Nokia device colour like cyan, magenta, yellow, black, and white, but it has been used a number of times in devices, most recently in the Lumia 625 and Asha 503. It's noticeable that the green used in these devices is quite close to the green used in the newly updated social channel profile pictures.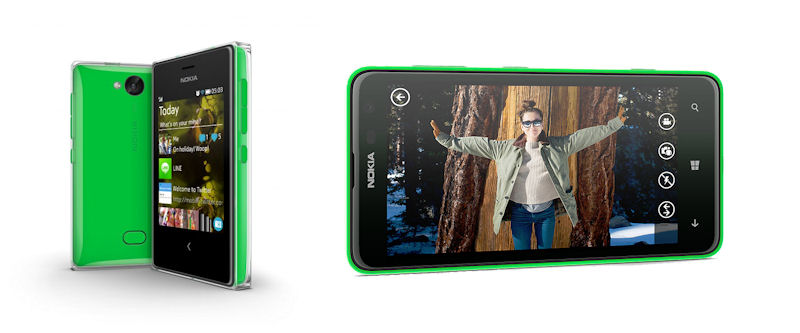 So which explanation is right? Buest guess? We'll find out soon for sure... and in the mean time the Nokia Social team will be pleased they've manged to generate plenty of buzz.