The opening pivot view, which gives access to all of Bing Health & Fitness' main features and content, has four pages: today (featured article, food and exercise listings, and tracking tools), fitness (workouts and exercises), nutrition (diet and food related articles and videos), and medical (health related articles and videos, plus the Interactive Symptom Checker).
A key aim of Bing Health & Fitness is to help you track both food intake and exercise. The first of these is served by the diet tracker (calories counter), which lets you enter your food consumption into a diary, a process that is simplified by the process of a large database of food items. The food item database is localised for many markets, which means the listed food items should match what is available from major supermarkets / restaurant chains.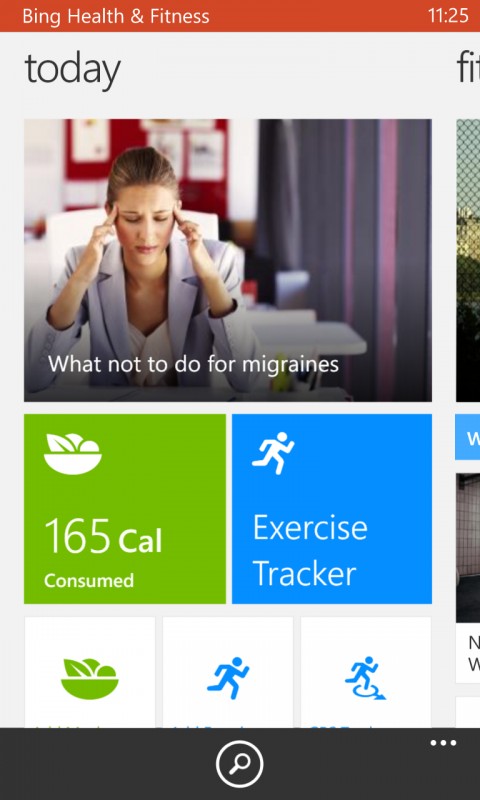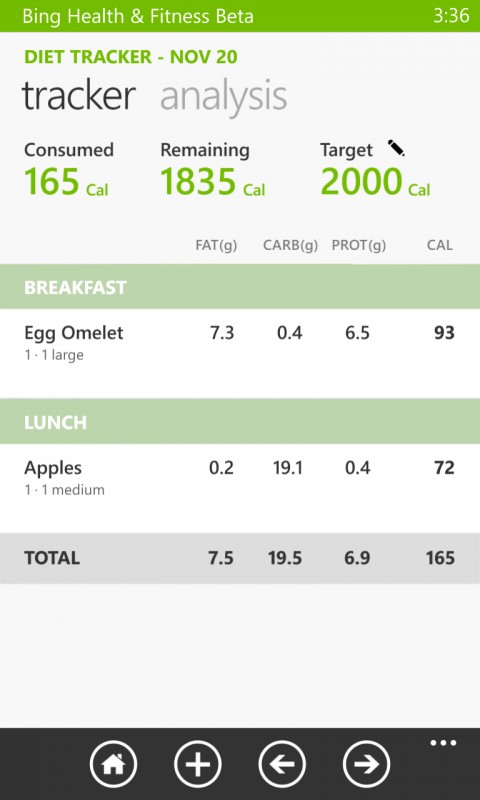 Exercise tracking is delivered by a combination of a cardio tracker (workouts) and GPS tracker (running and related activities). As with the diet tracker, the cardio tracker ha an associated workouts database that helps you more accurately enter information about your workout routine (and may also be a source for inspiration).
In order to get the most out of the tracking tools you will need to enter information into your personal profile (gender, age, height, weight, and so on), which can be accessed via the app's settings. From here you can also specify whether to sync tracker information with Microsoft's HealthVault service, as well as setting preferences about the sort of content (articles and video) you would like the app to surface (e.g. specify a preference for Yoga)..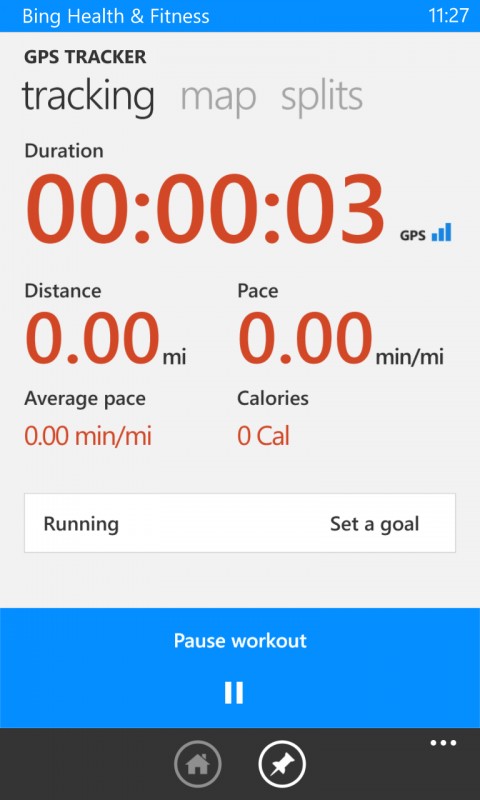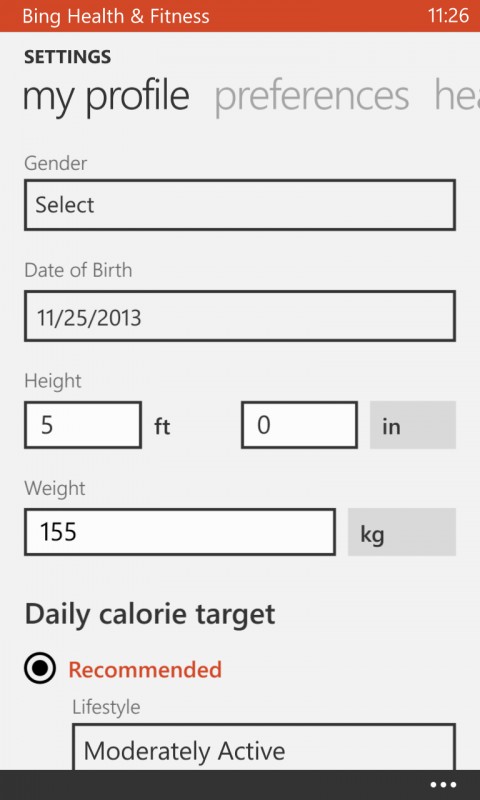 The fitness and nutrition section are content based, offering a combination of text and video based content. The exercise section is particularly helpful, offering instructions on different exercise types across a range of categories (yoga, pilates, and strength).
The medical section also has content (e.g. Boris bikes may be good for your health), which like other element of the apps, is localised according to your phone's region settings. The main highlight though is the Interactive Symptom Checker, which offers a way to do a little self-diagnosis by specifying a range of symptoms.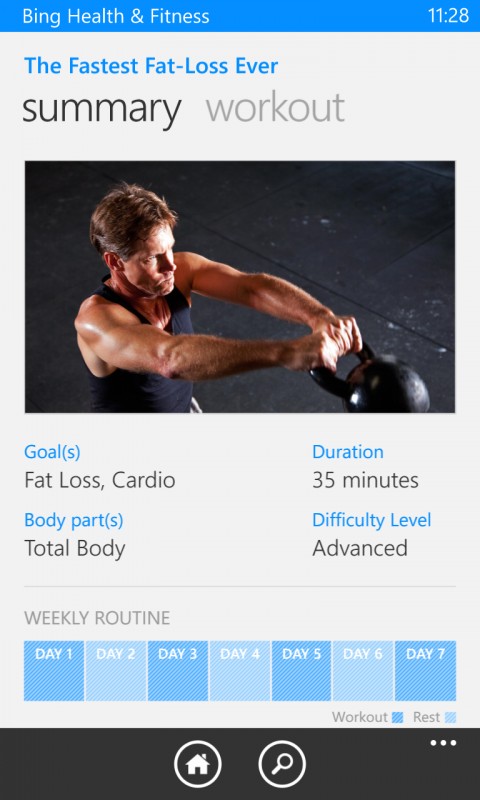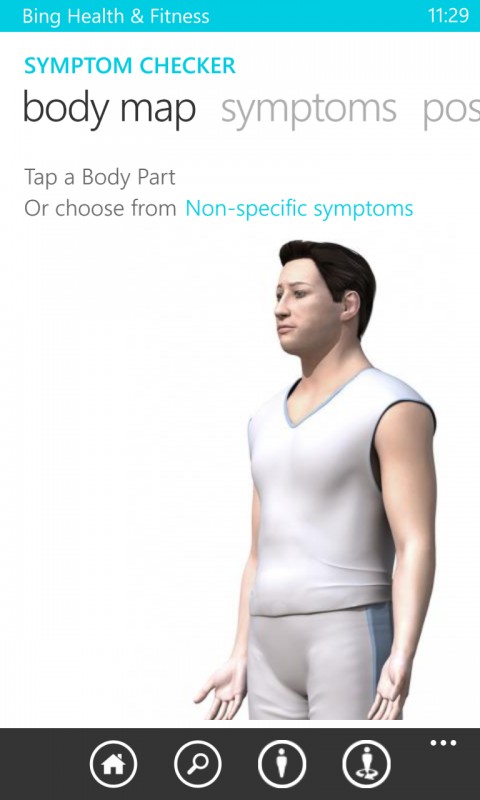 Even it's in beta form the app maintain the high quality user experience that has become a hallmark of the Bing apps. Once again, it is the content that impresses, but Bing Health & Fitness also has some genuinely useful tools and appl functionality, many of which are ideally suited to a mobile device (e.g. it's much more convenient to enter tracking data for a diet into the always-with-you Windows Phone app).
Like the other Bing apps, Bing Food & Drink is already available as a Windows 8 app. If you sign into your Microsoft account from the settings of the app you can opt to sync app data between different instances of the app, regardless of whether they are running on a Windows 8 or a Windows Phone device. The data shared includes personal information settings and other data, thus ensuring key exercise is accessible and kept in sync across all devices.
Windows Phone Store description:
The Bing Health & Fitness app helps you stay on top of health and fitness trends and provides the tools you need to support a healthy lifestyle. Designed for Windows Phone, the Health & Fitness app brings together great fitness, nutrition and health content, along with trackers, tools and other features.

Set your daily calorie goal, record what you eat and get nutritional information for over 300,000 foods. Choose from hundreds of workouts and exercises with step-by-step instructions, photos and video. Use the GPS tracker to record your time, distance, pace and calories burned while you walk, run, bike and do other activities.

Enter symptoms to get information on possible health conditions with the Interactive Symptom Checker. Keep your tracker data synced across your Windows 8 devices.

Bing Health and Fitness Beta can be downloaded from the Windows Phone Store for free.