Several renders were posted to Baidu by Nuoji it including one which showed the Lumia 630 alongside the Lumia 1320 and Lumia 1520. A second render showed the Lumia 630 alongside a number of different colour back covers, while a third image indicates that the size of the device will be 66.7 x 129.5 mm, making it a little larger than the 61.1 x 115.4 mm of the Lumia 620).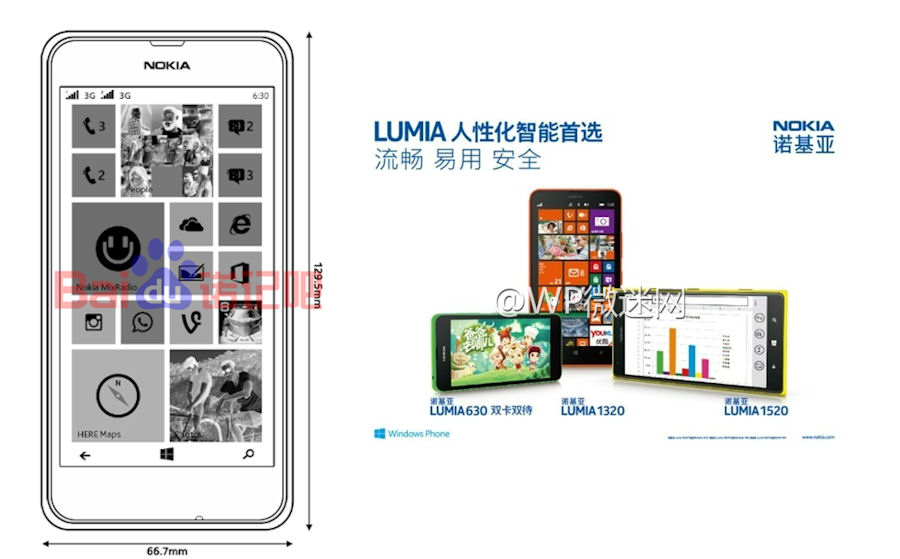 Text descriptions posted alongside the images and reporting by winp.cn suggest that the device would have a 4.5 inch touchscreen, with a resolution of 854 x 480 pixels, and would be powered by a Qualcomm Snapdragon 400 process with 1GB RAM. The additional 54 pixels over the standard Windows Phone resolution (800 x 480) will accommodate the presence of virtual on-screen navigation keys (i.e. back, Windows, and search keys).
Chinese language site winp.cn has noted that the devices is expected to go on sale in China in mid-April, with a price point around 1000 Yuan (£97) and low-end positioning. This would fit in with the device being formally announced at Microsoft's BUILD conference as part of a wider Windows Phone 8.1 unveiling.
Details of the Lumia 630 have already been leaked a number of times. One of the more recent was the posting of a promotional render of the device by @evleaks, shown on the left hand side of the image above. Earlier leaks had also revealed the "Moneypenny" code name, the presence of on-screen navigation keys, and speculation the device would be available in both single and dual SIM variants. The latter two features were officially confirmed last week as new hardware features for the next version of Windows Phone 8.1.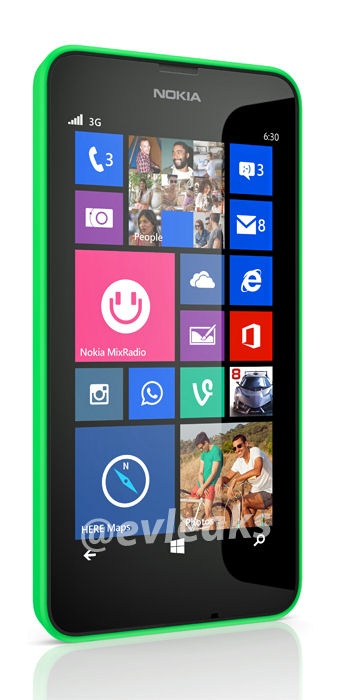 All the images posted on the Lumia 630 thus far have included Nokia branding. That is to be expected while Nokia continues operation as an independent company, but it is worth noting that the acquisition agreement between Nokia and Microsoft only provides for the long-term use of the Nokia brand on mobile phone devices.
At this stage it is unlikely that the branding on the Lumia 630 will change, not least because the devices will have already started being produced in Nokia's factories. It's possible this could be changed for later productions runs, but it's more likely that the Lumia 630 will be one of the last Lumia smartphone products to include the Nokia name and brand on the device itself.
All the information above, with the exception of the price point and some of the finer details of positioning, fits in with what we've heard from our own sources. However, until the device is officially announced it should be considered unconfirmed.