Microsoft is also adding support for the Snapdragon 400 (8x26 and 8x28) and Snapdragon 400 LTE (8926 and 8928) SoCs, in addition to the existing Snapdragon 400 (8230) and Snapdragon 800 (8x74) SoCs.
Windows Phone will effectively have three levels (families) of hardware, based around three Qualcomm SoCs: high-end (Snapdragon 800), mid-tier (Snapdragon 400), and low end (Snapdragon 200). The first two of these are quad-core chipsets, while the third is a dual core chipset (small step up from Lumia 520).
In order to further facilitate the creation of low end device Microsoft is relaxing the hardware requirements for Windows Phone, allowing for the creation of devices starting with 4GB internal memory and 512MB RAM. To go along with this future versions of Windows Phone will allow for greater use of expandable (microSD) memory (app installs etc.). In addition, the main hardware keys (back, Windows, and search) will become optional, with on-screen keys provided as an alternative. Similarly, the camera capture button will also become optional.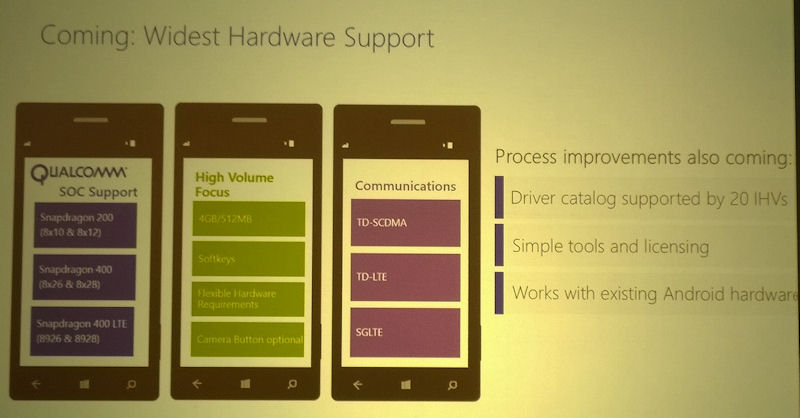 Windows Phone is also set support a wider range of cellular communication standards, adding support for TD-SCDMA, TD-LTE and SGLTE. The platform will also add support for dual-SIM devices, a feature that is popular in emerging markets. Each SIM will gets its own phone and messaging Live Tiles, with an option to link the two messaging Live Tiles together (similar to linked inboxes) should the user wish to do so. Microsoft is aiming to making Windows Phone's support for dual SIM significantly easier to use that competing smartphone platforms.
The extended hardware support is set to arrive with the next major version of Windows Phone, which is widely expected to be formally announced at the beginning of April at Microsoft's BUILD 2014 developer conference.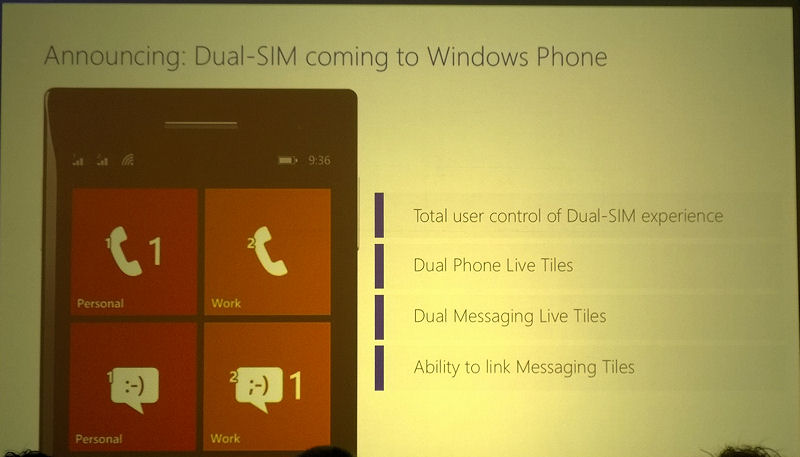 The expanded hardware support has two keys aims. Firstly, enabling the creation of significantly cheaper Windows Phone devices that is currently possible, and, secondly, allowing manufacturers to (re-)use existing Android hardware for the creation of Windows Phone devices, thus reducing development costs. A quick estimates suggests the new hardware support and related requirements could reduce the cheapest bill of materials for a Windows Phone device by as much as 30%, potentially putting the platform in range of the the $50 / £50 smartphone market (the Lumia 520 has been available at this price point in special promotions, but the list / actual price is considerably higher).
Microsoft is also providing advanced device creations tools and an extended driver catalog, with support for components from more than 20 different hardware vendors. To along with this Microsoft announced a new Windows Hardware Partner Portal, which is designed to speed up device commercialization while minimizing development costs". The portal is open to all manufacturers who want to create a Windows Phone device and is a clear message from Microsoft that it wants to encourage a profusion of Windows Phone manufacturers, rather than just a first tier or premier partners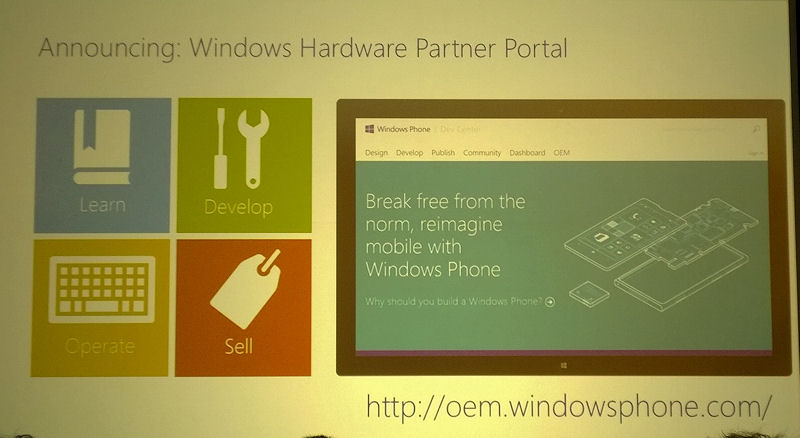 To this end Microsoft has also been collaborating with Qualcomm to improve Windows Phone support for those manufacturers working with Qualcomm Reference Designs for Snapdragon 200 and 400 processors. At the press conference Microsoft's Joel Belfiore showed off a Qualcomm Reference Design device that had a traditional monoblock form factor and support for dual SIMs, but noted it was not available for demo as it was running "stuff we're not ready to show you yet".
Microsoft says the new reference design(s) will enable manufacturers "to choose from hundreds of ways to customize their Windows Phone devices while keeping the consistently high-quality experience that the Windows Phone platform provides". The underlying idea here is to make it easier for manufacturers to building a Windows Phone device from off-the-shelf hardware components, thus making the economics of device creation more attractive. Microsoft will be hoping to replicate the profusion of manufacturers in the Android ecosystem, something that has primarily been driven by the availability of reference designs from a number of silicon providers.
The hardware announcements today have little that will be of direct interest to consumers, but provide a very clear sign that Microsoft intends to significantly ramp up the volume of Windows Phone devices in the year ahead, both by enabling support for lower cost hardware and by significantly widening the Windows Phone manufacturer line-up. In one sense it is a logical extension of where Windows Phone has been strongest in the past twelve months (the low-end), but it also opens a new chapter for Microsoft's mobile platform as it prepares for the reveal of Windows Phone 8.1.